Through My Lens: The Show Must Go On
Somehow the Speedhunters of mainland China keep up with the happenings in the motoring world even though websites like Facebook, Twitter and YouTube are blocked. It's weird how the government selects which sites to block and which sites to allow. For example, my personal website is blocked for some reason, but luckily for the Chinese motorheads Speedhunters.com isn't blocked. It's a good thing too, because otherwise I wouldn't have been able to update the site while I was there! I made it a point to pack extra stickers because I nearly ran out last time I went to China – this time I brought enough for all the people who asked.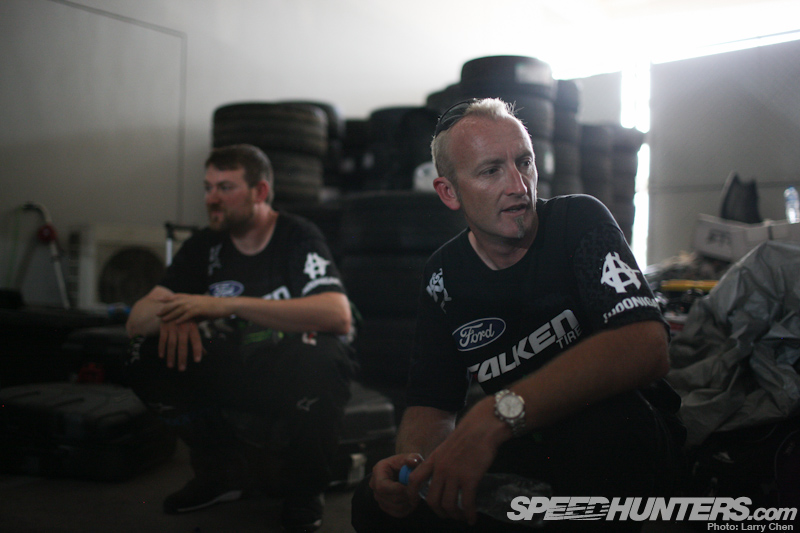 I'll pick up the story from where I left off in part 1. Qualifying had just finished and the boys were relaxing a bit before calling it a night. All six of the Formula Drift drivers qualified in the top nine.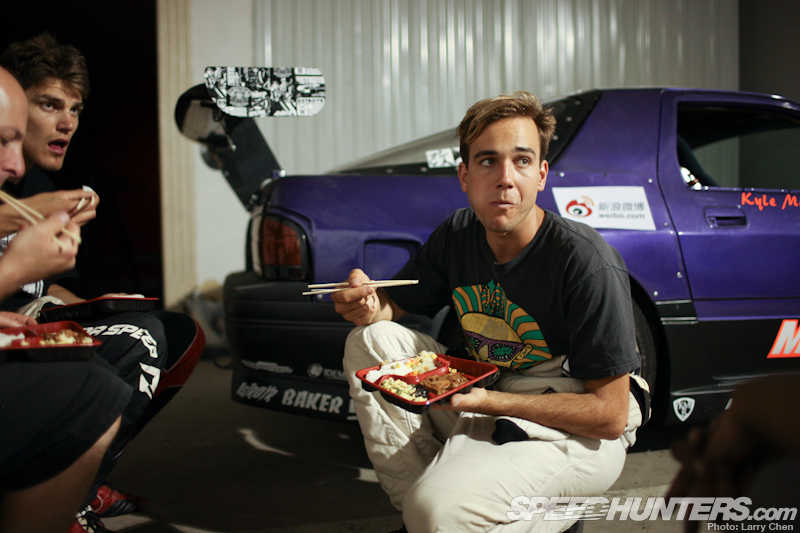 It was the perfect time to catch up on some trackside cuisine…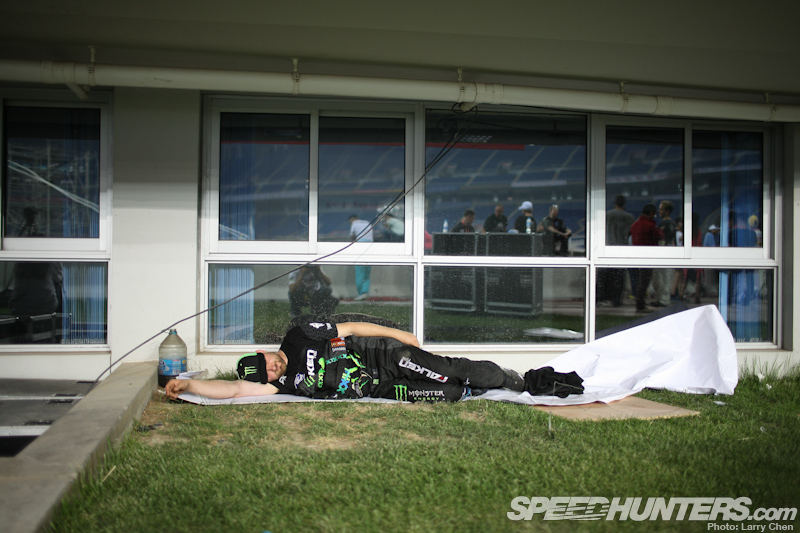 …not to mention catching up on some much-needed sleep.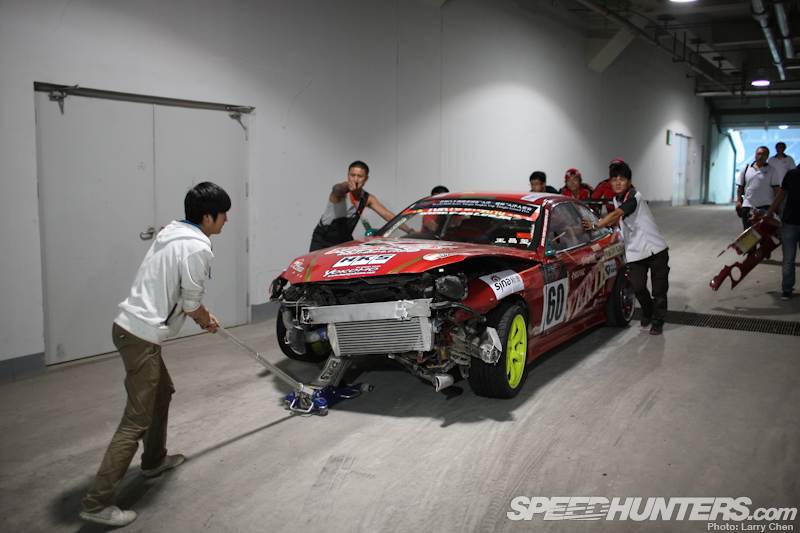 This was also a time for me to check out some of the casualties of qualifying.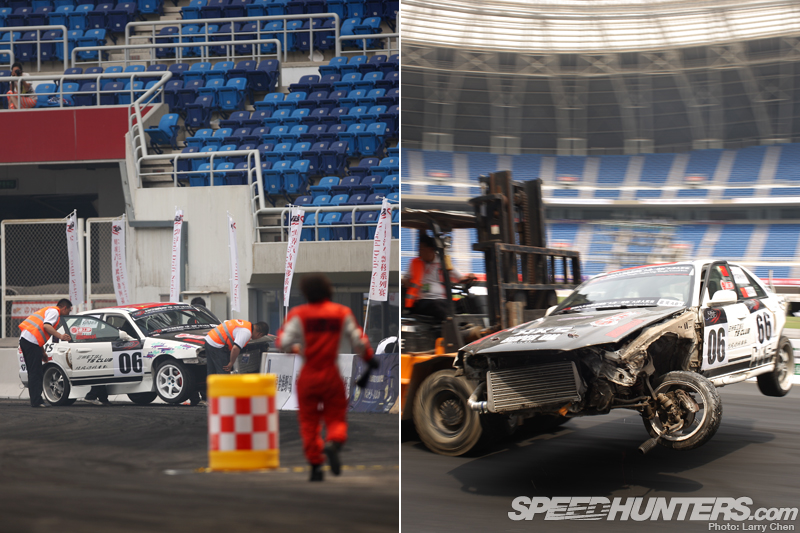 Some fared better than others, as a few of them had to be fork-lifted off the course.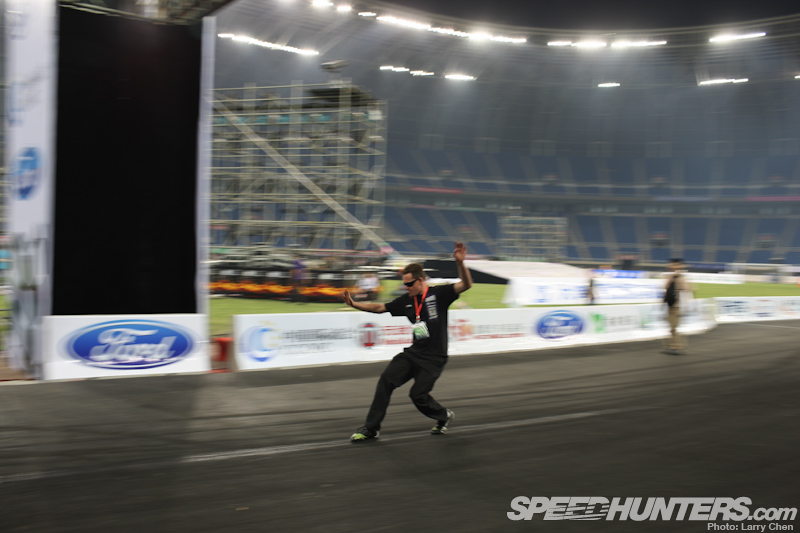 One of the Chinese guys laid down a lengthy oil slick, so Kyle Mohan made the most of it.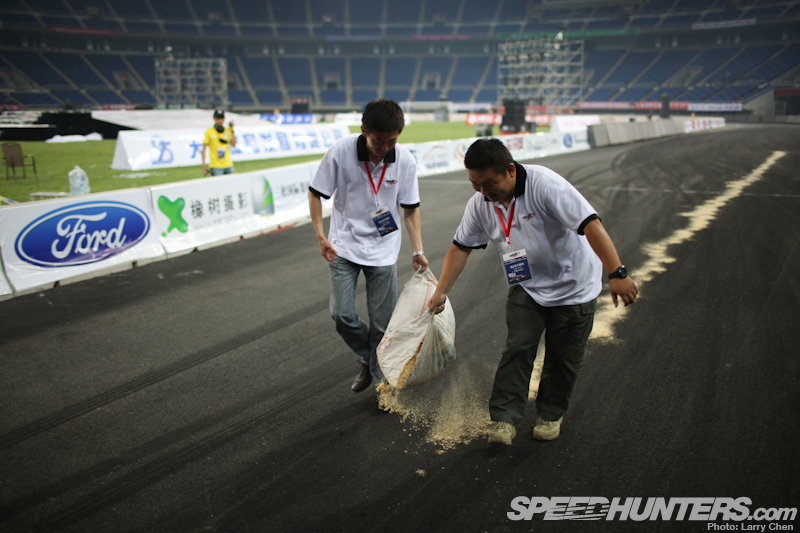 The track workers in China don't use kitty litter to clean up spills – instead they used sawdust. It reminds me of what was used when someone lost their lunch during recess in grade school…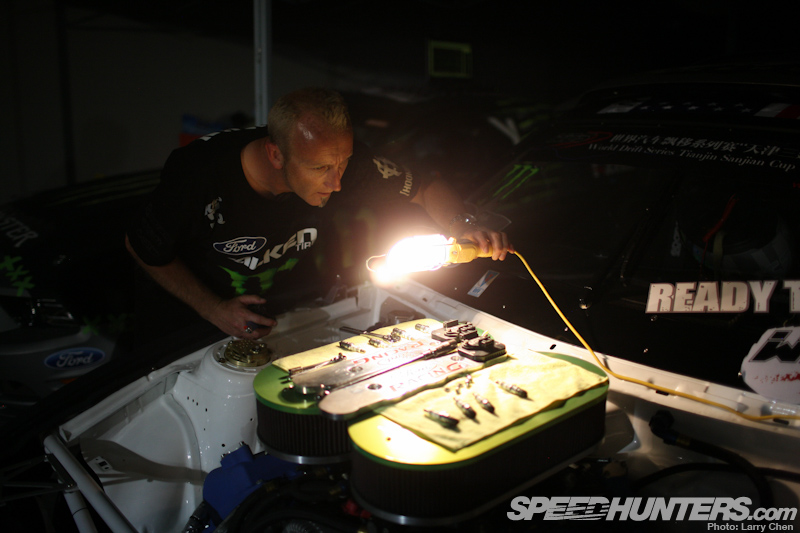 This was the perfect time for the mad scientist to check out his Frankenstein-like creation.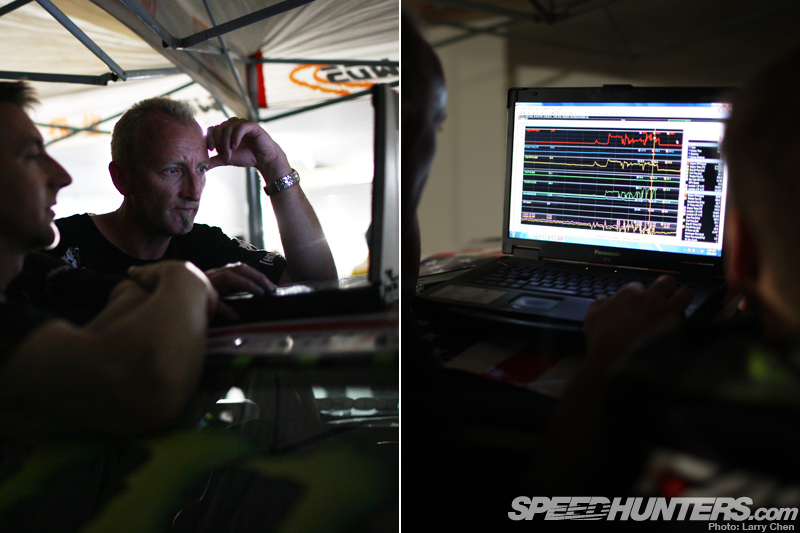 As I mentioned in part 1 of my coverage, fuel is always a big issue in China. There are very few racing events in China besides Formula 1 and the Chinese Touring Car Championship. Ian Stewart of Autosport Dynamics (ASD) had to make sure their motor wasn't going to blow up from using the questionable fuel that was available to them.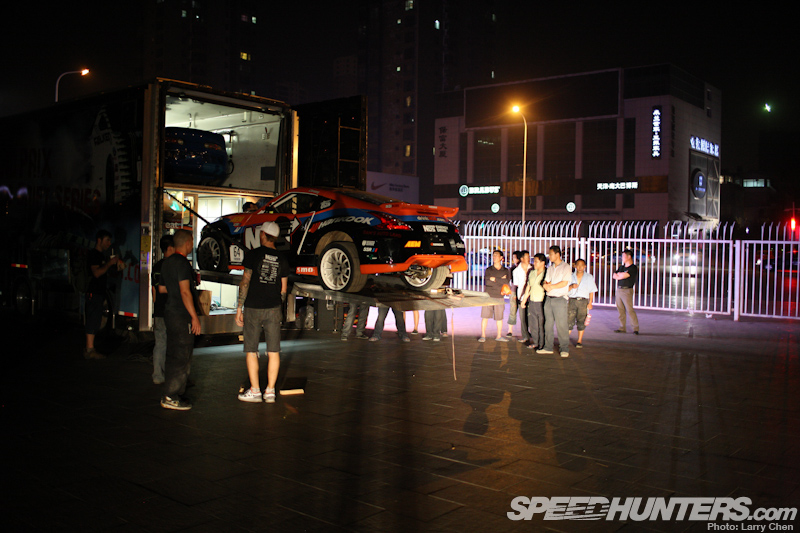 As I was walking out of the stadium to head to my hotel for the night, I came across a sight for sore eyes. I have not seen this car since Formula Drift Irwindale last year.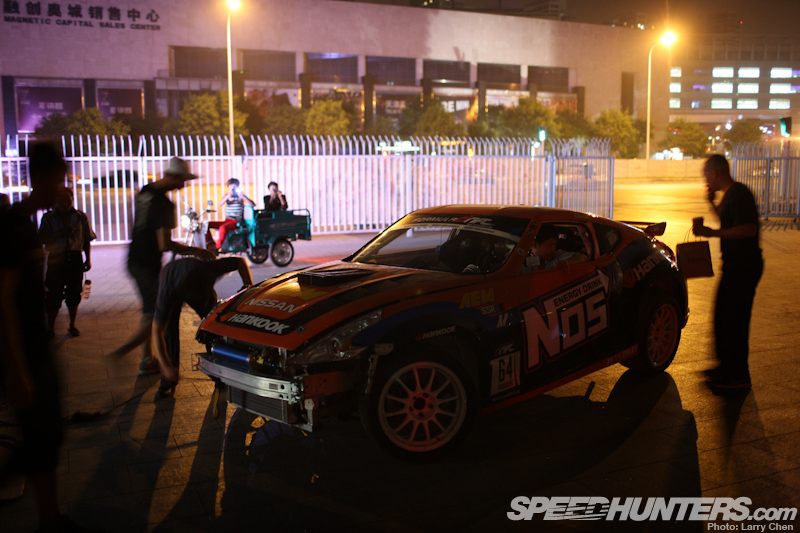 It was 2am: Chris Forsberg and the rest of his team still had to put on coil-overs and do a basic alignment, plus they still needed to tune the AEM EMS for the Chinese fuel so they had quite the night ahead of them. Luckily they packed everything they needed into the shipping container to get the car running.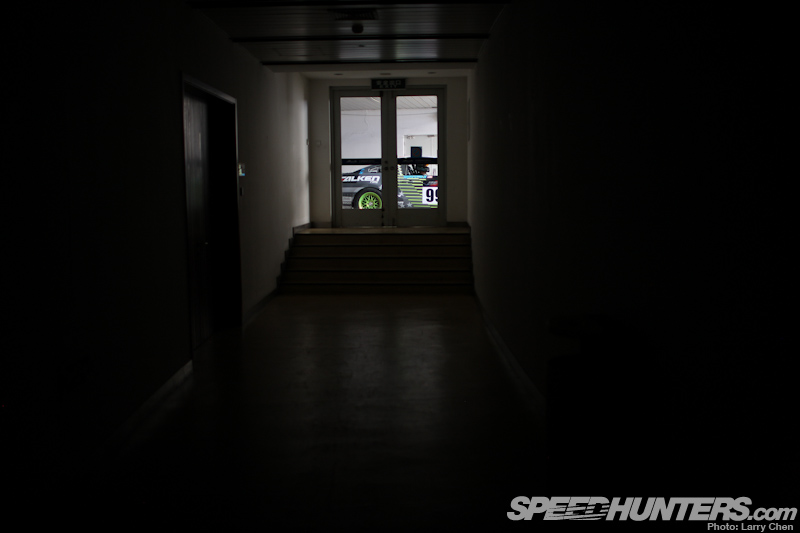 The next morning I arrived at to the track well-rested, to hear the sound of engines idling on the starting grid.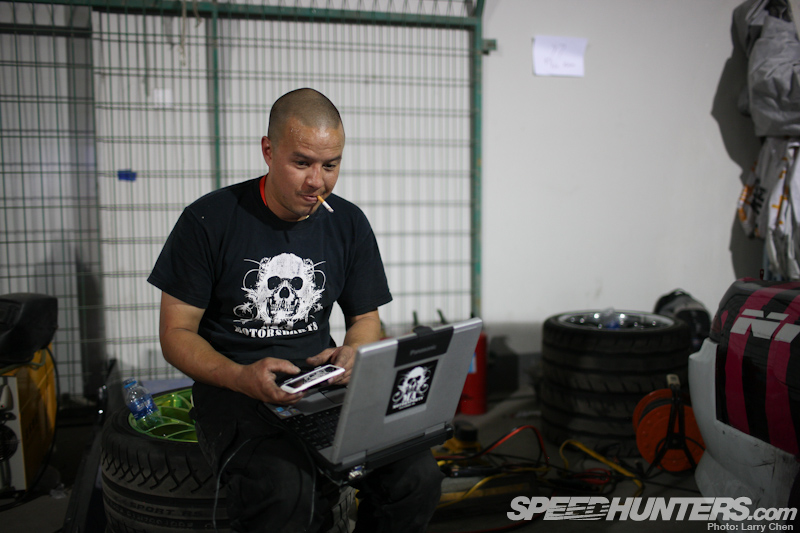 Ray Shake of MA Motorsports/CFR Racing had been up all night working on the NOS Energy 370z.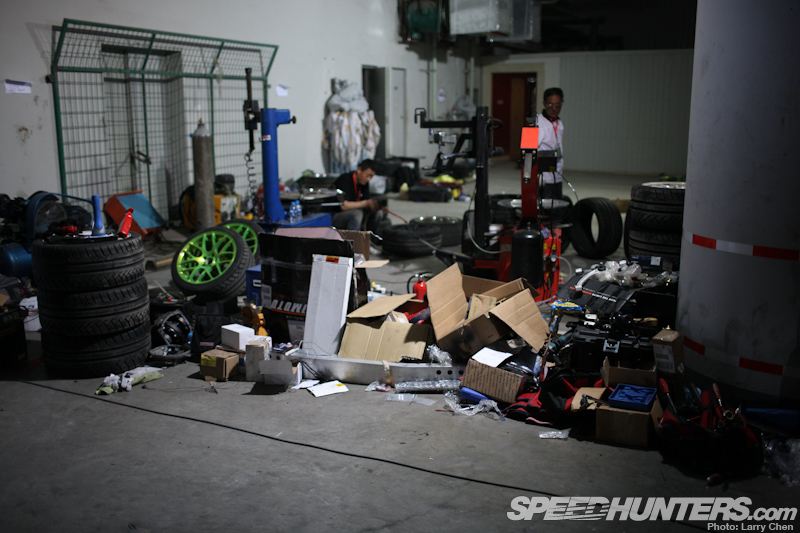 The American pits were incredibly organized and tidy…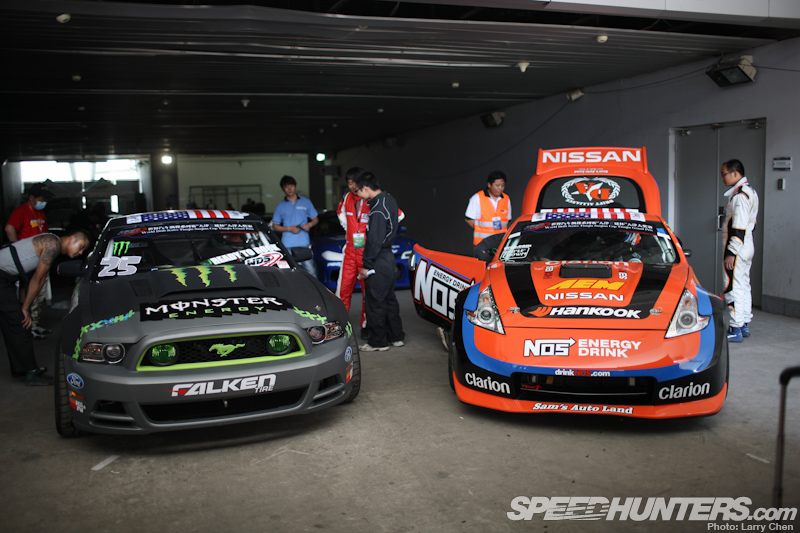 Chris Forsberg hadn't made a single pass on the track all weekend, and with only one hour of practice left before Top 32 eliminations things looked bleak.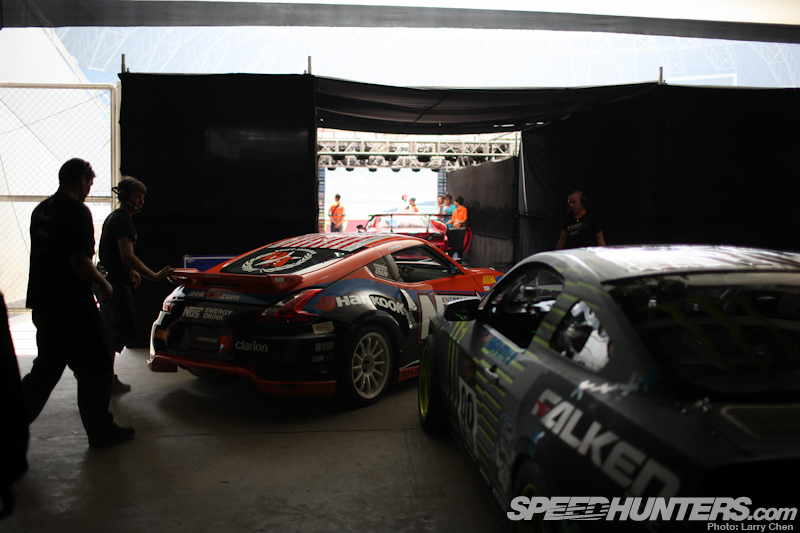 Vaughn let his Drift Alliance team-mate cut in front of him so he could get some practice in to shake down the car.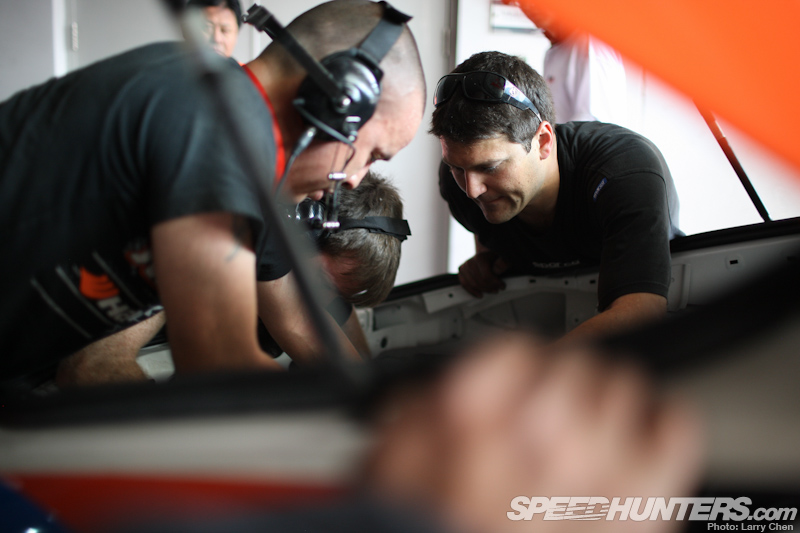 But there was a problem. The 370Z's alternator went out and it stopped charging the batteries, so the car kept on dying.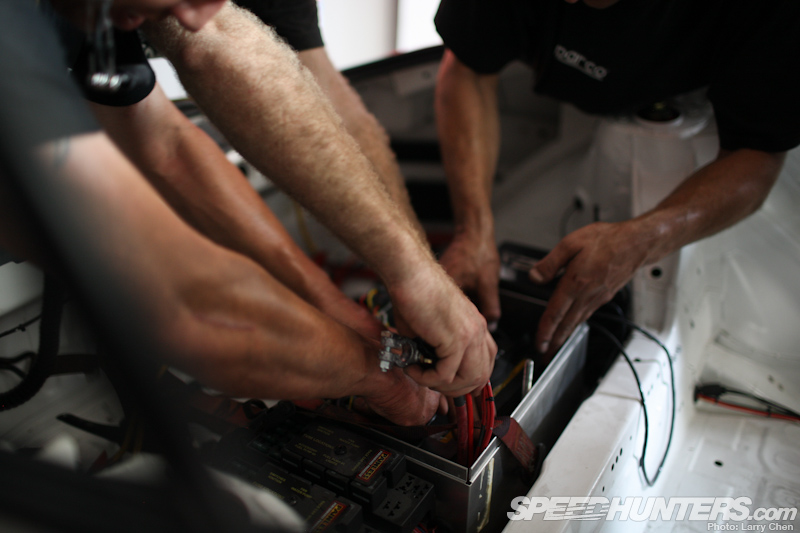 Six sweaty man-arms and three minutes later a new battery was installed, while the old dead battery was put on a charger.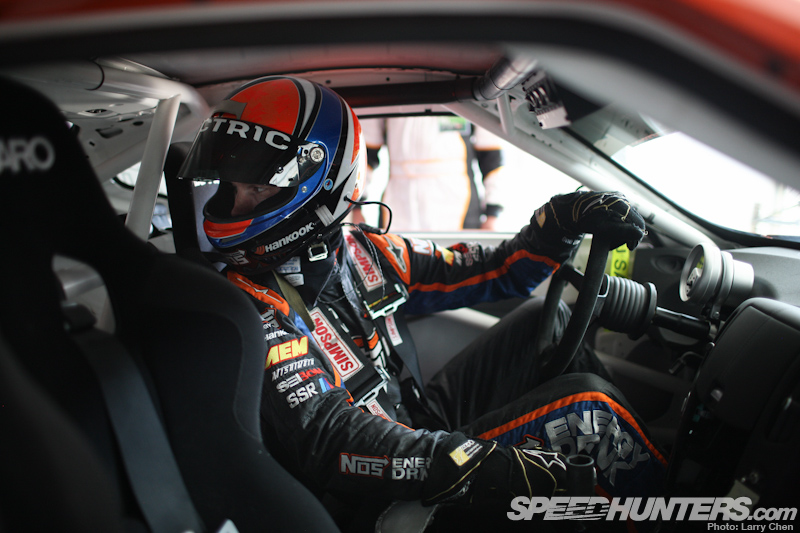 All Chris could do was watch as various mechanics from Team USA did everything they could to get him out on track.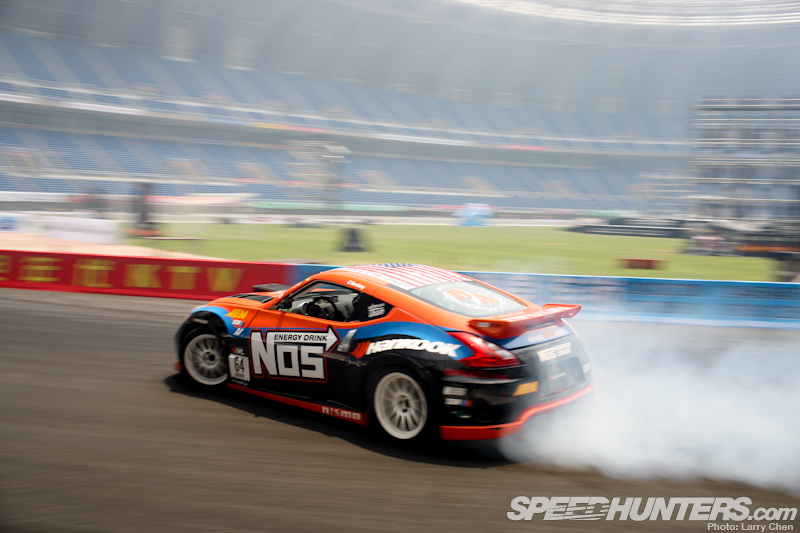 He made a few passes and it looked great, but the car immediately over-heated.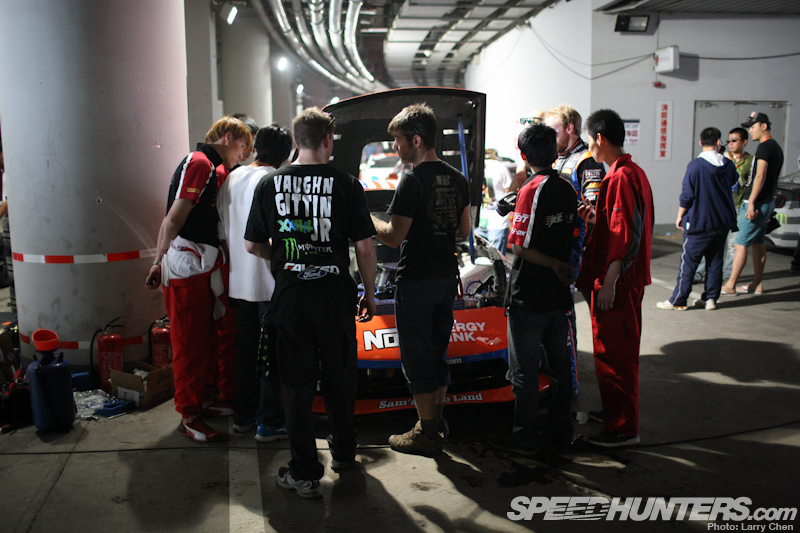 Now it was all hands on deck as Top 32 was about to start soon.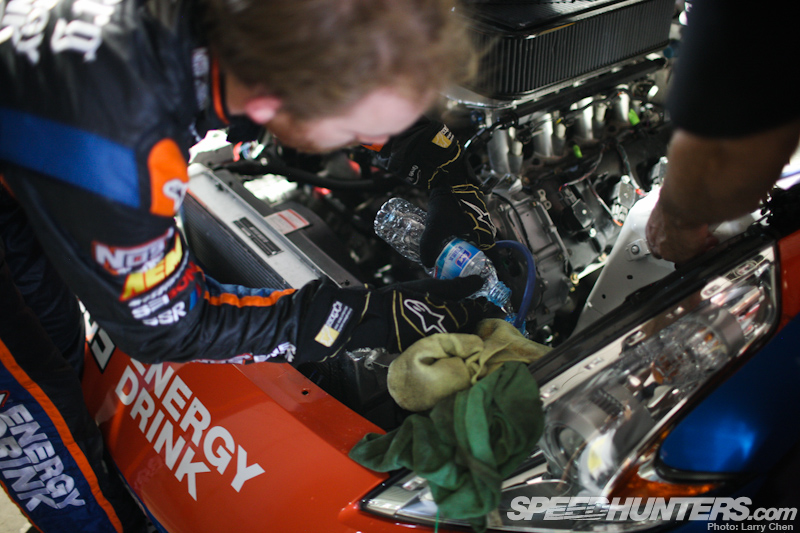 The car had lost lots of coolant and there was air trapped in the system.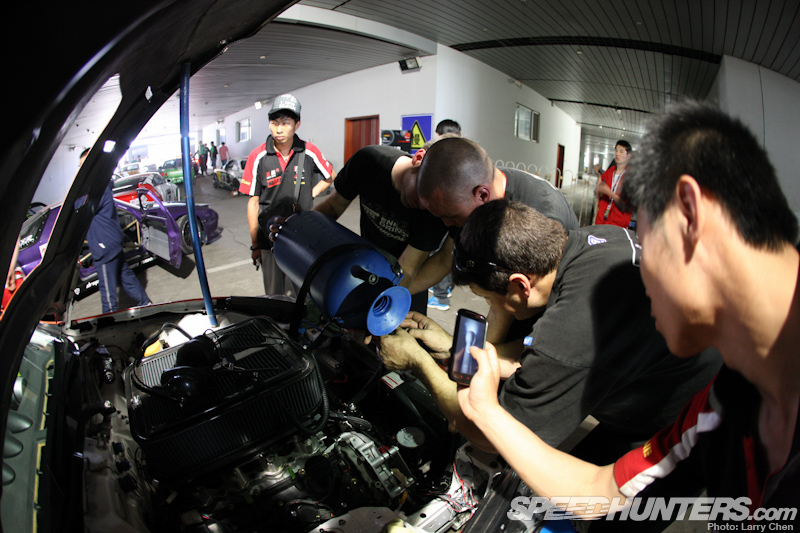 Even the Chinese teams started to help out.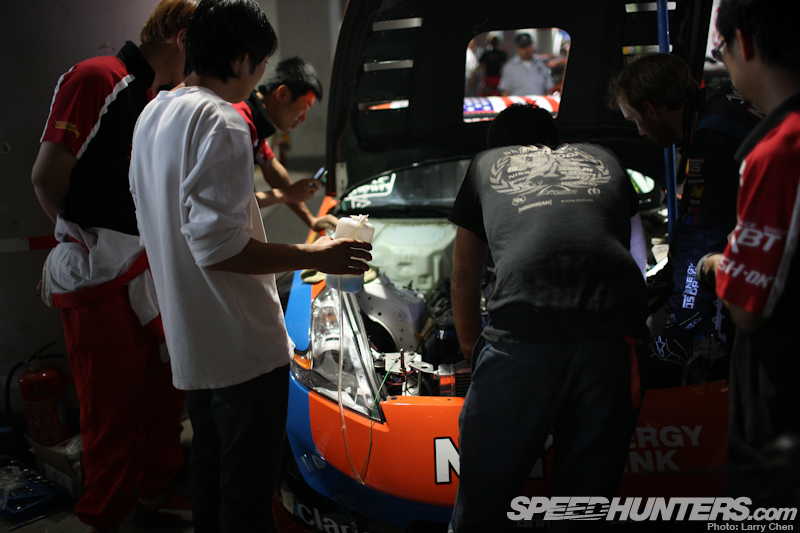 This scene reminded me of something you would see in a medical drama: the EMT holding an IV bag for an injured patient.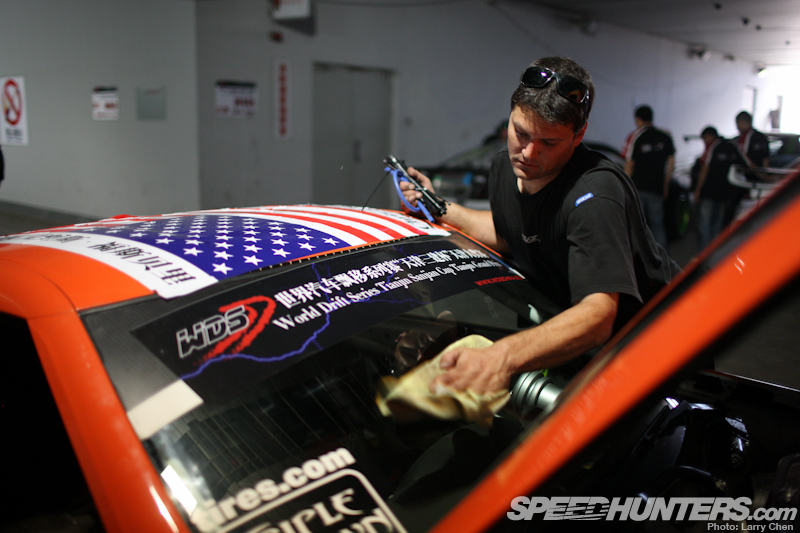 With the car buttoned up, Costa Gialamas cleaned off coolant from the windshield.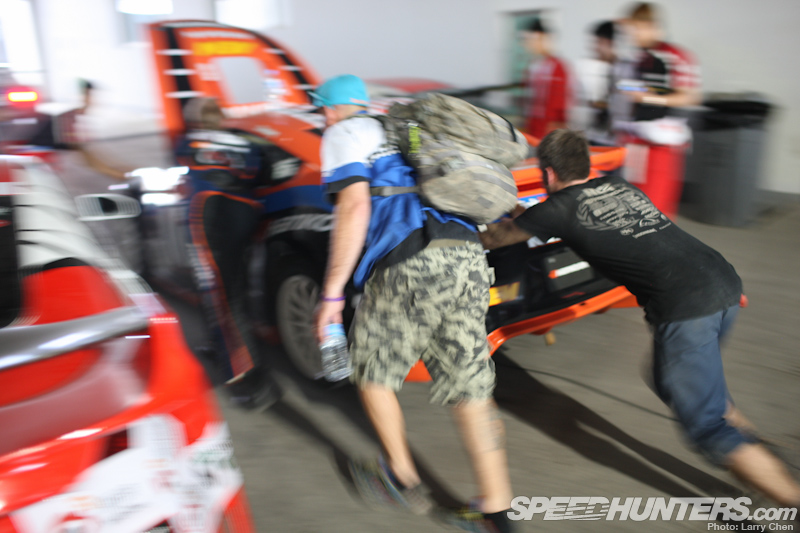 They pushed the car to the starting grid to save battery power, since starting it would drain the battery significantly. They needed all the power they could save for Top 32 eleminations.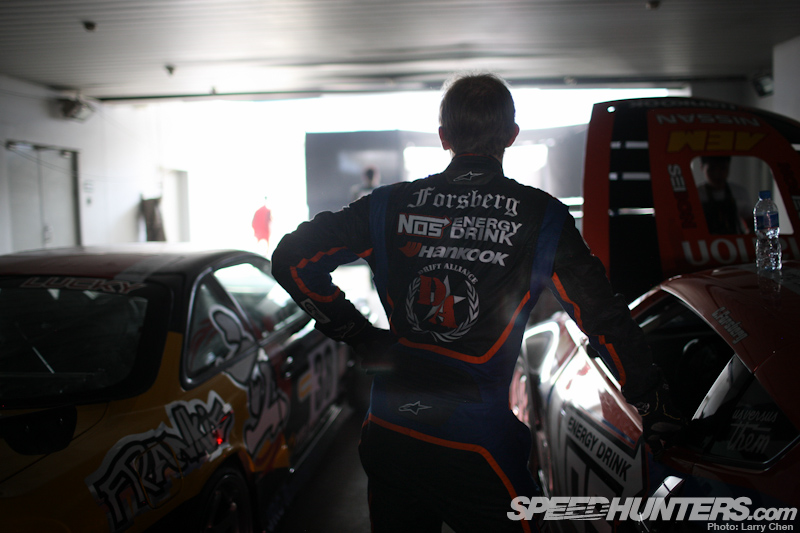 All Chris could do at this point was wait and hope the car was ready for battle.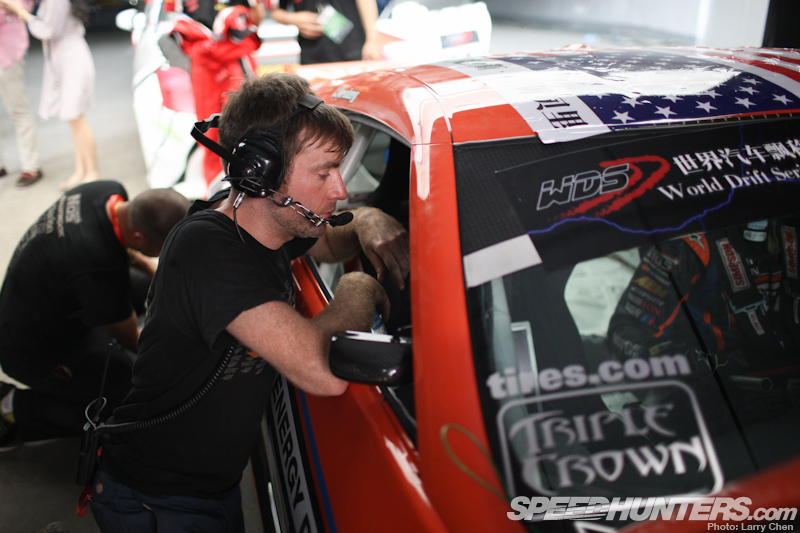 Brian Wilkerson, car chief for CFR Racing, and the rest of his team were ready for a nap. They had all been up for over 24 hours. I think they fared pretty well considering the car was still on a ship just 12 hours ago.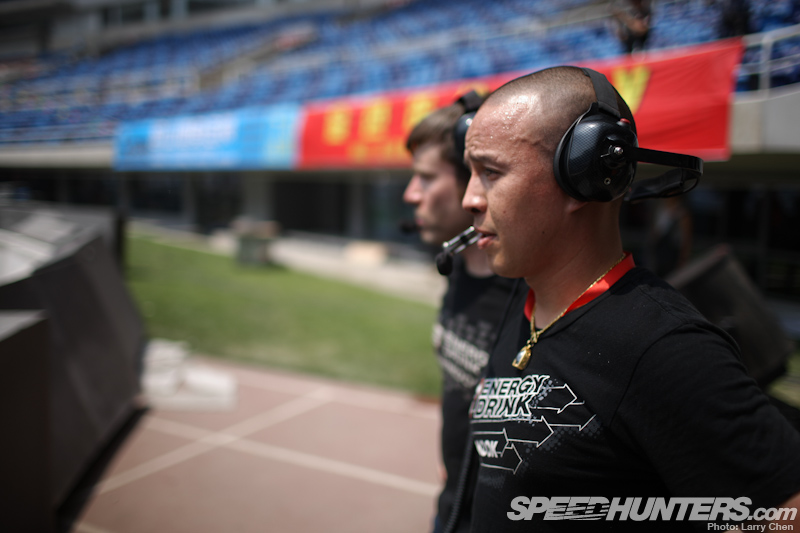 Crew chief Ray Shake watched as Chris went for his lead run against Chinese driver Jin Yi of the Shanghai Drift Team.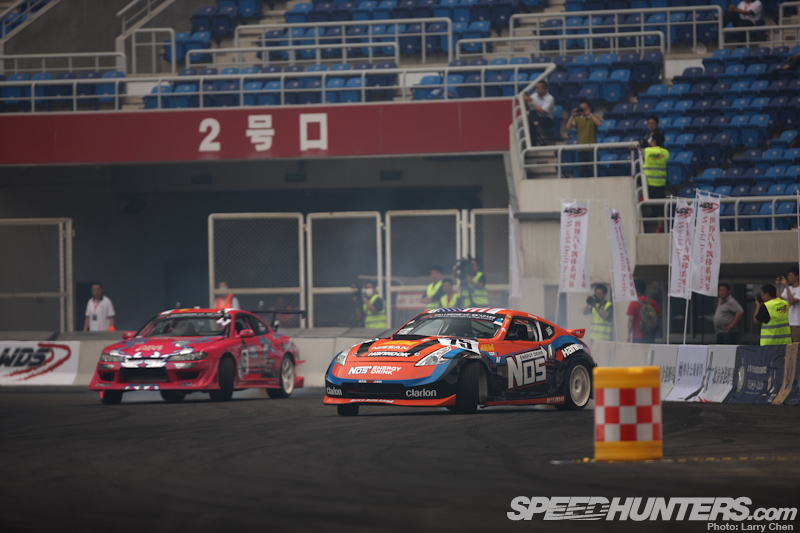 Chris pulled a pretty big gap right off the bat, and it looked like it was going to be an easy win.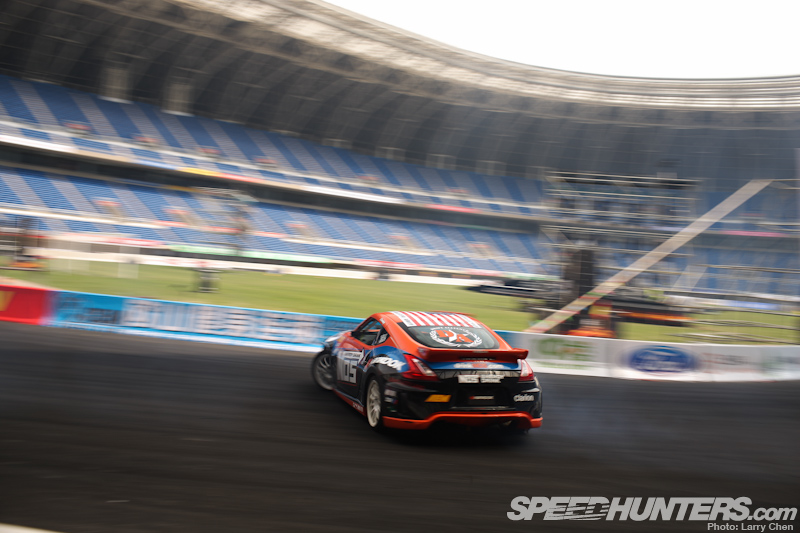 But with just three laps of practice Chris threw the Nissan with maximum angle into the second corner and spun out, gifting the win to Jin Yi.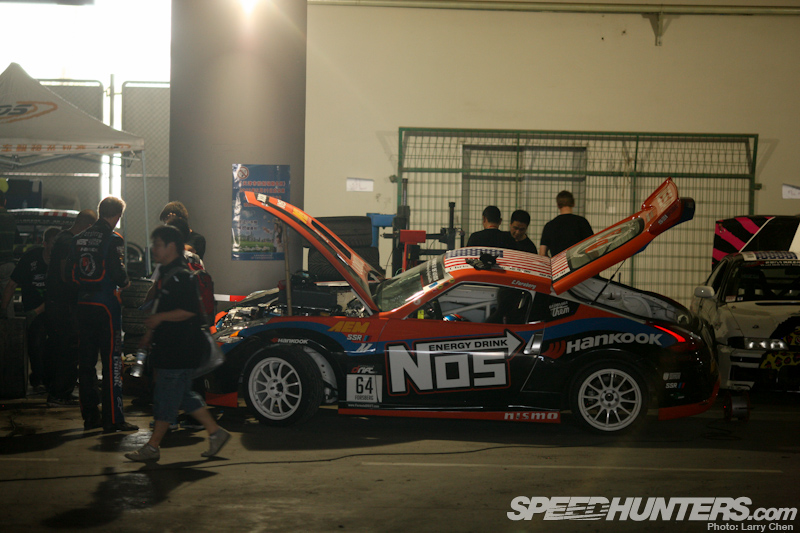 After traveling thousands of miles and staying up all night to get the 370Z working, Chris was knocked out of the Top 32 bracket. He was beside himself.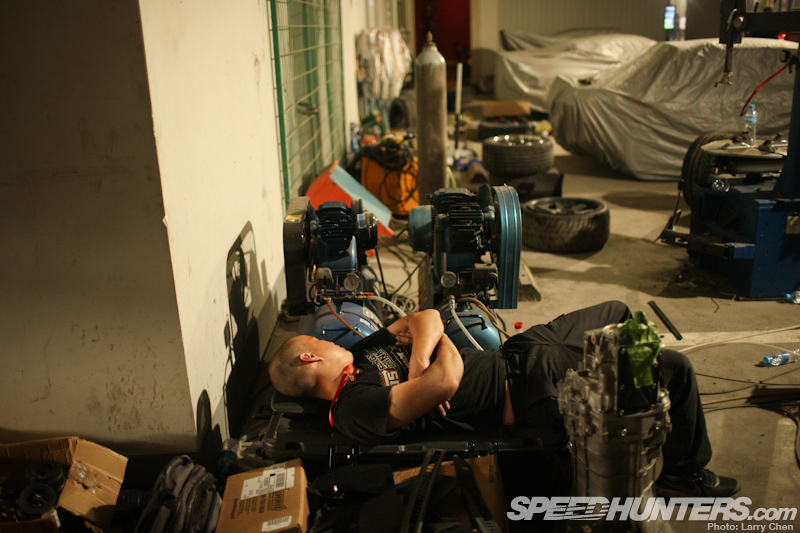 Ray on the other hand found a comfortable toolbox to sleep on.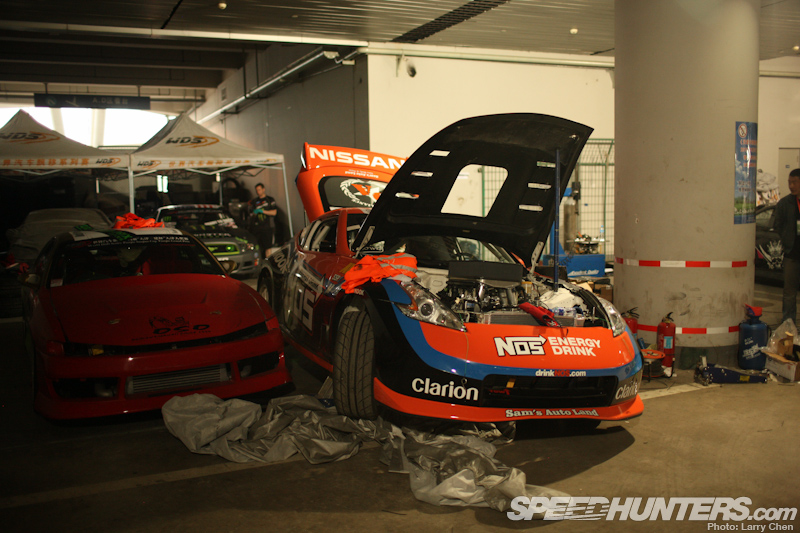 He didn't sleep long because Chris still had a shot at winning Team Drift for Team USA. So the team buttoned the car back together and got ready for the opening ceremonies.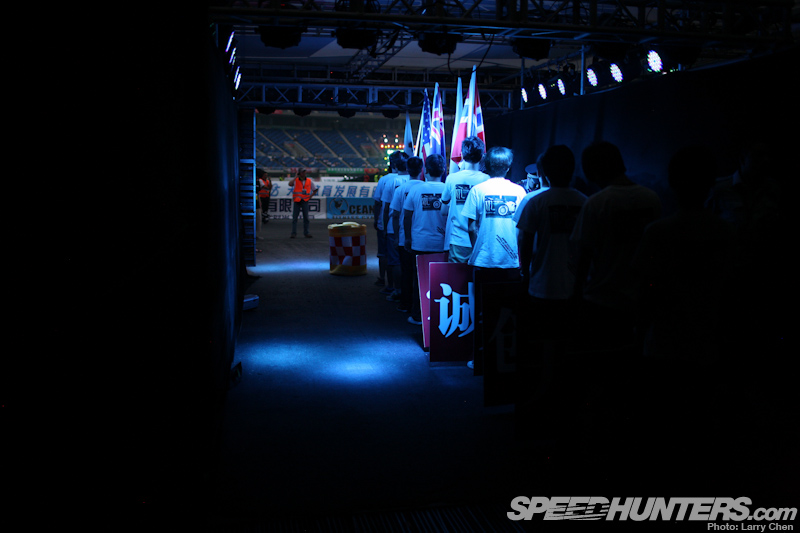 Qualifying and Top 32 are not open to the public so everyone started to pile in for the three-hour show that included Team Drift and the Top 16 competition, as well as various other performances.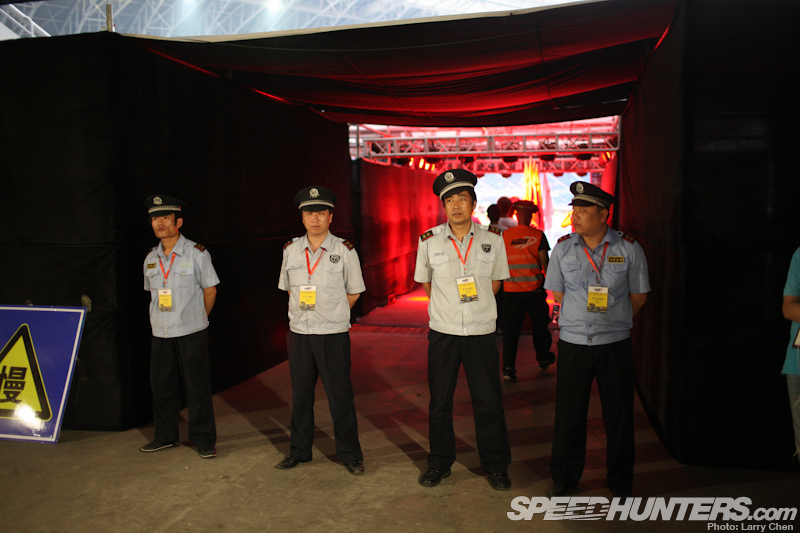 Security was extra tight as the former president of Mexico Vicente Fox was in attendance, along with many important Chinese government officials.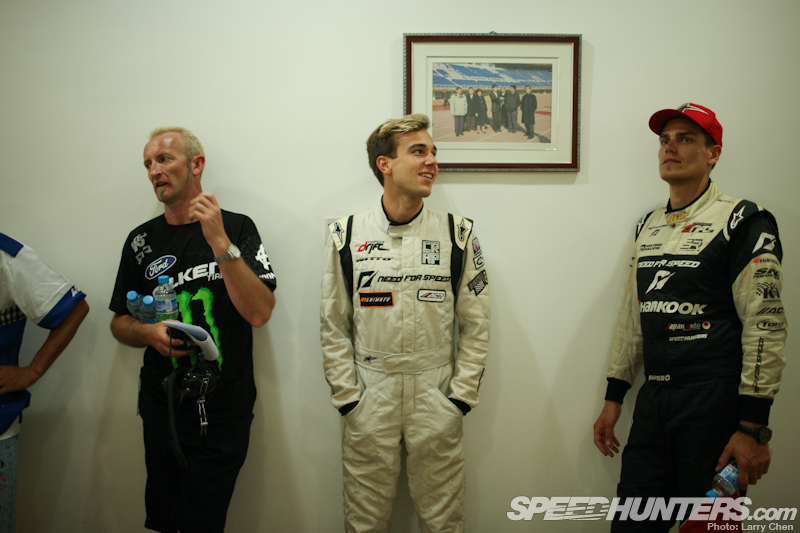 All the other international drivers made it into the Top 16 including our very own Fredric Aasbo, who was the number one qualifier.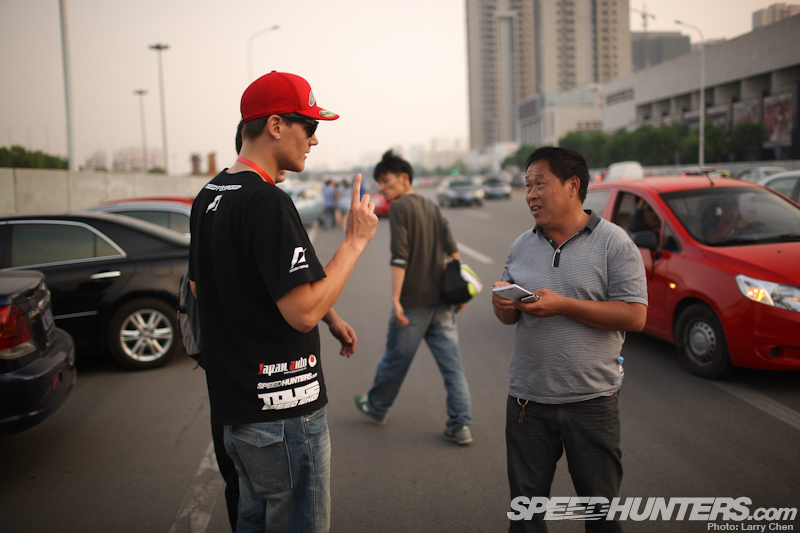 He was trying to buy some tickets off of a scalper outside the venue, but the guy was asking for too much…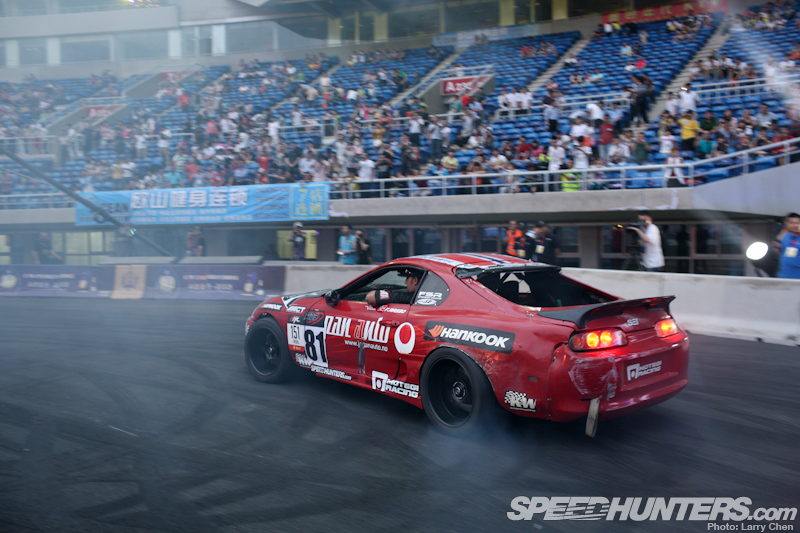 …so he just rolled into the stadium in his Supra.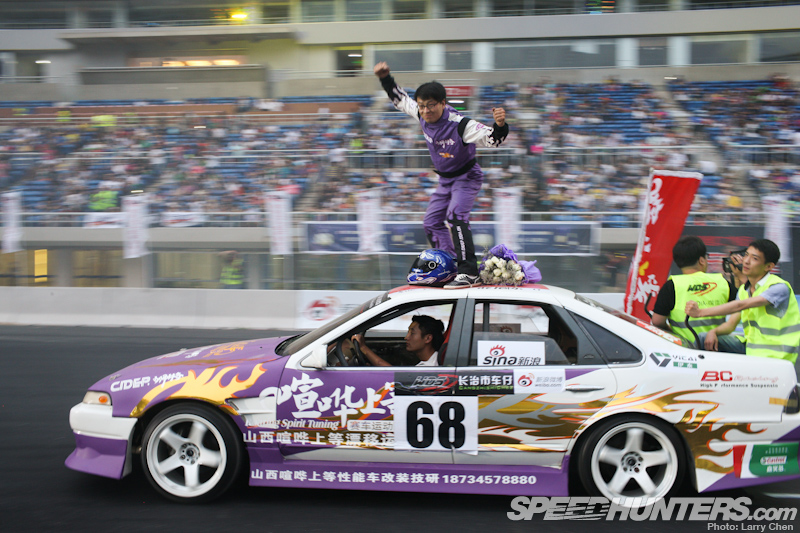 One by one all the drivers rolled by as the crowd was still pouring in. Here was Jia Bo of team CIDER doing his best Vaughn Gittin Jr impression. Not bad, eh?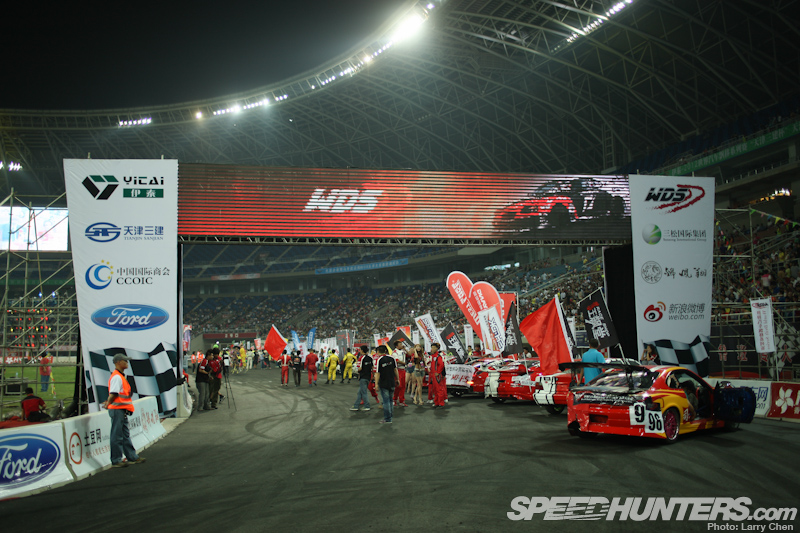 WDS allows all drivers to attend the opening ceremony whether you made Top 16 or not, so the track was full to the brim.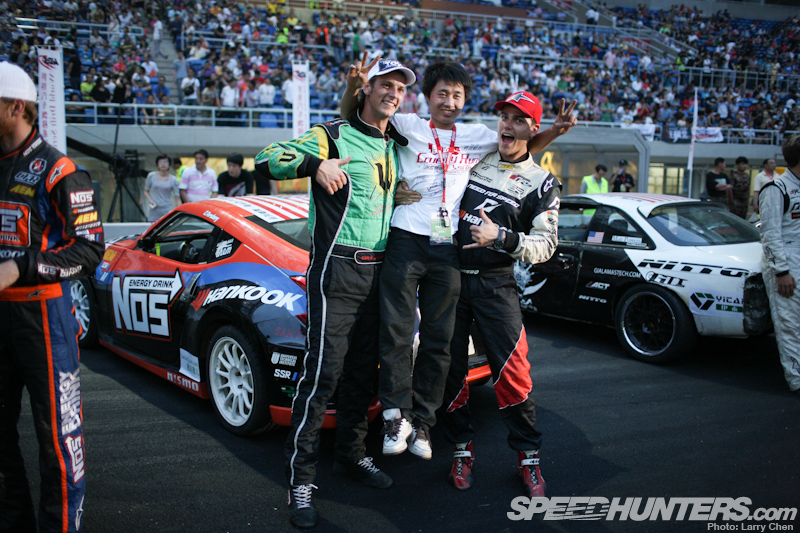 This was the perfect opportunity for fans to take photos with their favorite drivers.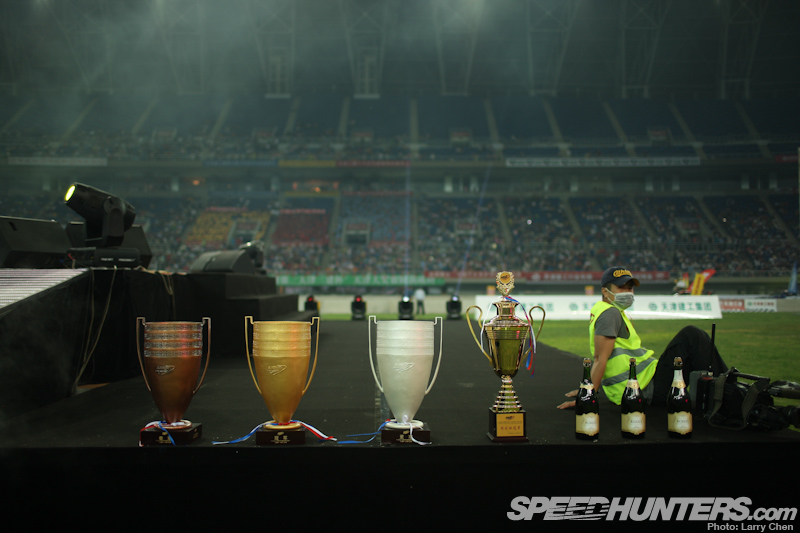 The trophies for the individual competition, as well as the one for Team Drift, were proudly displayed in the middle of the stadium.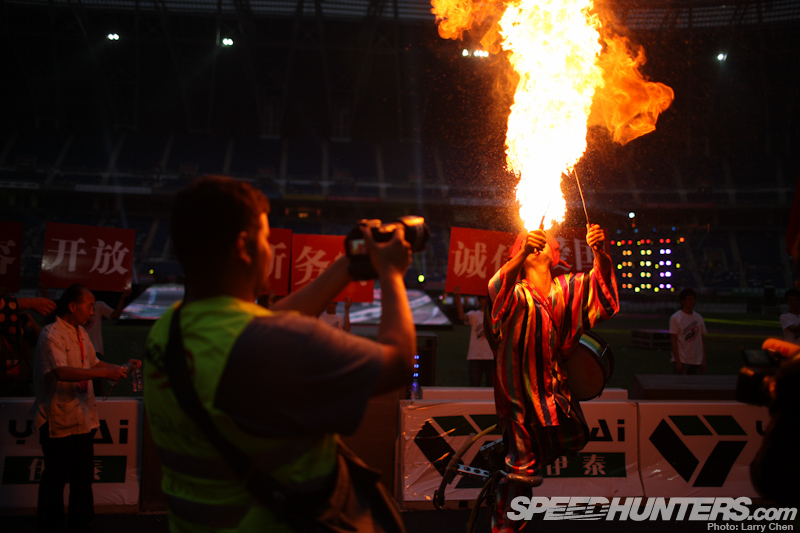 This is when things got interesting. There were actually six fire-breathing clowns on stilts walking around during the opening ceremonies. Why? Because it's China.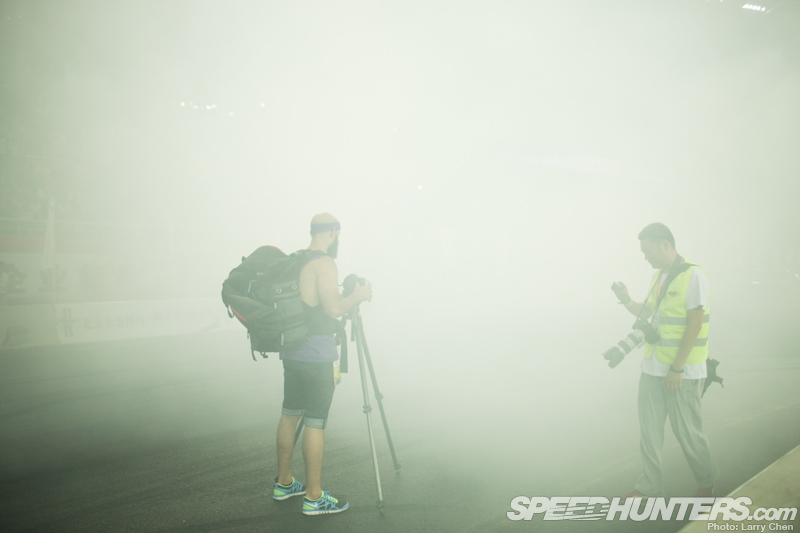 The main event was about to start, so the drivers were told to move back to the underground paddock. You can bet each and every driver did a smoky burnout leaving the stadium.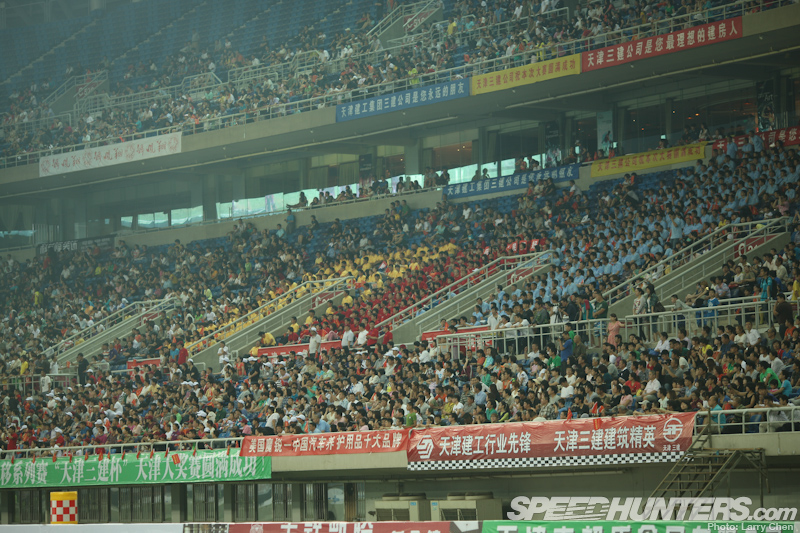 The crowd was going crazy and they were antsy to see some drifting. There were colored cheer squads for different Chinese drivers. They have got some seriously dedicated fans out there.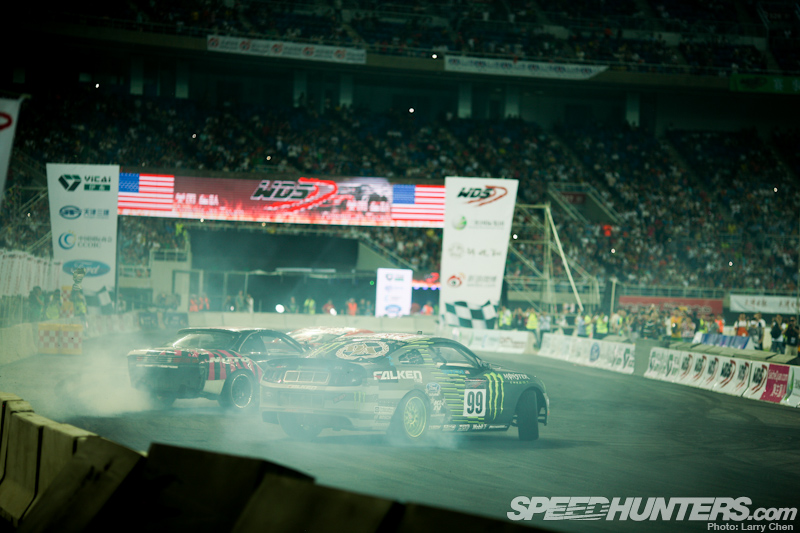 The show started off with team drifting. Chris Forsberg had a mobile alternator repairman come out and fix his alternator before the opening ceremonies, so he could lead Team USA in a team tandem.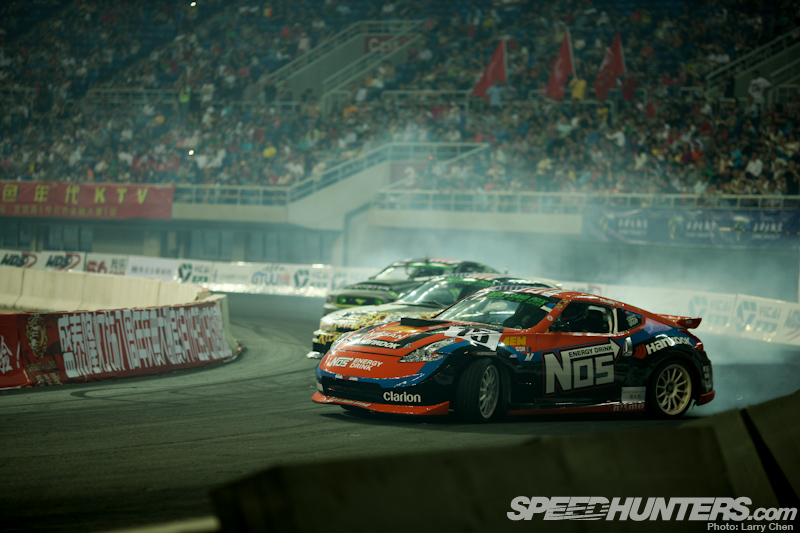 They drifted in perfect unison for three whole laps. That is pretty much the limit for heat and tires for all three of these cars.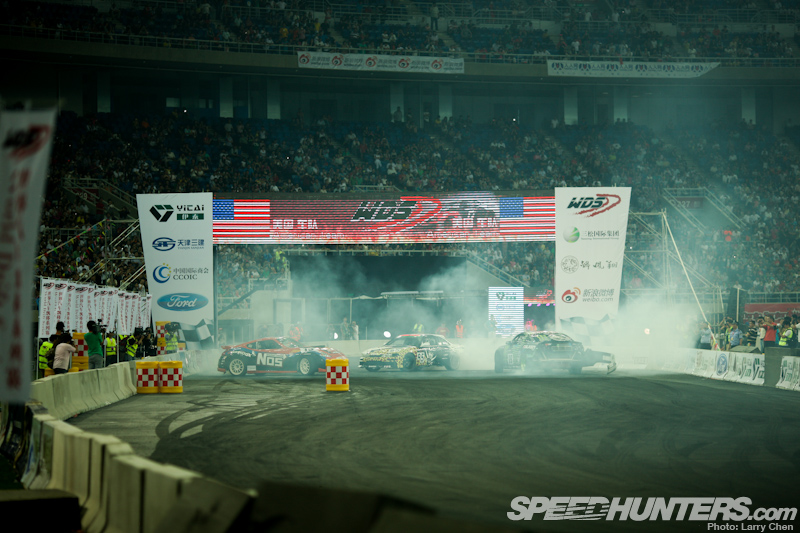 They finished off in style with some three car donuts.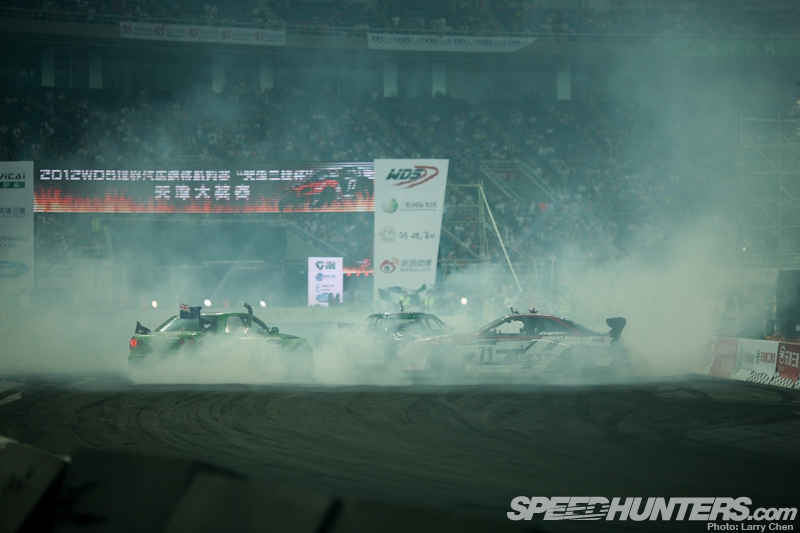 The Kiwi drivers also put on a great show during team tandem. I think all three teams were taking it easy to save their cars for the Top 16 competition.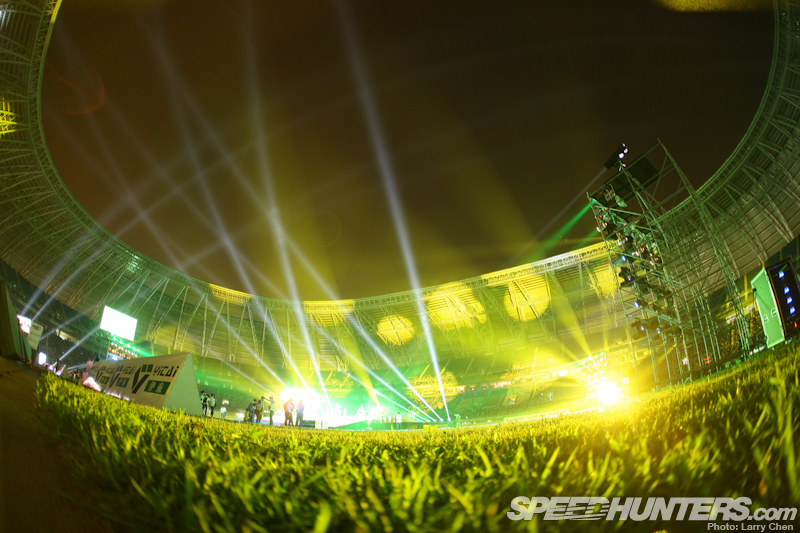 I was definitely not prepared for this event. The half-time variety show was reminiscent of something you would only see at the Superbowl.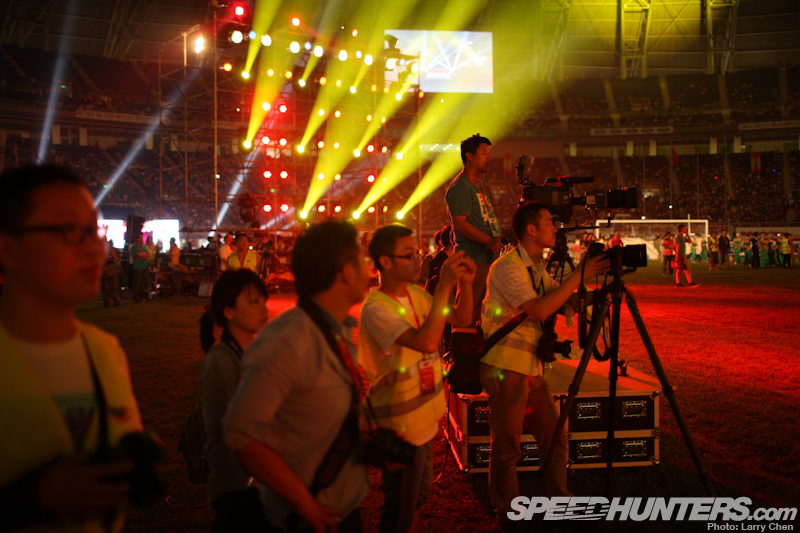 I was guessing the Chinese media was used to this kind of thing, because they were just clicking away like it was normal.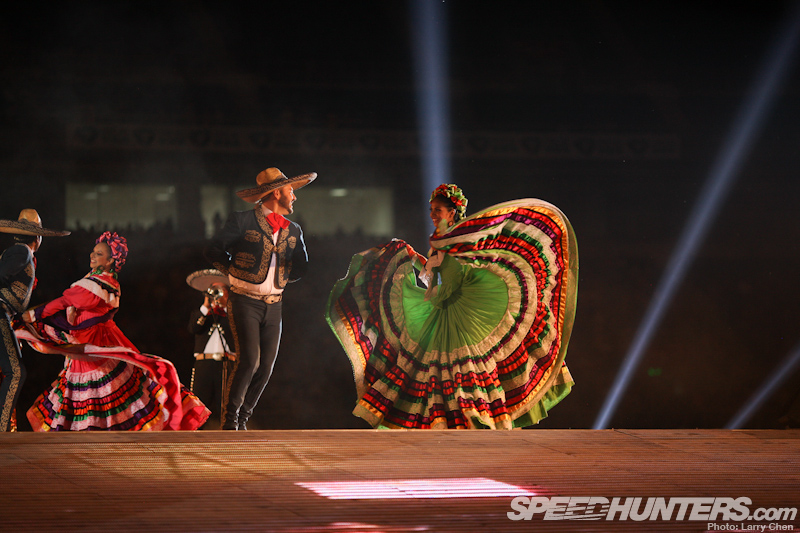 First came out mariachi dancers. I am guessing Mr Vicente Fox had something to do with this.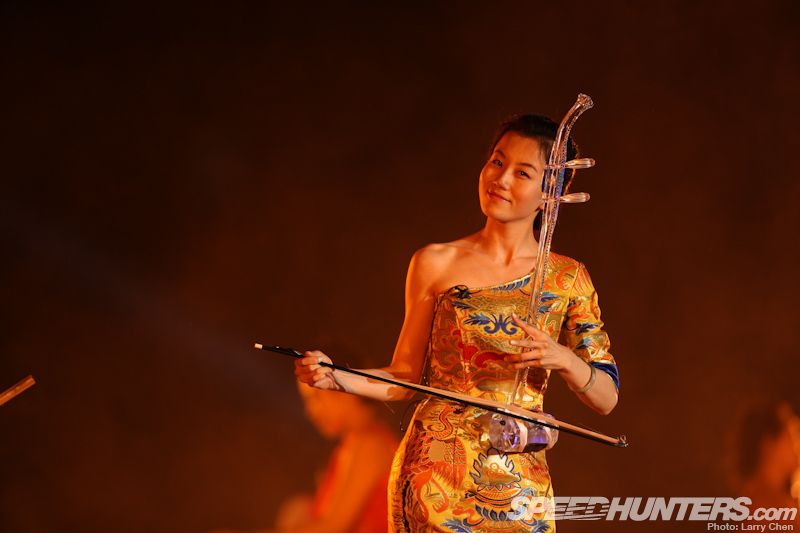 Then there was a Chinese band playing traditional instruments with a modern twist.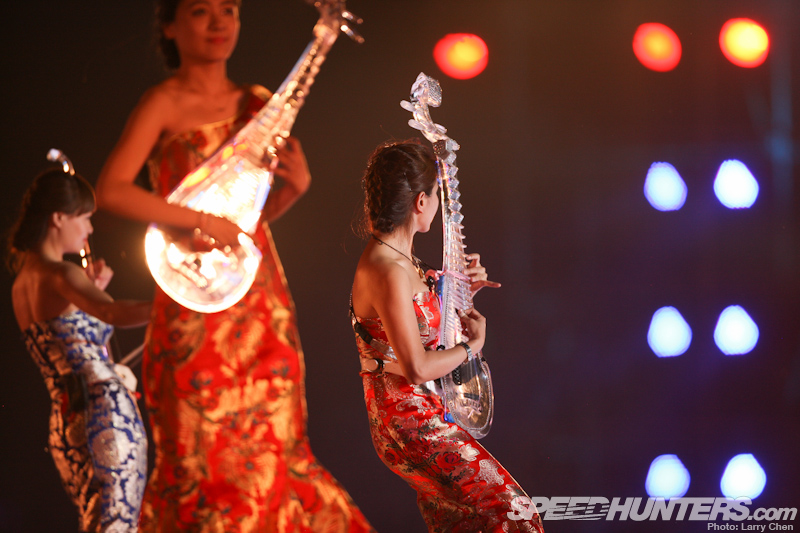 At this point I was not really sure if I was at the right show, because I would never normally expect something like this at a drift event.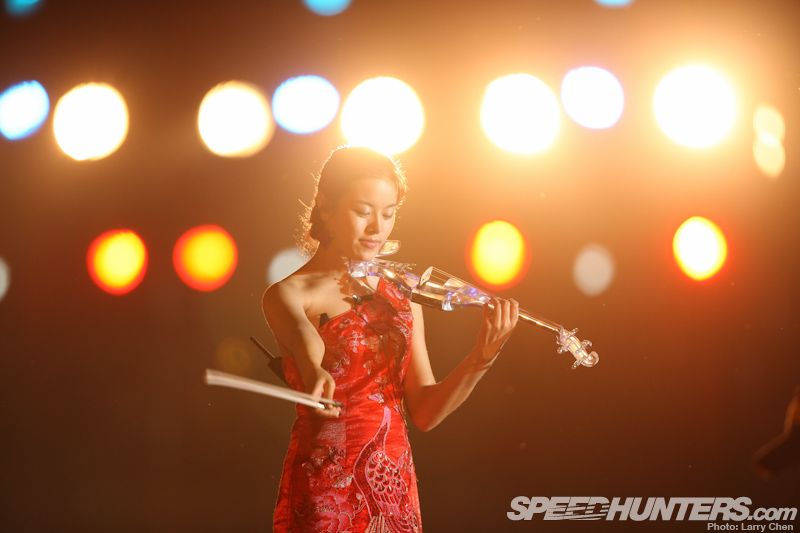 I was half wanting them to get into drift cars and do a fatty burnout while wearing their traditional dresses.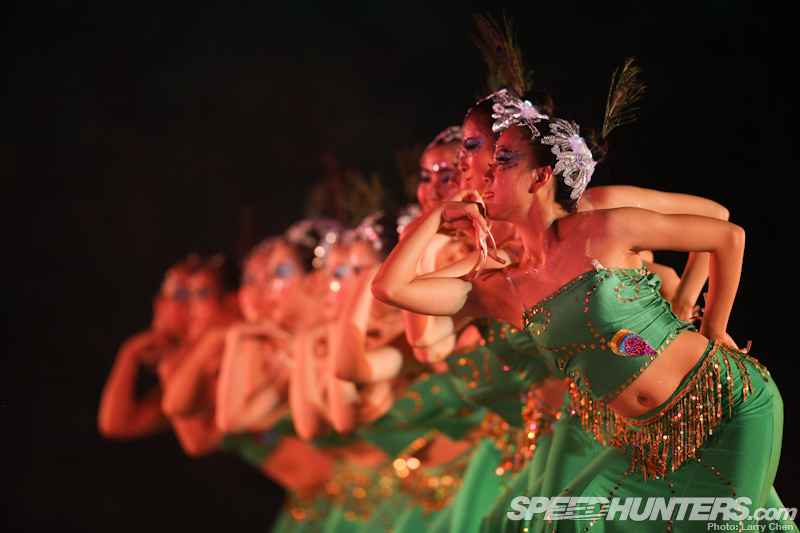 I don't even know what to say about the last act. It was just getting weirder and weirder as the show went on.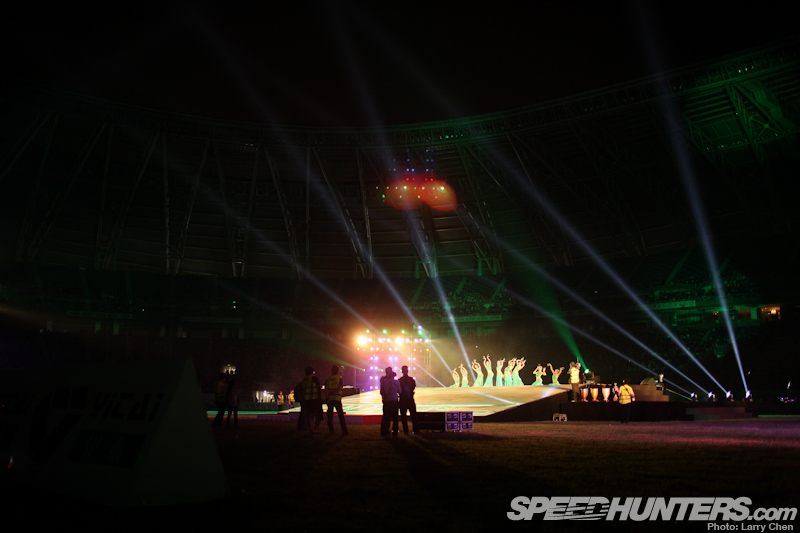 I think the Chinese audience got their money's worth. Some drifting and some Bollywood-style choreographed dancing.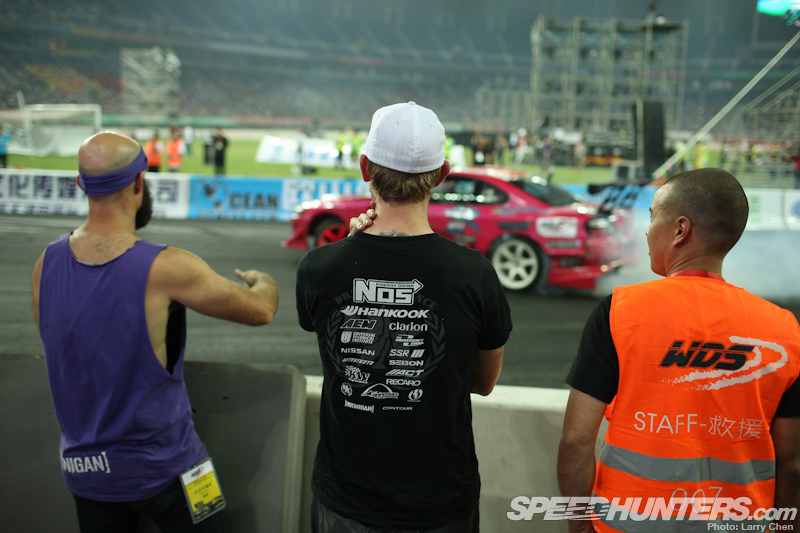 Finally it was time for the Top 16 eliminations as Chris Forsberg sadly looked on from the sidelines. However, Team USA did take first place in Team Drift, second went to the New Zealand drivers and third went to the Chinese. I know for a fact that Chris will bring the heat next round, as long as his car shows up on time.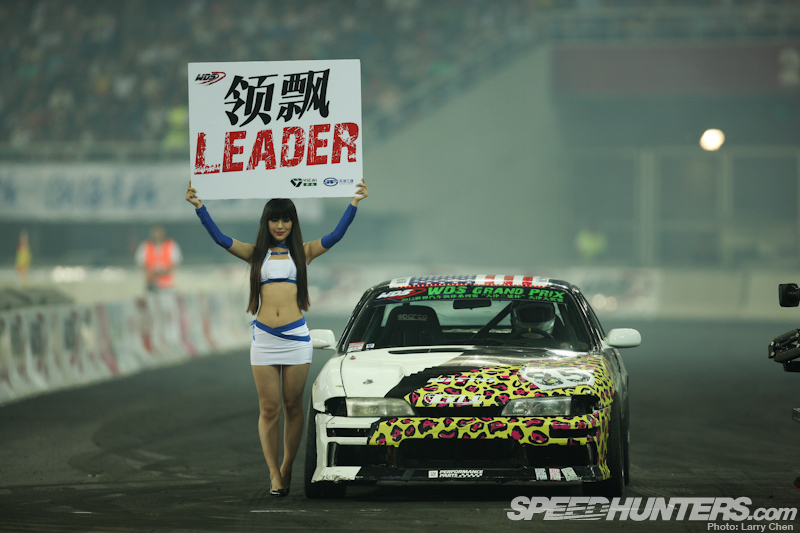 Like most drift series the judges look for super close tandem. That is pretty much the only way to bring excitement, considering the way the track is designed. So your goal as a driver is to stick to your opponent's door for two whole laps. Matt Powers was up first, against Chinese driver Wang Qi of Team DRS. Matt would lead as he qualified in third position.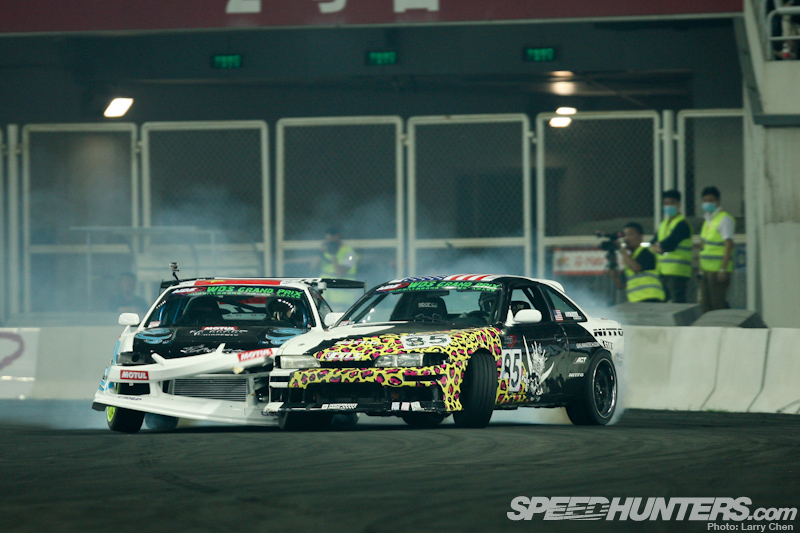 Wang nearly went into over-drift as he followed Matt door-to-door the entire way.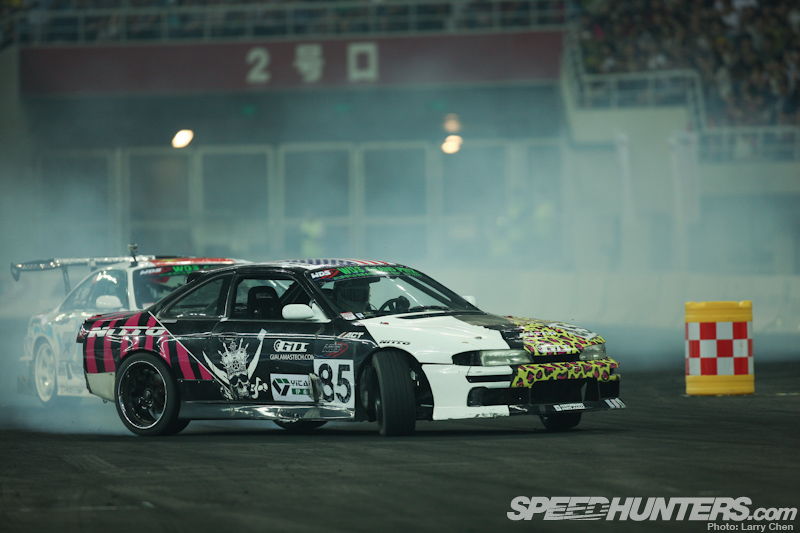 He even left a nice little mark on the S14's passenger-side door.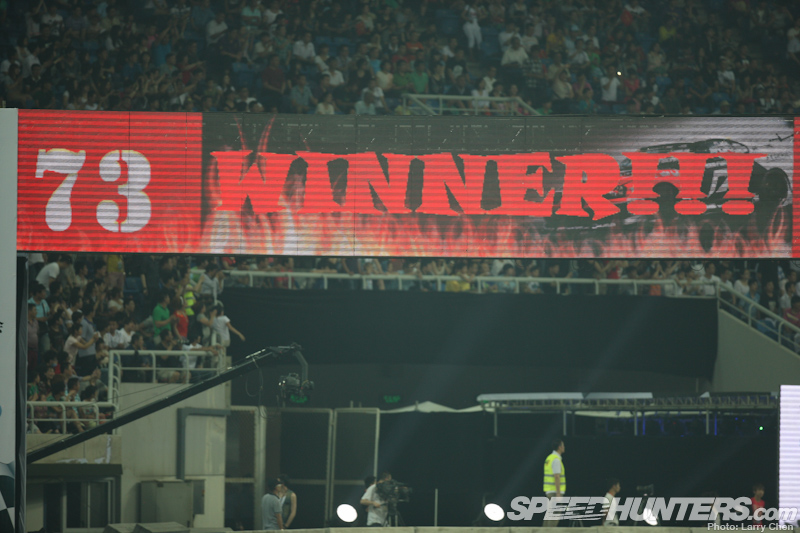 In a huge upset Wang knocked out Matt from the Top 16 bracket.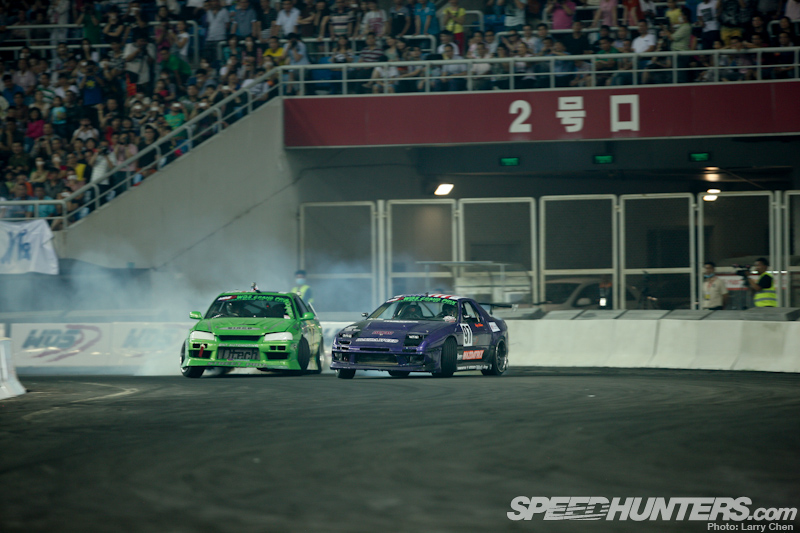 Next up was Kiwi driver Cole Armstrong versus Formula Drift driver Kyle Mohan. It was a battle of Nissan turbo vs Mazda turbo.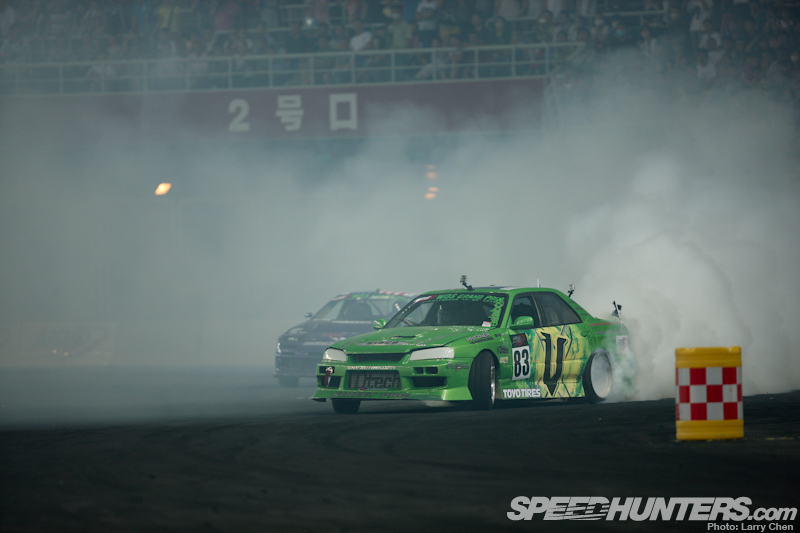 Cole had excellent smoke and speed. He also kept a good distance away from Kyle the entire run, but it was not enough to earn him the win. Cole straightened on his follow run, giving Kyle the win.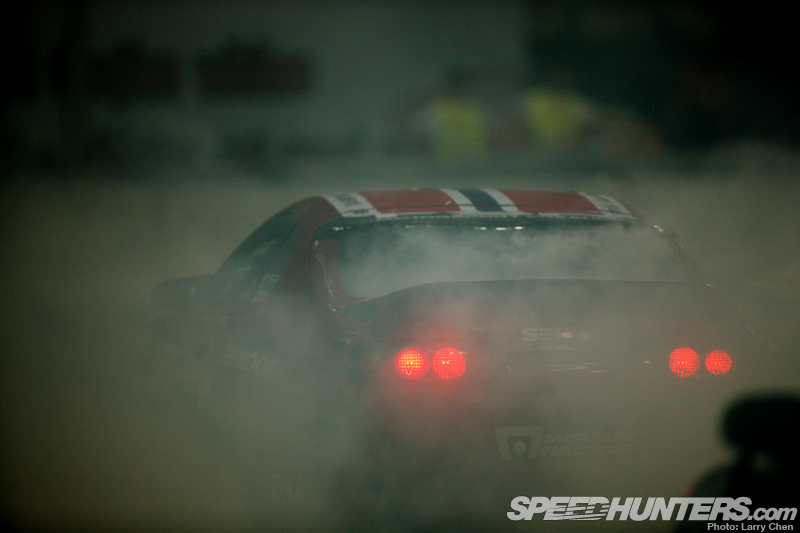 Next up was Fredric in 'Chucky' versus Shanghai Drift Team owner/driver Ken Chen. No relation.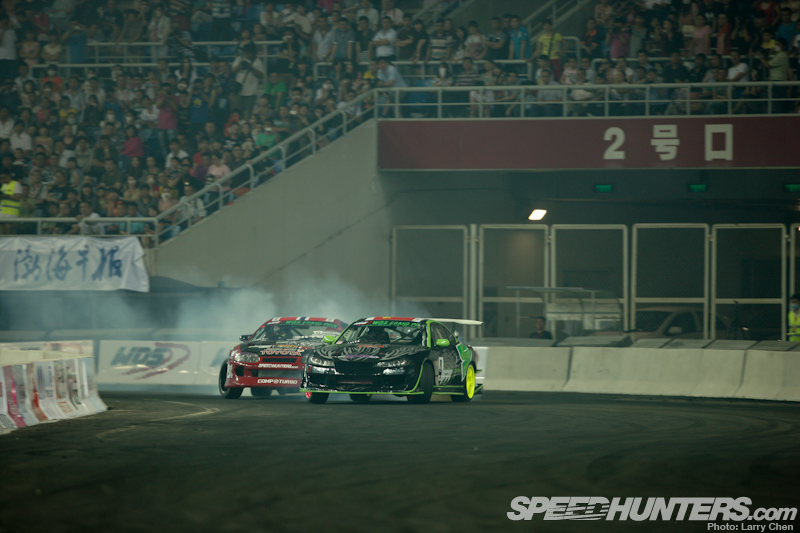 If Fredric won he would move on to the Top 8, which meant he would meet Vaughn in battle once again. It was like Formula Drift Seattle 2010 all over again. Ken put up a good fight, but he was just no match for the Norwegian Hammer.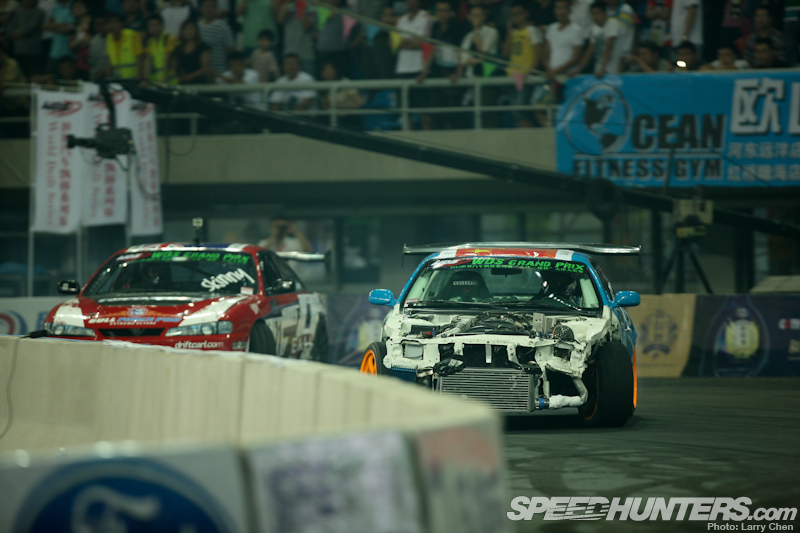 With the Top 16 coming to an end, the battles were getting more and more intense as drivers put everything on the line. Here was Carl Ruiterman battling against an open-wheel drift car driven by Du Hao. Carl was awarded the win when Du straightened on his lead run.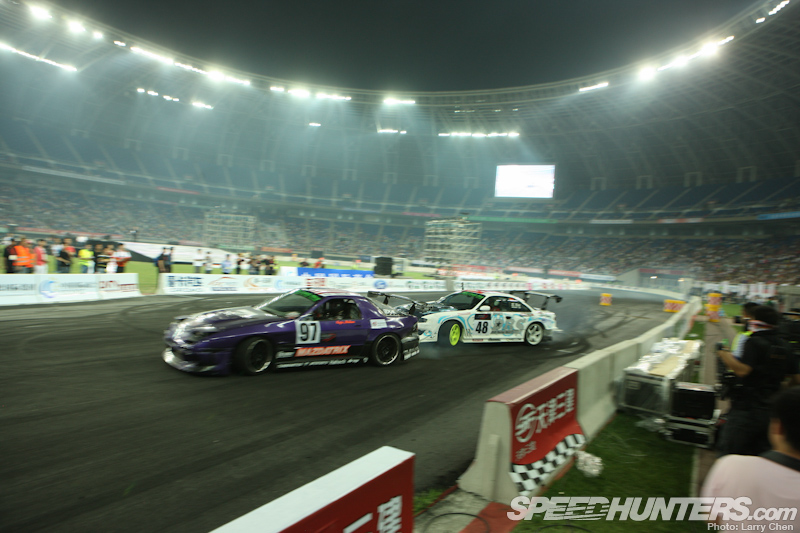 Next up was the Top 8 eliminators. Kyle 'The Menace' Mohan went up against Chinese driver Wang Qi. Matt Powers got knocked out by this very aggressive driver in the Top 16, but Kyle was not about to let that happen to him.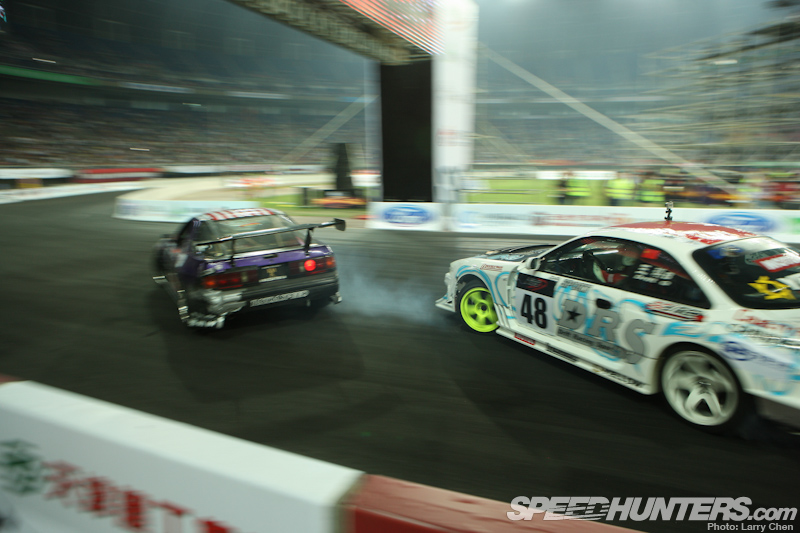 He did everything he could to keep a safe distance from Wang, but there was nothing he could do. Wang pulled the same trick and rode Kyle's door all the way around the stadium. The Team DRS driver would move on.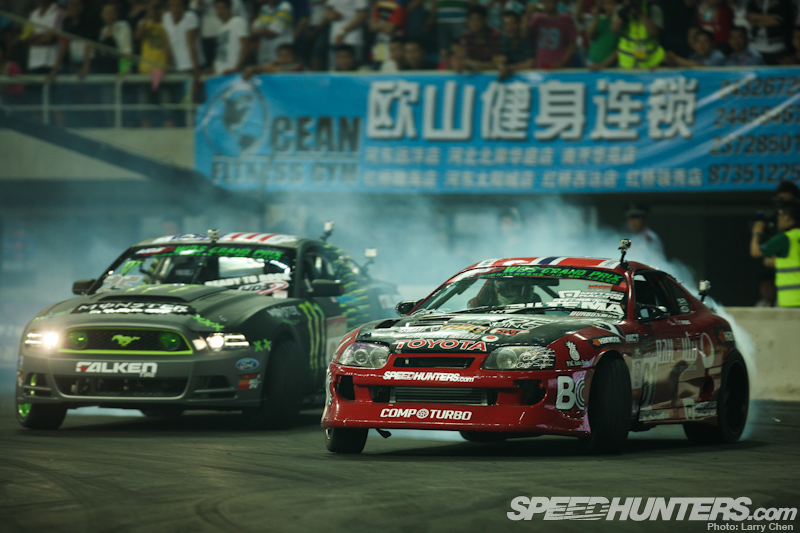 This was a battle I had been looking forward to for a long time. Vaughn followed for the first run, and both drivers had the fastest run of the day. Vaughn stuck to Fredric's door most of the way.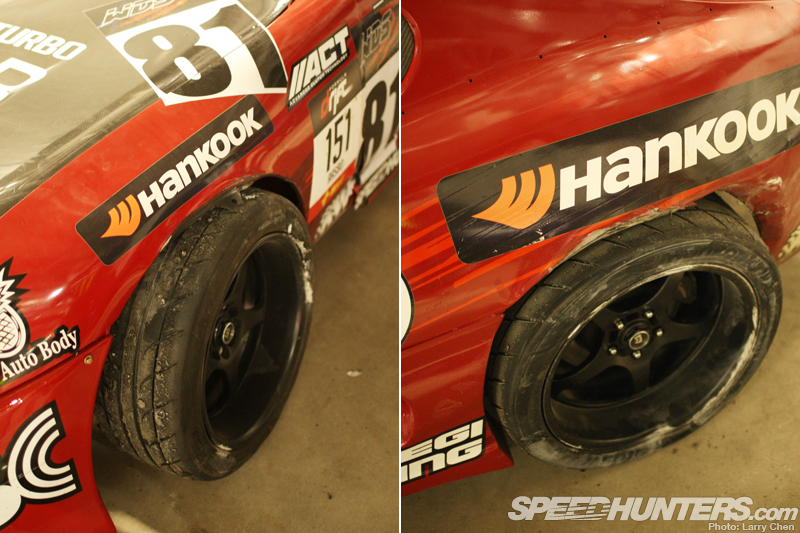 Fredric knew he had to do the same on his follow run. He entered at the same exact speed as Vaughn, but that proved to be fatal for the Norwegian Hammer as he rode the wall like he was grinding it with a skateboard.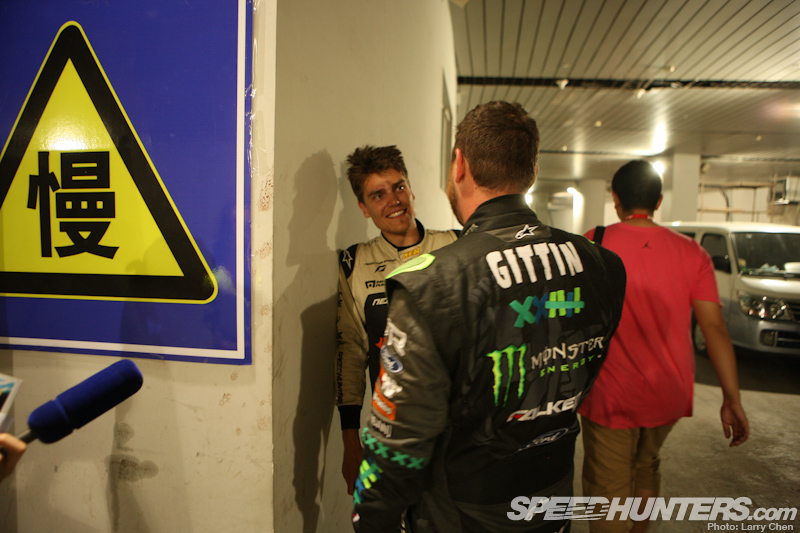 Luckily there was minimum damage and both drivers just laughed it off, as Vaughn was just returning the favor.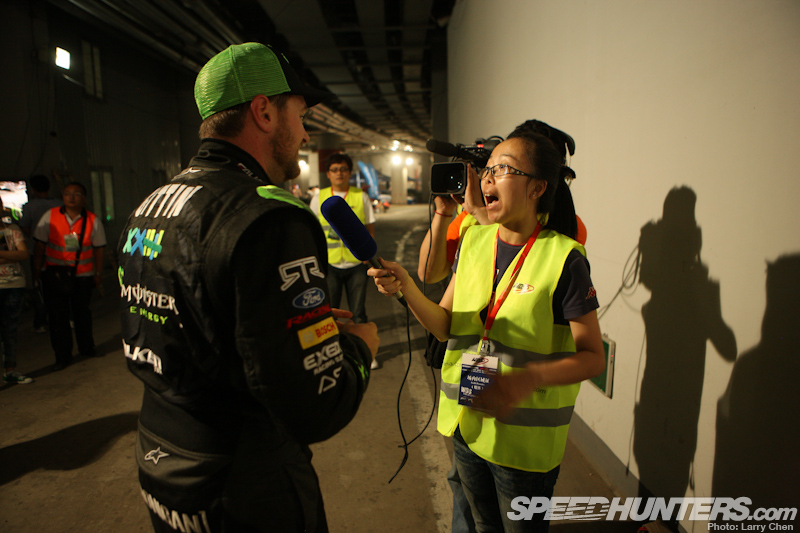 After every run each of the drivers were interviewed for a play-by-play account of what just happened.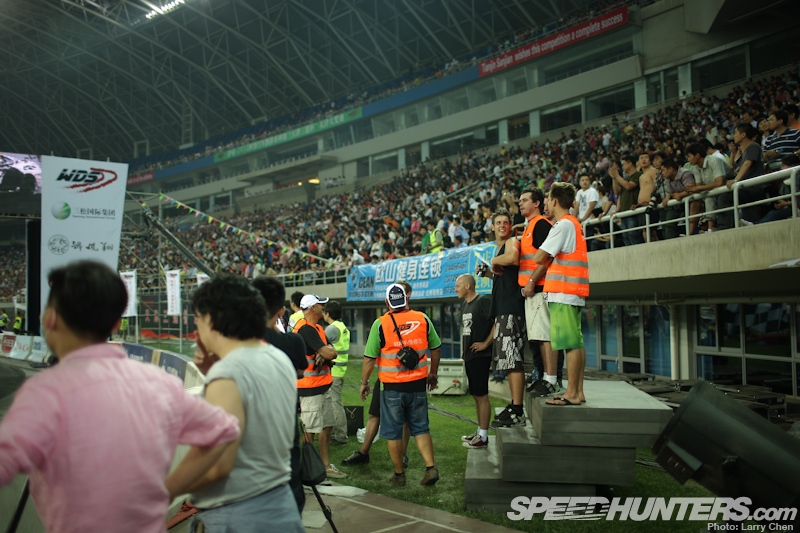 With an 'if you can't beat them, join them' mentality, Matt Powers and the rest of the drivers cheered for Chinese drifter Wang Qi to move on.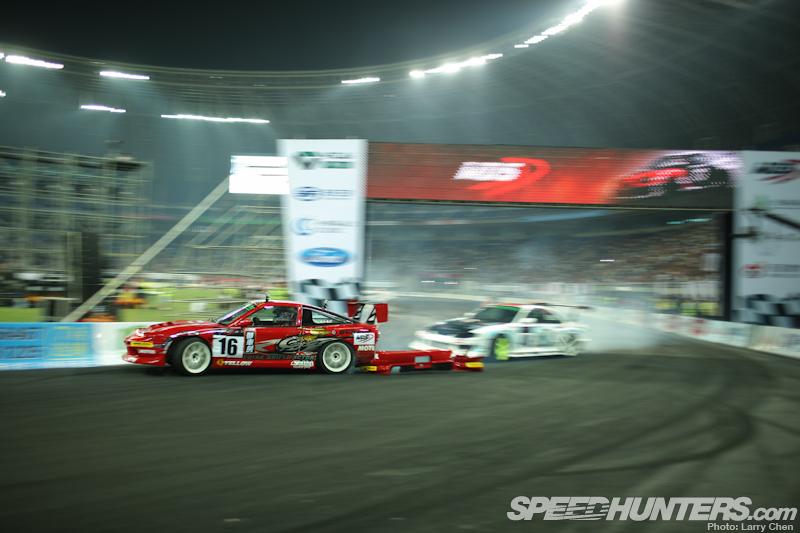 He would meet Taiwanese D1GP driver Feng Ren Zhi in the Top 4 bracket. The drivers were very closely matched, so they had to go one more time.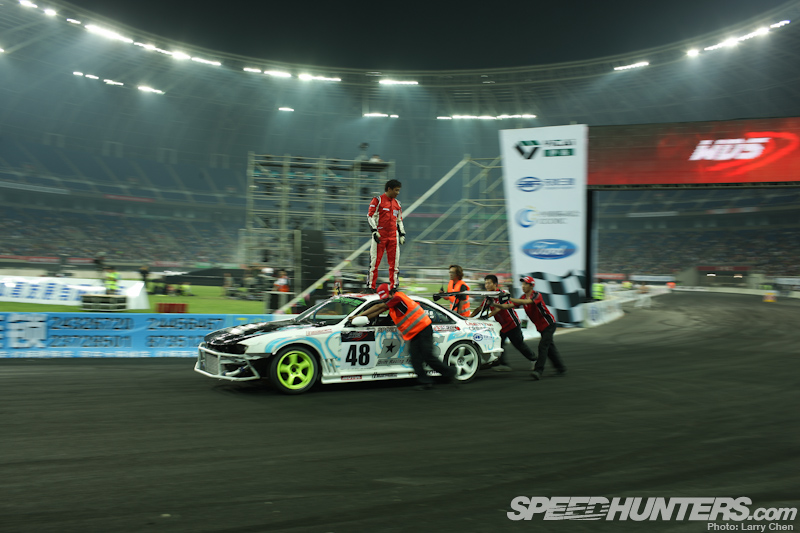 Wang ran very hard and put himself into the wall. He would have to battle once again to secure the last podium spot, while Feng moved on to the finals.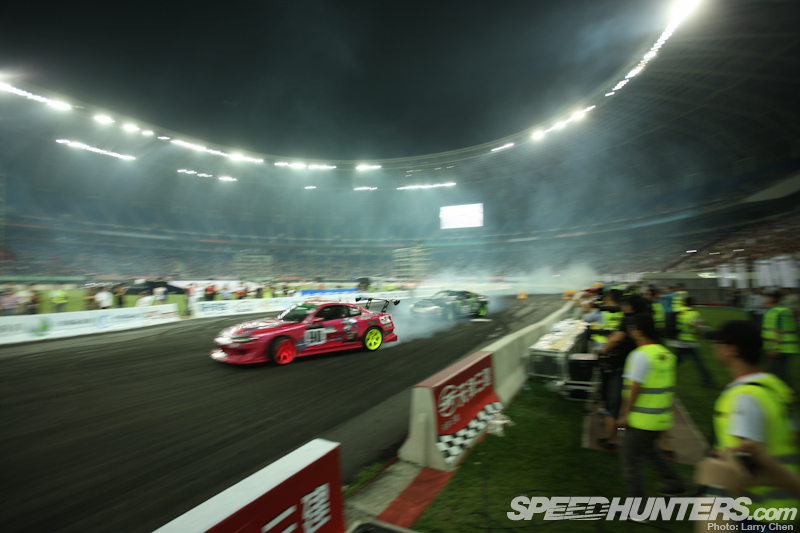 The other two drivers in the Top 4 were Vaughn and Shanghai Drift Team driver Jin Yi.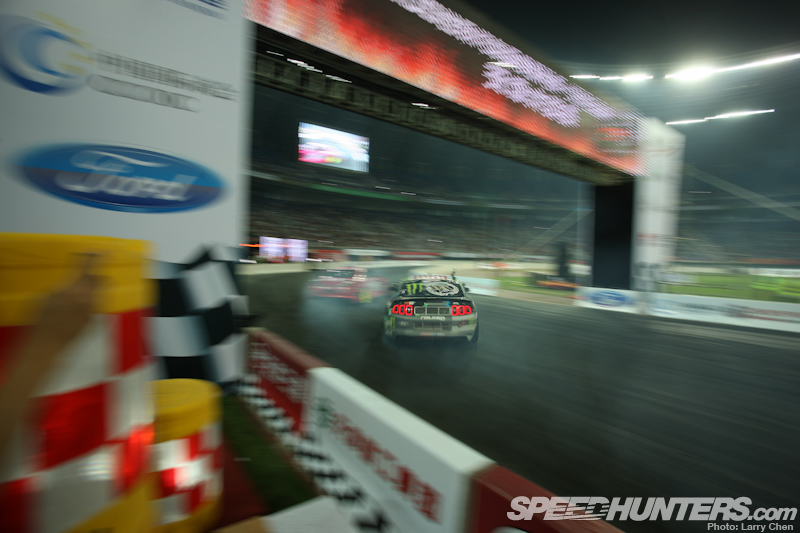 Both drivers could not close the proximity on their follow runs, so Hiro, Tarzan and Afro all decided to run them one more time.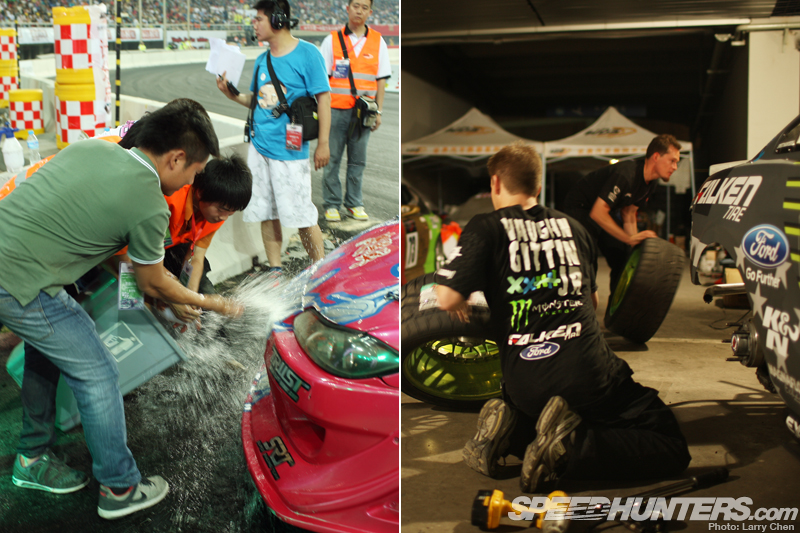 It was chaos as both cars needed a bit of a break. The Shanghai Drift Team mechanics were frantically trying to keep the Tomei-built SR22det from overheating while forgetting that they were getting the track wet as well. Vaughn pulled into the pits as the entire American team was pitching in to help out their team-mate.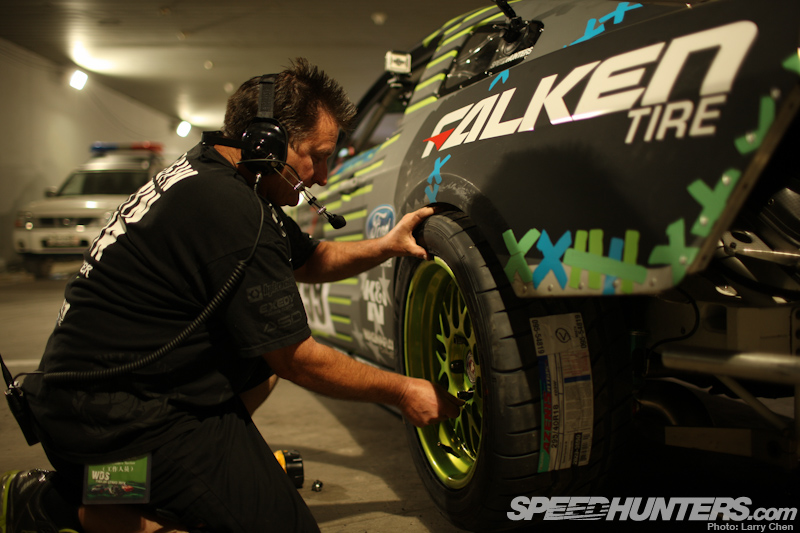 A new set of Falken 615-Ks were installed at the rear.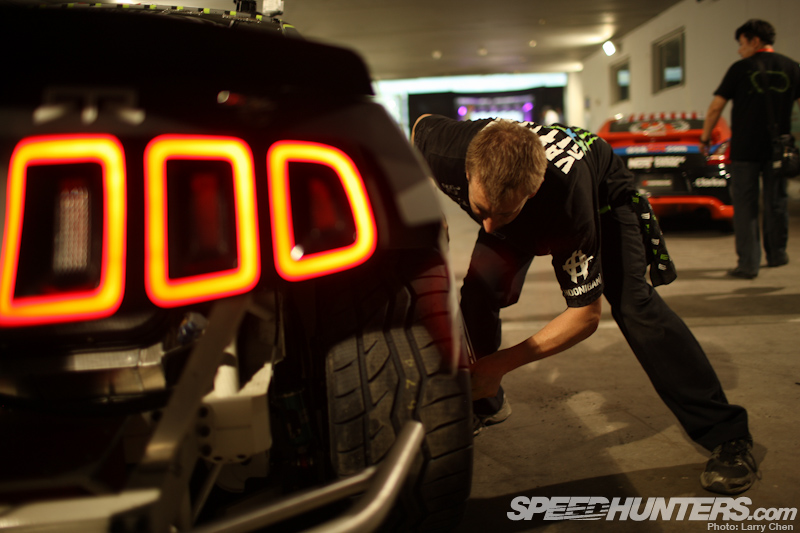 The lugs were torqued and double-checked…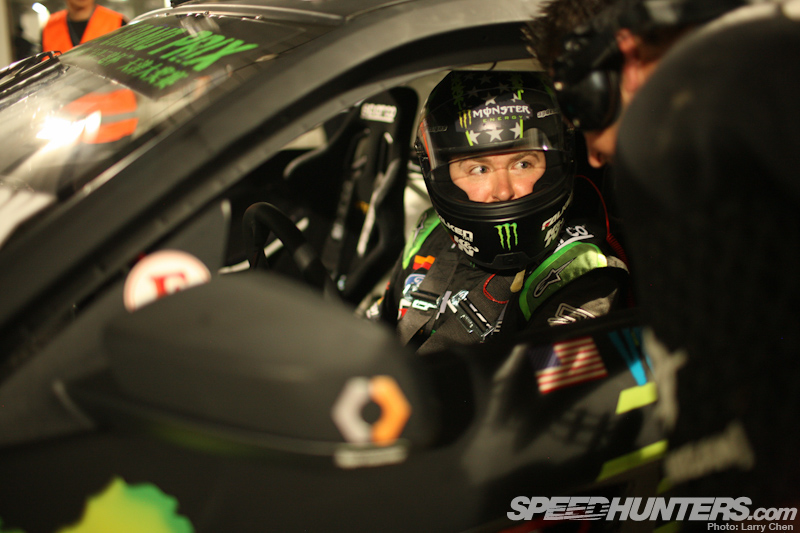 …a quick word with car chief Dean Steele and Vaughn was off to the starting line.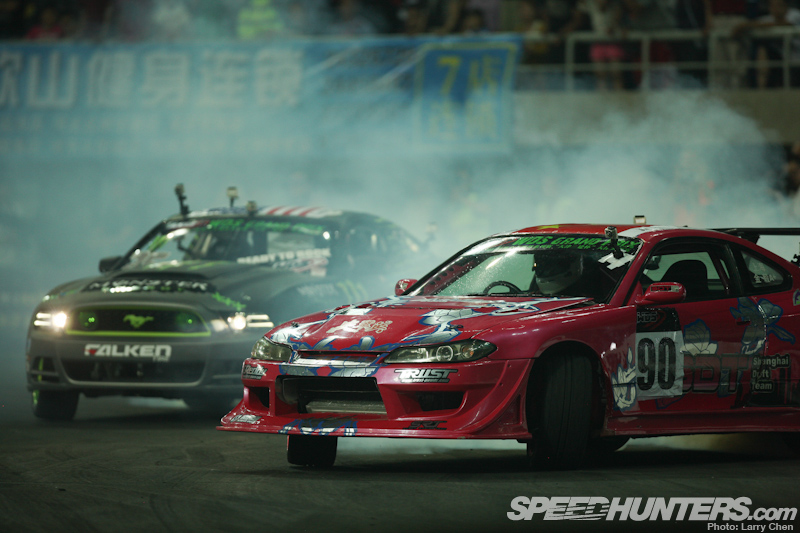 Both cars were driven to their absolute limits, but Vaughn was just barely able to pull on Jin with his 650-horsepower Mustang RTR. Once again he would move on to the finals. He was in the exact same situation one year ago to the date.
He would meet Feng Ren Zhi in the finals. Vaughn led first, but he could not shake Feng off his door.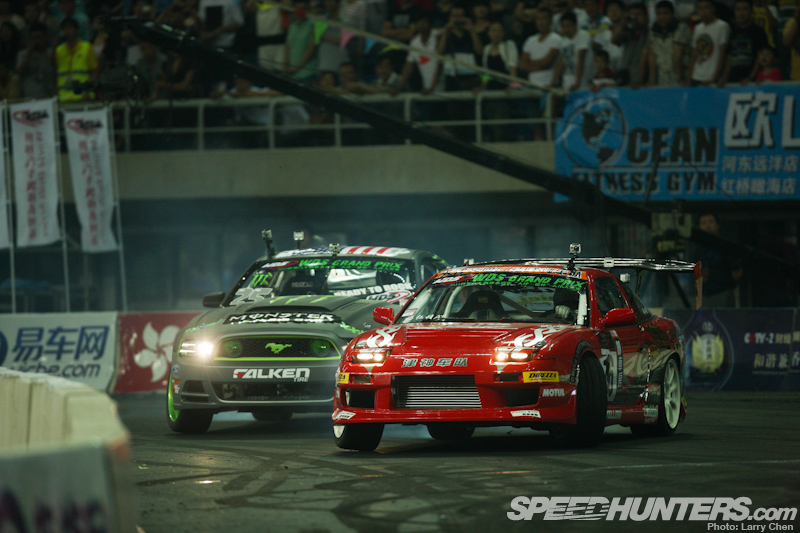 The Taiwanese tried taking an inside line to increase his speed, but Vaughn kept close the entire time. Once again, the judges called for a one more time.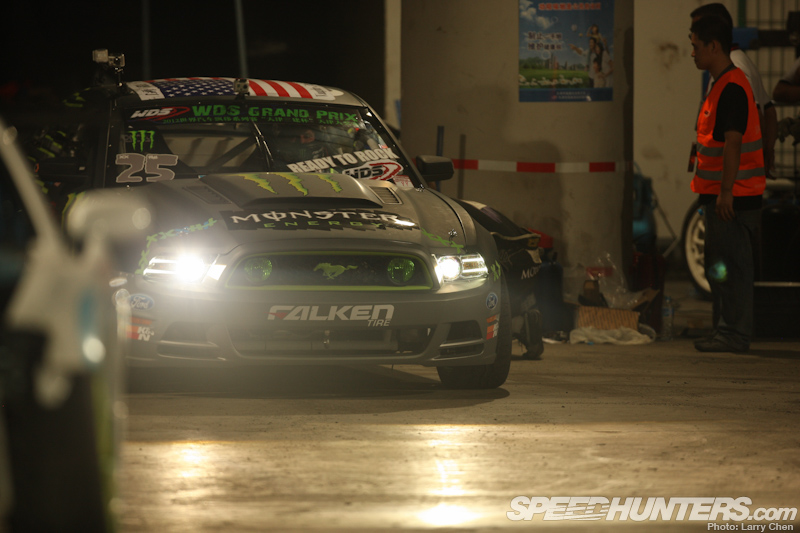 And once again, Ian Stewart called the Mustang back in for new set of rubber.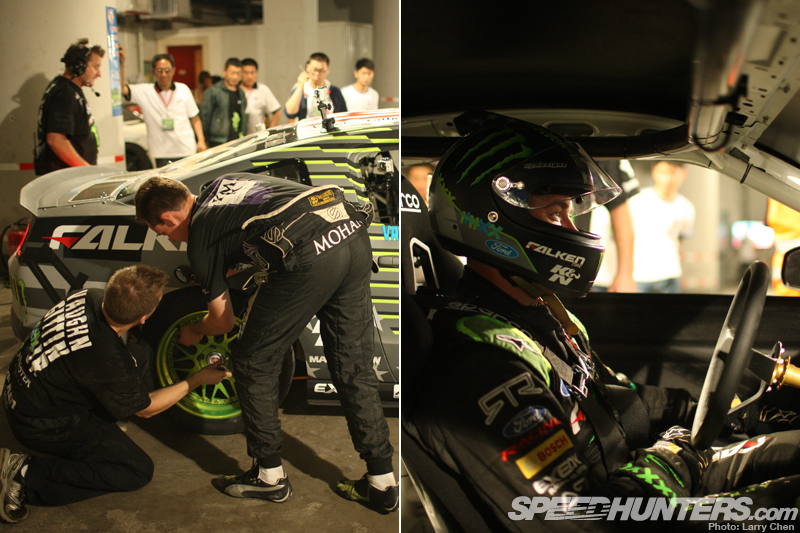 All rivalries were out the window in China as it was imperative for the American team to get one of their own to the top of the podium. It was all up to Vaughn at this point.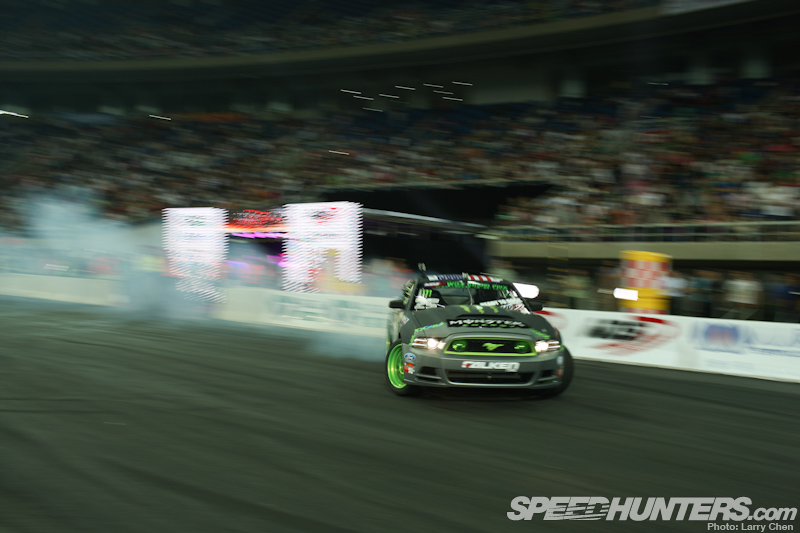 Both cars lined up, but only one made it to the first corner. What happened to Feng? Apparently his throttle cable broke during initiation.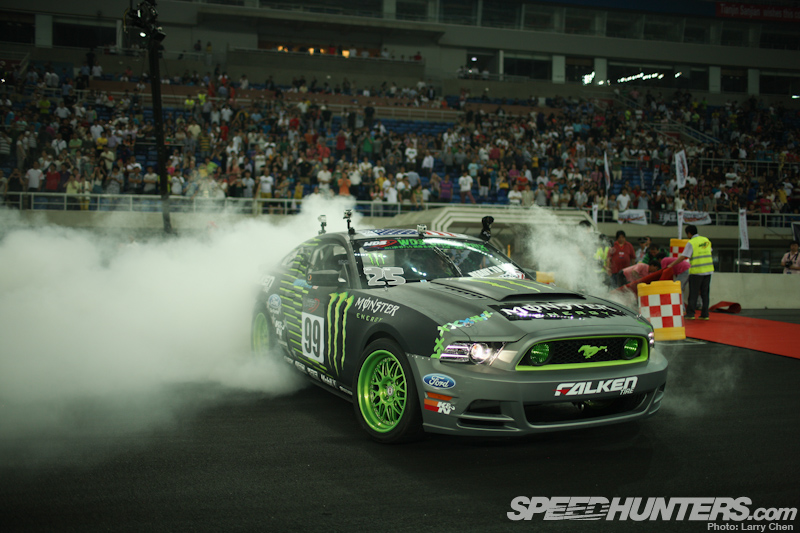 Vaughn was awarded the win.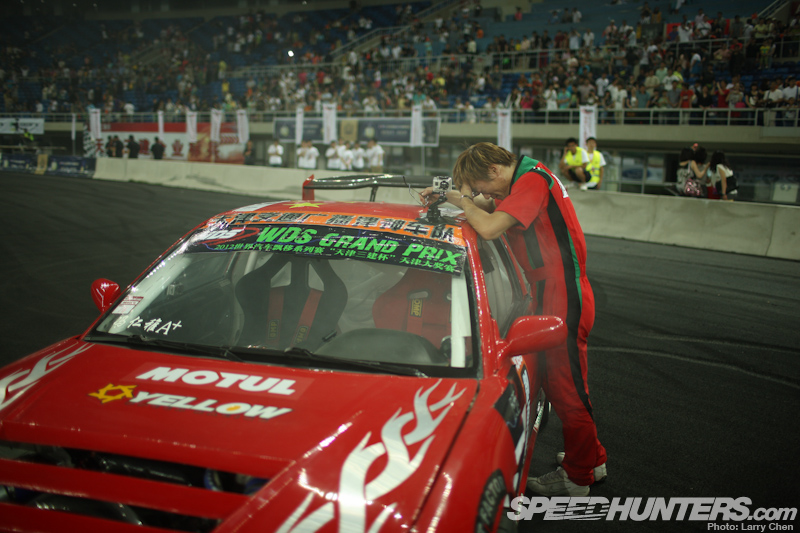 Feng's team was crushed.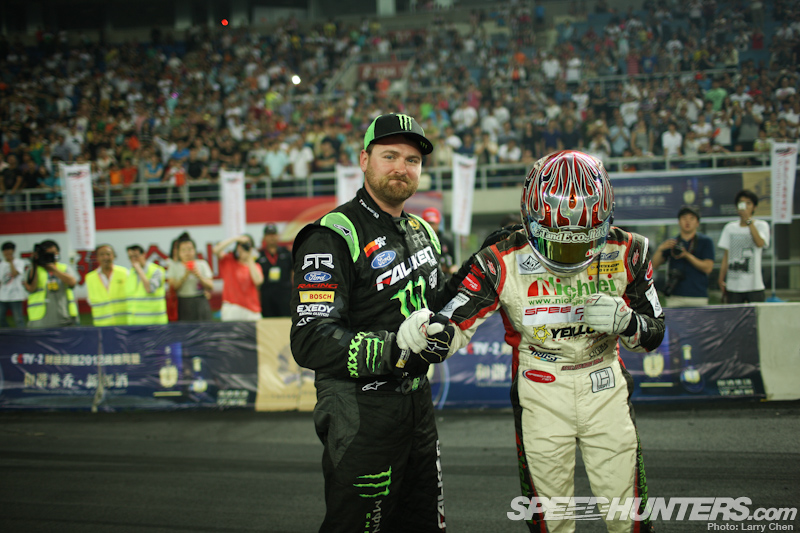 Vaughn thanked the D1GP veteran for such an amazing and emotional battle.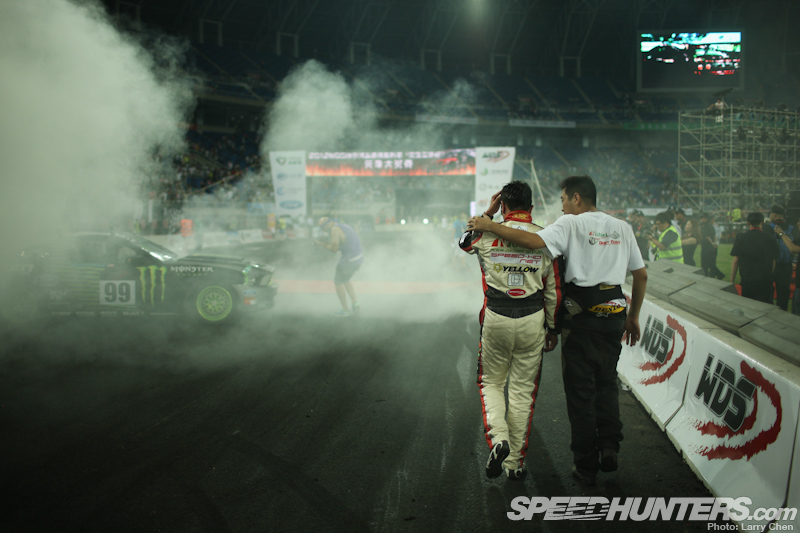 Getting on the podium in D1GP was a big deal for Feng, but a win in China for the Taiwanese-born driver would have meant the world, especially after battling someone with a high profile like Vaughn in the finals. Who knows what would have happened if his car hadn't had a catastrophic mechanical failure.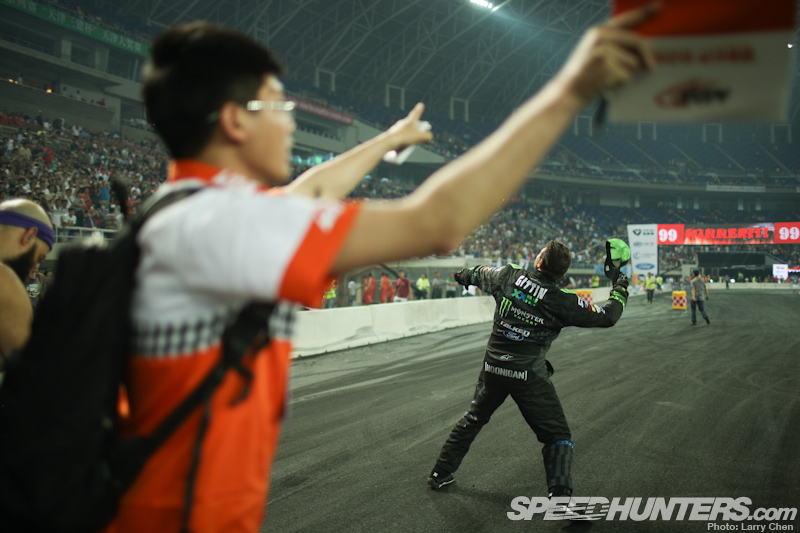 Once again Vaughn was on top, and in China of all places. He said this was the confidence boost he needed, considering things have not been going to well for him in Formula Drift. Hopefully he can carry this momentum to Round 3 in Palm Beach.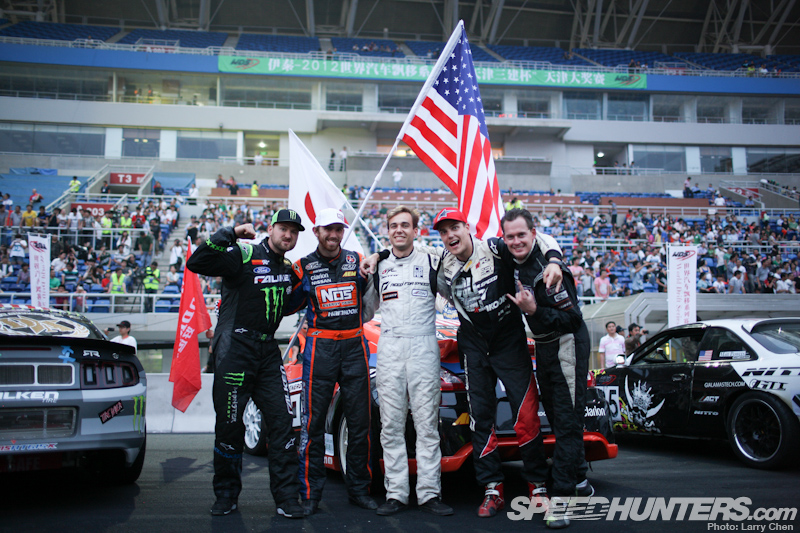 Be sure to keep an eye out for more World Drift Series China coverage on Speedhunters, as there are three more stops for the 2012 season. Who knows what kind of trouble drifting's Fab Five will get into when they return to the land of Communism?
Larry Chen
Larry@dev.speedhunters.com
Through My Lens: The Show Must Go On