World Drift Series China: Hang Zhou
I felt so privileged to have the chance to follow Team USA around at World Drift Series China in Hang Zhou. Even though our drivers are given unfavorable conditions and unfavorable odds, they still seem to make the best out of it.
Vaughn Gittin Jr's crew chief, Ian Stewart, of Auto Sport Dynamics, told me that he loves competing in China. He mentioned that it brings everyone back to the roots of drifting. The teams don't have fancy rigs and spare parts are very limited. Drifting in China is a great equalizer. Everyone has to use the same terrible fuel and, of course, there's the language barrier. It's a challenge of epic proportions and that is why Ian loves it so much. Which brings us to qualifying day, at Yellow Dragon stadium.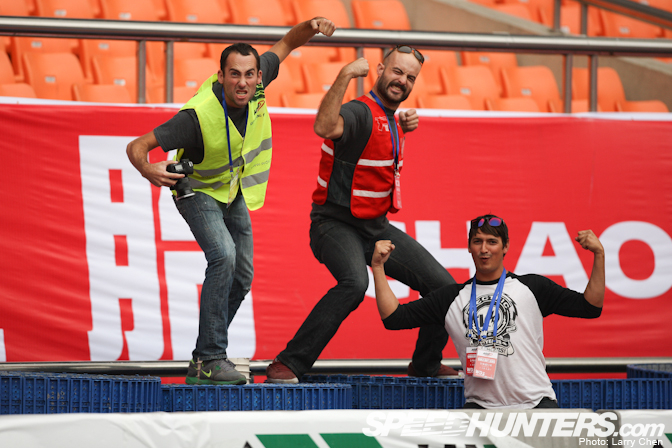 Qualifying and Top 32 were not open to the public. The only people cheering in the stands were these weirdos.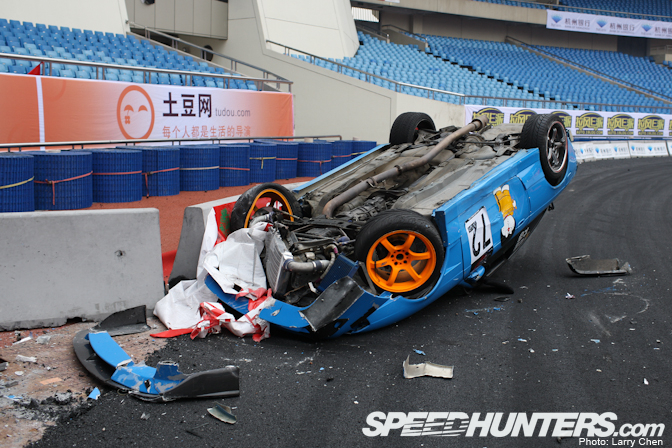 Right off the bat, one of the Chinese drivers pushed it a bit too hard and went straight into the wall at turn one.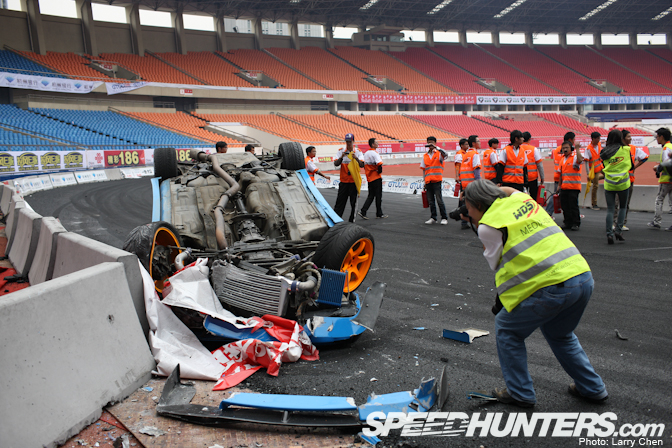 It was just a slow roll as he drove up the k-rail.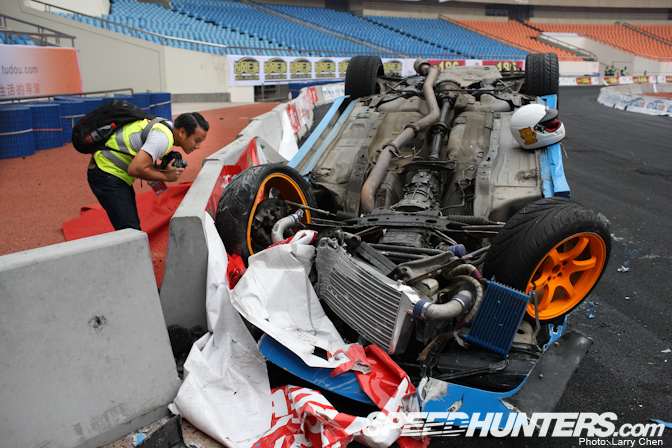 Linhbergh has never seen a rolled car up close so he was fascinated.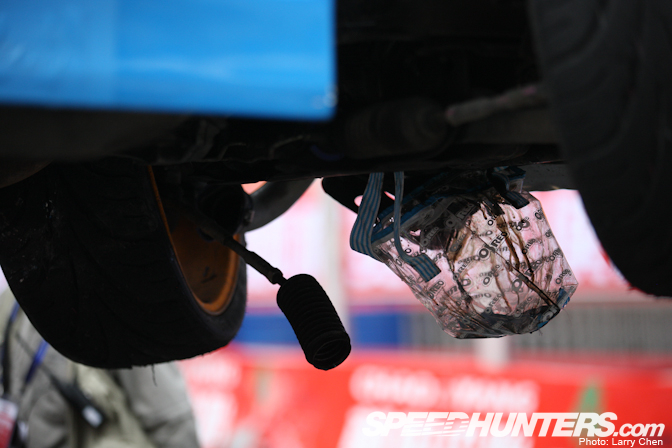 Once the track officials turned the car right side up, they found the nearest bag of cream filled cookies, to contain the leaking motor oil.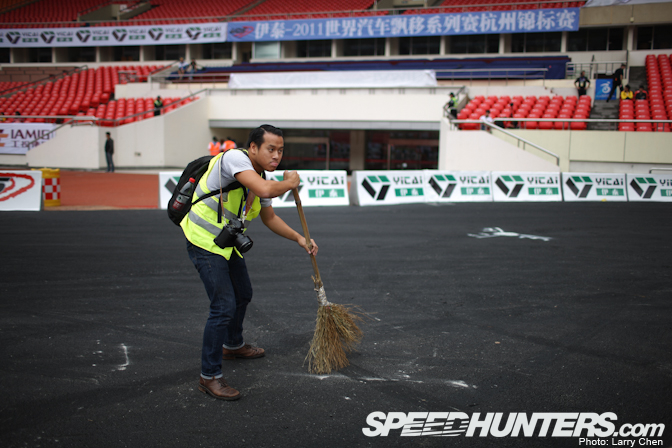 Everyone's favorite fashionable photographer decided to help clean the mess.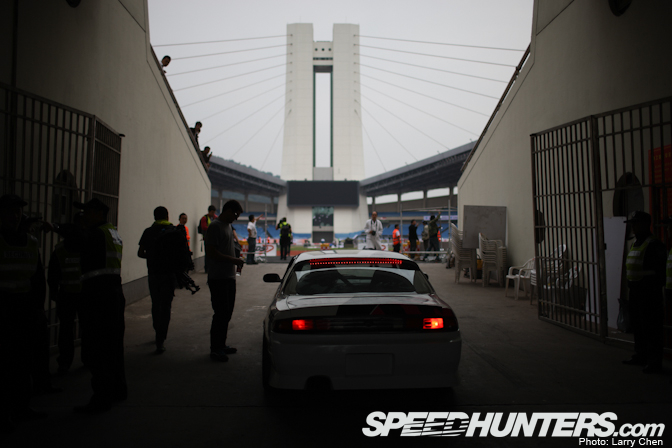 Our very own, Matt Powers, pulled up to the line first for qualifying.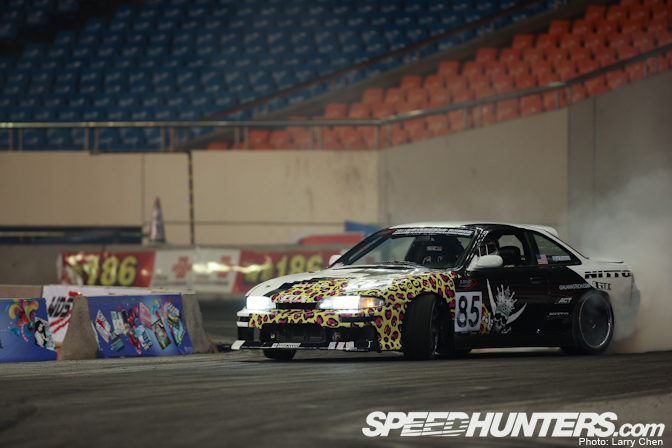 He made great smoke and drove right up against the walls. The Team Need for Speed driver ended up qualifying in 5th.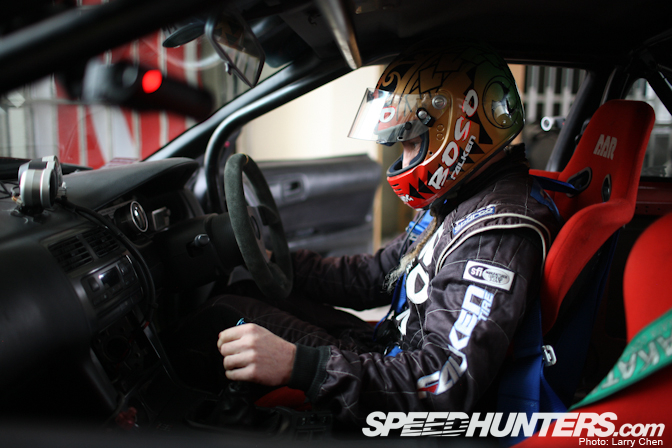 Frank, from Garage BOSO, spent quite a bit of time tuning Ross Petty's right hand drive SR20 powered S14. In order to handle the extra boost, Ross upgraded the cooling system, XXX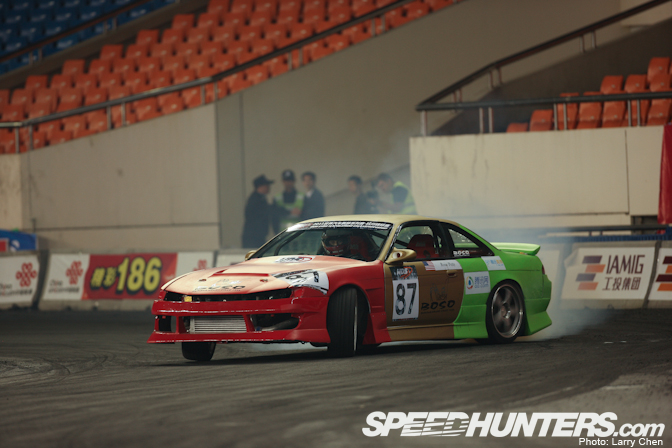 The special modifications must have worked because Ross qualified 1st.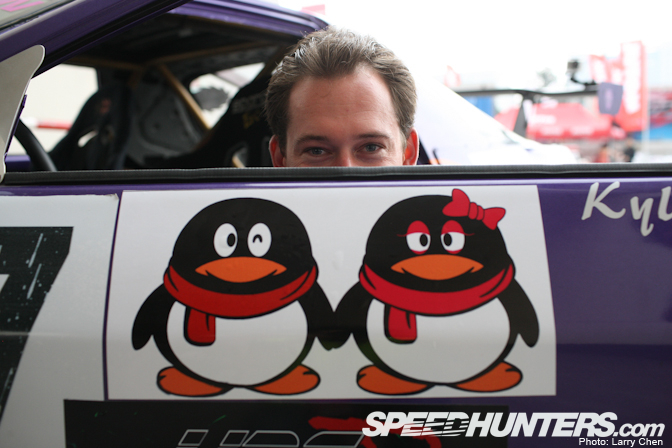 This round Kyle brought two penguins as his pit crew.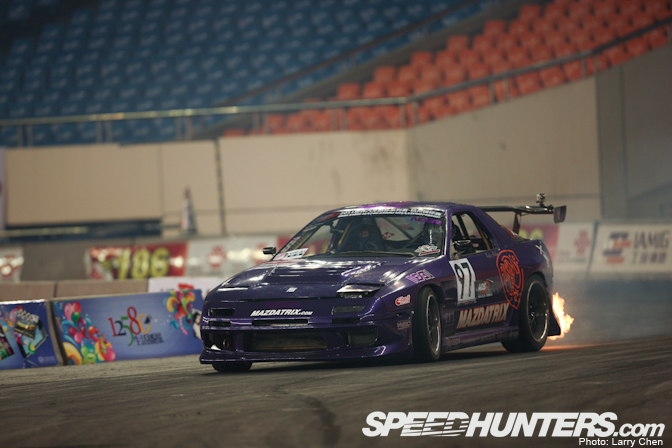 They changed his tires for him and fixed his car when it broke down. Kyle qualified 4th.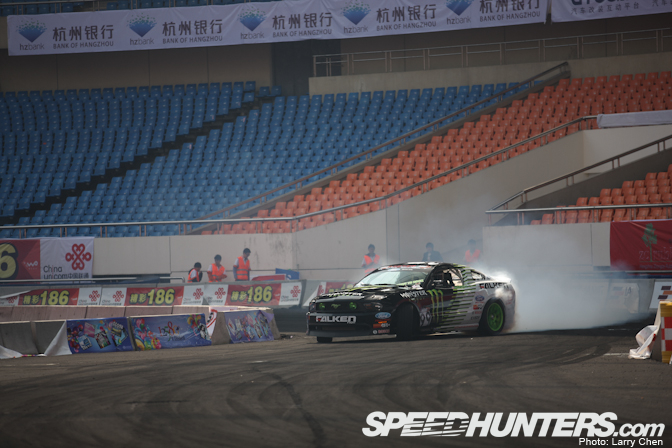 When Vaughn's Mustang is out on track everyone quiets down.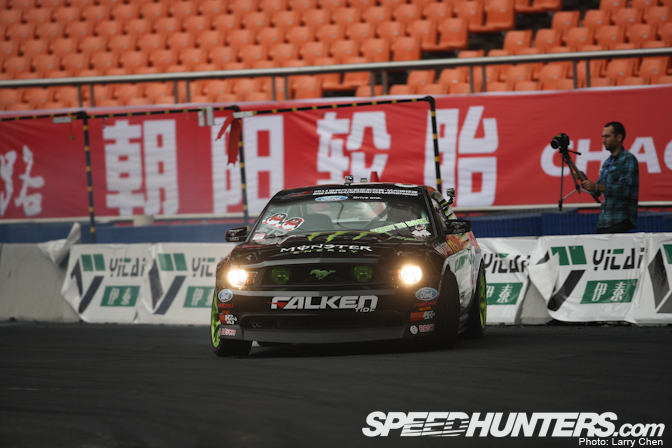 It is understandable because you probably won't be able to hear anyone's voice anyway. He qualified 2nd.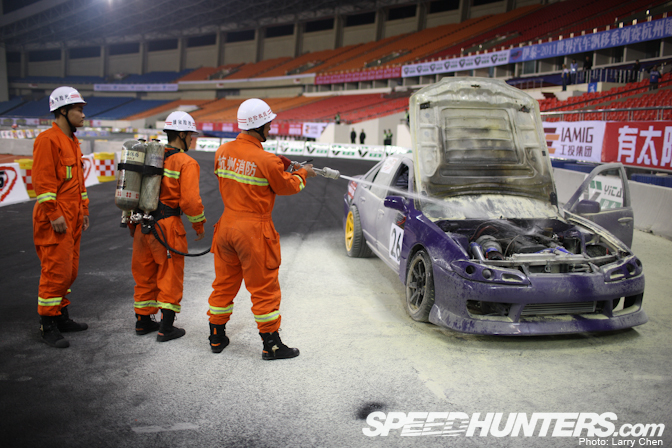 It's not World Drift Series 'til a Russian car catches on fire. This is the second event in a row where Andrey Platkovskiy's Cefiro went up in flames.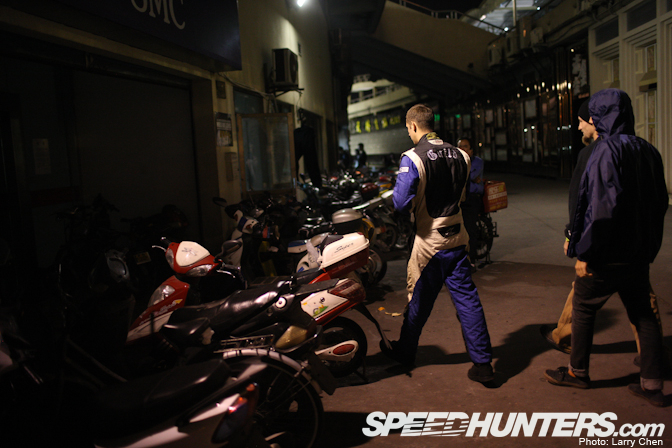 Fast forward to the next day at the top 16 drivers meeting…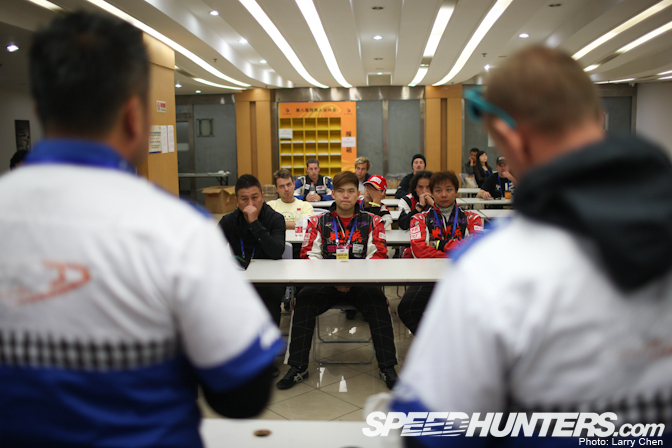 These meetings always take quite a bit of time.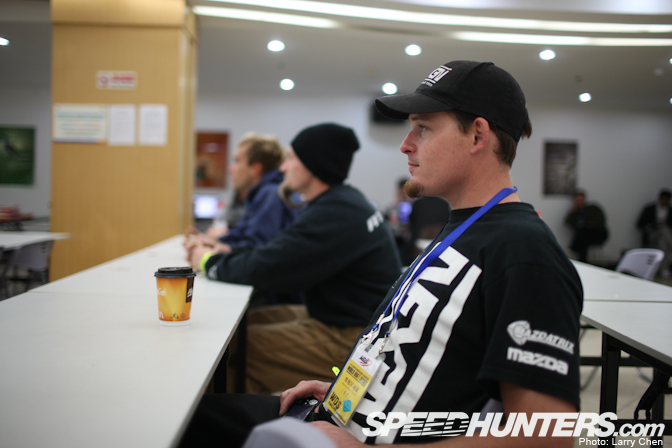 Everything had to be translated to Chinese, English and Japanese.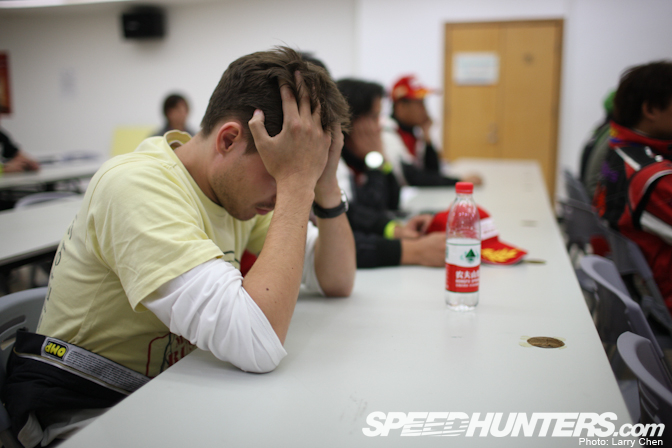 Andrey was up all night fixing his car after it burst into flames.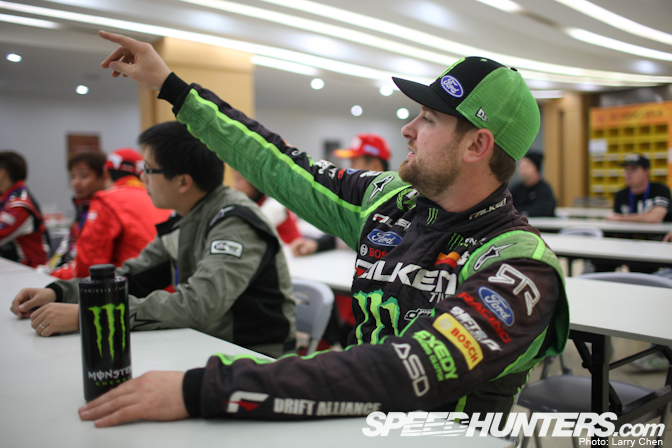 As always, Vaughn asked the hard questions.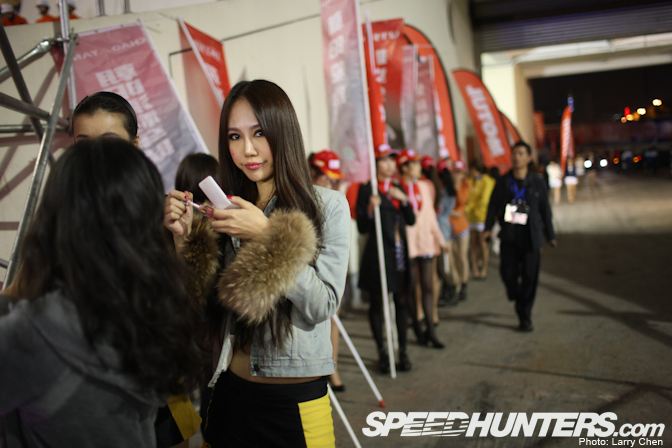 The main event was about to start soon and everyone was getting ready.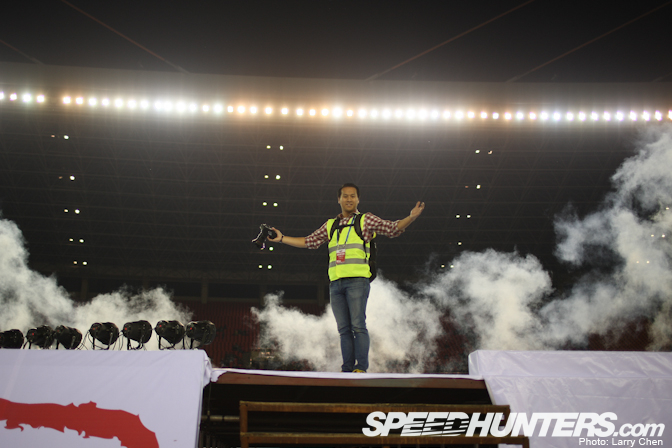 The members of the media got introduced in a grand fashion on center stage.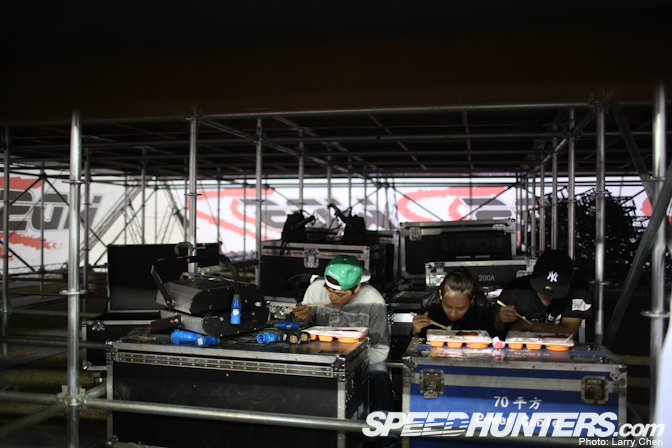 Underneath the stage, the sound crew ate their dinner.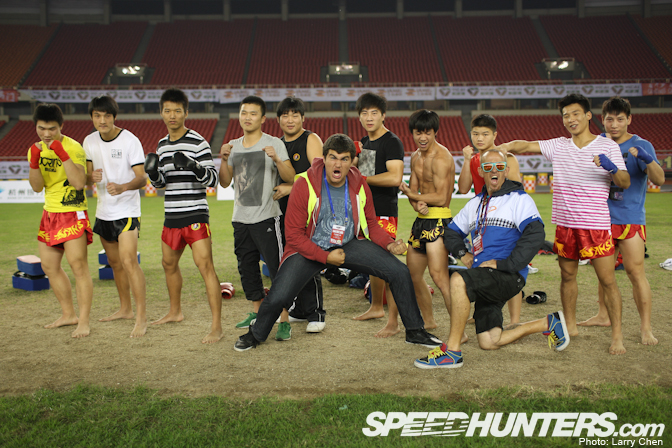 The Hang Zhou karate team is part of the show. Whenever there is a crash, or any kind of downtime, these guys go on stage and beat each other. Video dude, Andrew Escarcega, and WDS judge, John "Afro" Coetzee, joined in on the beatings.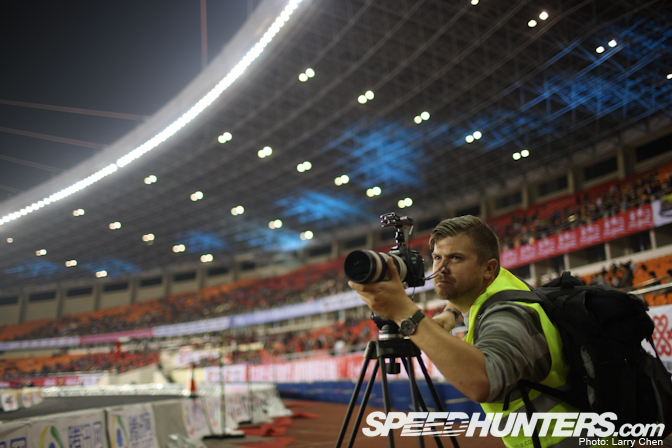 Everyone had their own ritual for getting ready. Skylar Smith practiced his focusing.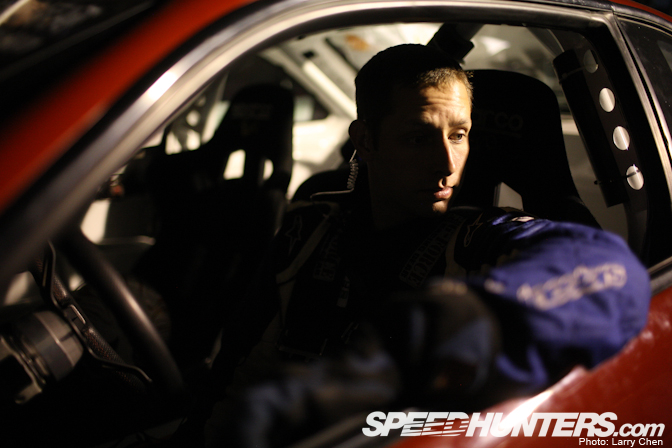 WDS rookie, Joshua Guild, contemplated his top 16 battle plan…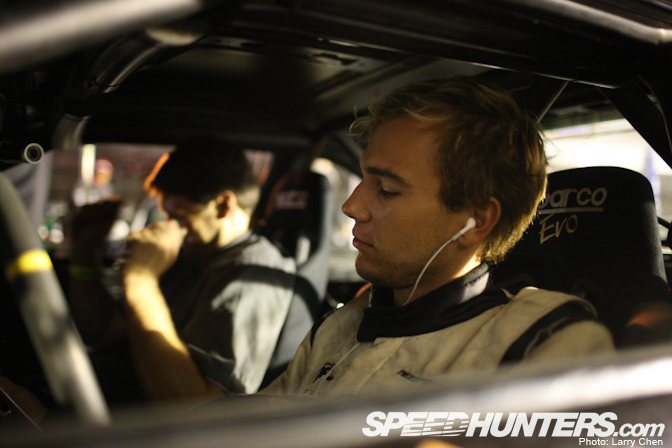 …While Matt rocked out to music. Costa helped by pretending to play the drums.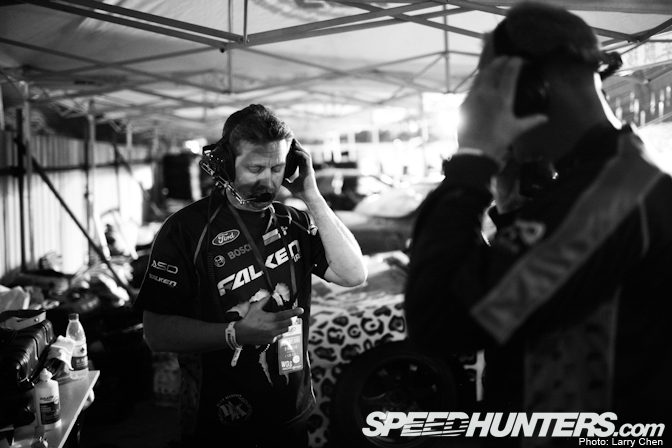 Vaughn and the ASD crew, checked and doubled checked their communication equipment.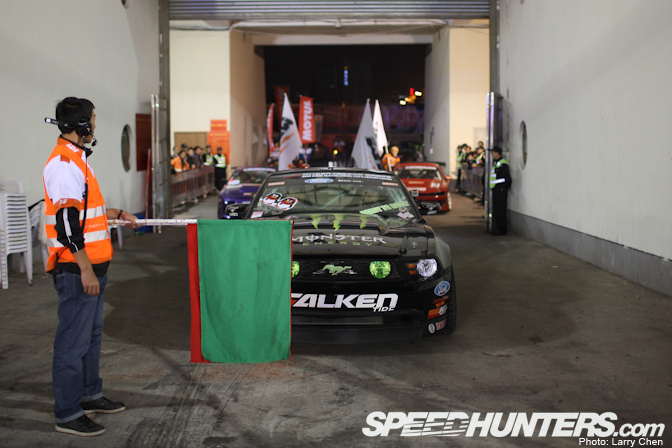 Team USA was ready to be unleashed.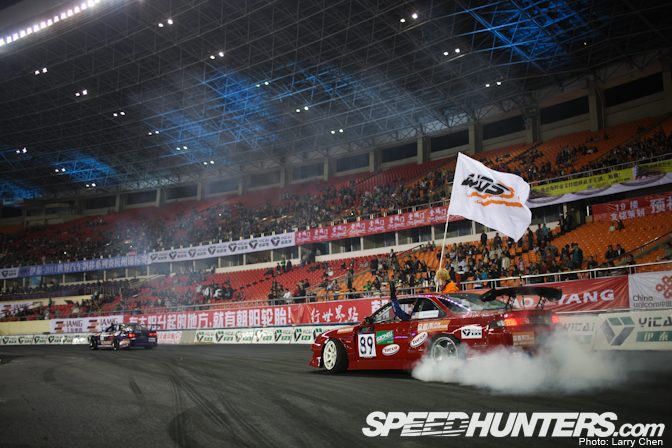 The crowd started to fill the stands, as each of the top 16 cars drove out.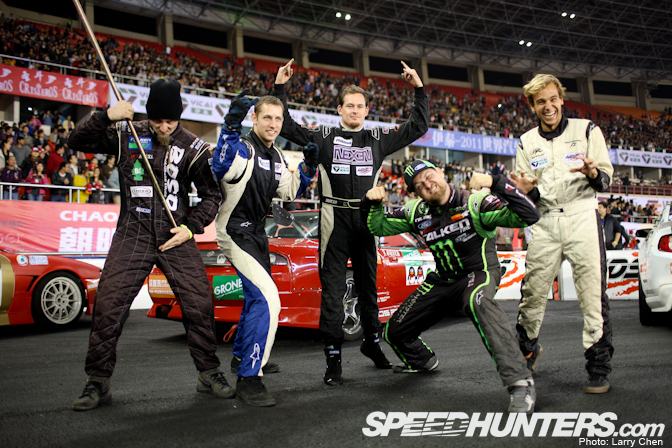 This time, all of Team USA made it into the top 16.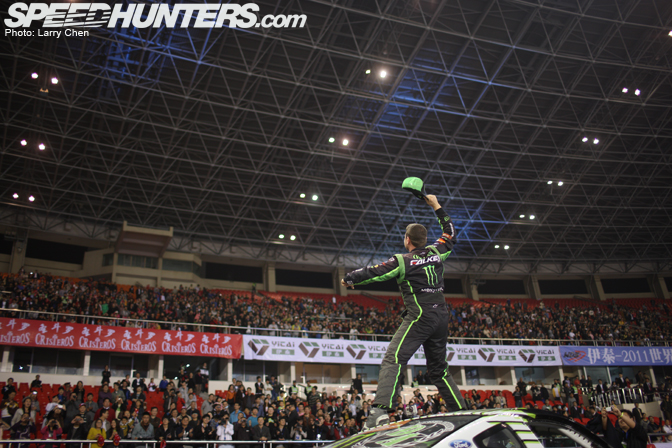 One by one, the drivers were introduced.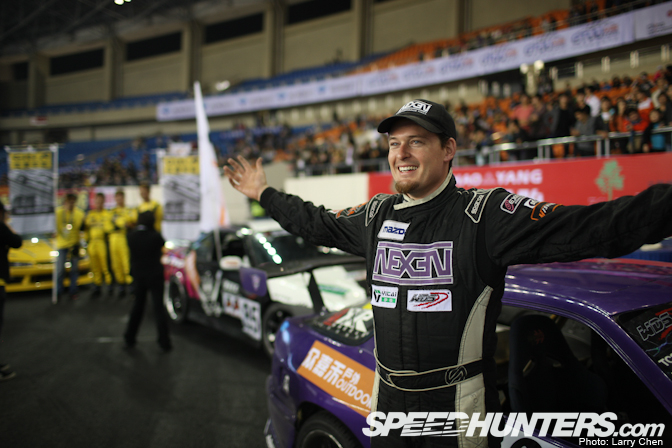 The crowd went nuts.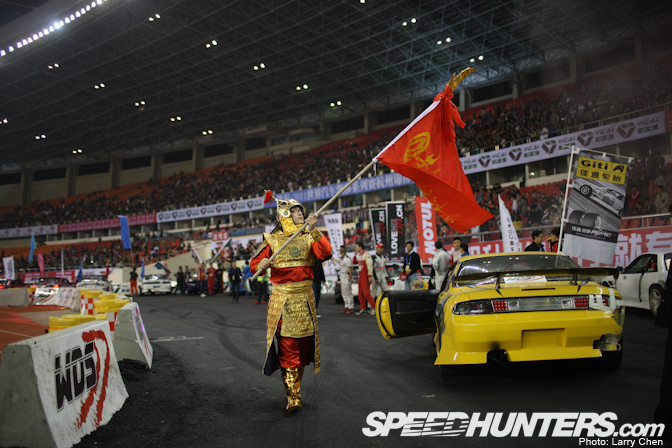 Instead of umbrella girls, the Chinese drivers brought flag guys.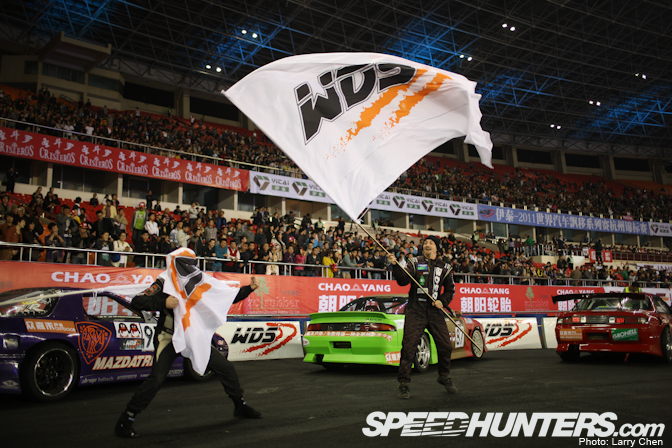 Ross and Kyle brought their own flags.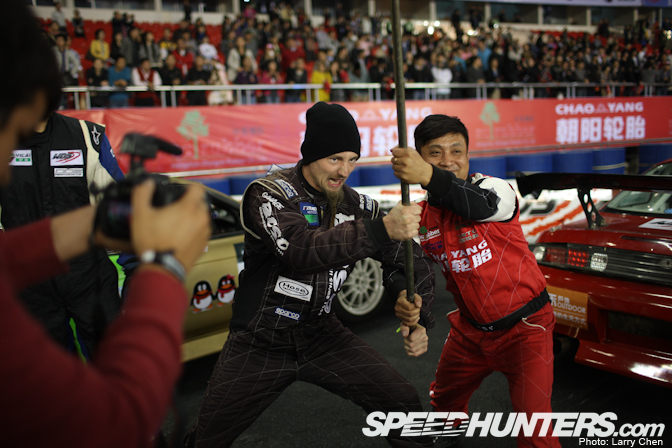 One of the Chinese drivers tried to take Ross' flag but he wouldn't let him.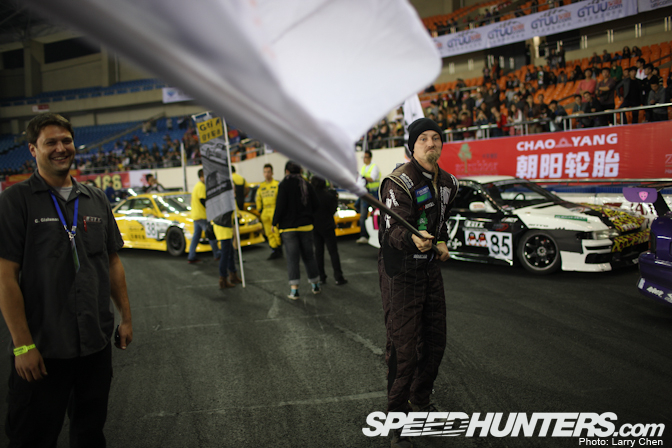 Ross loves his flag.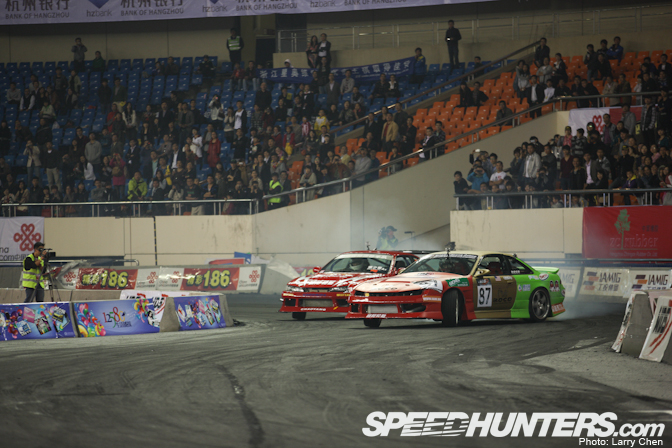 Ross Petty put up a good fight but is knocked out in the top 16 by Zhang Shao Hua, who goes on to win the event.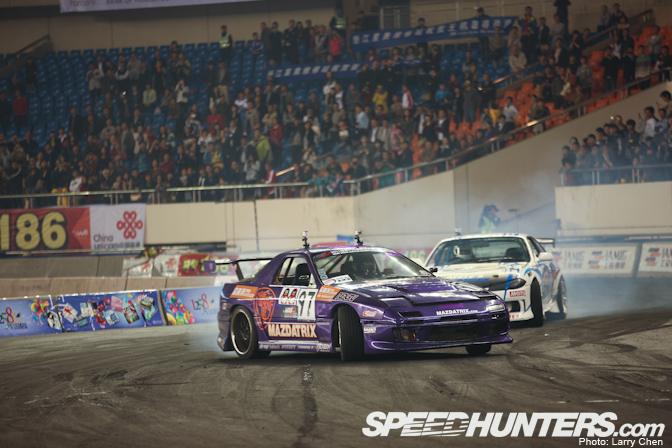 Kyle moved onto the top 8, after a close battle with Qian Hong Sen and his SR20 powered S14.5.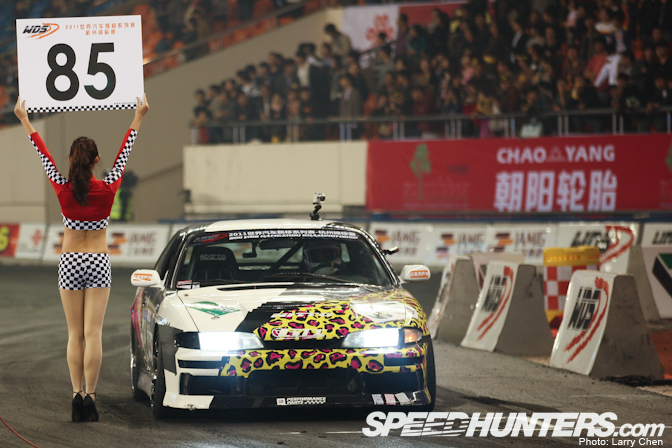 Matt Powers suffered from mechanical issues, so he was knocked out of the top 16 by Ser Meng.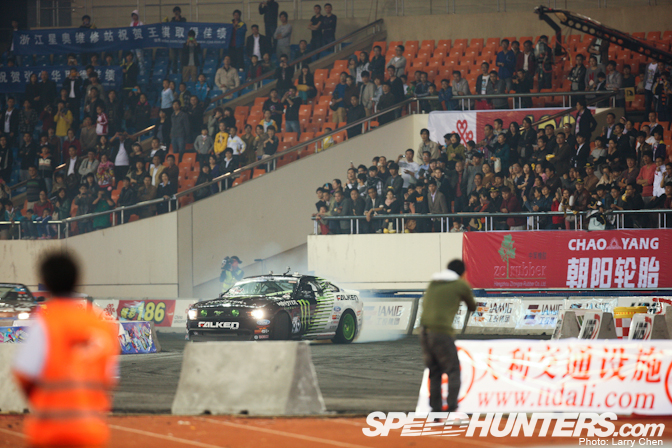 Vaughn met Chinese driver, Cai Wei Yang, in the top 16. He moved on after Wei Yang spun out.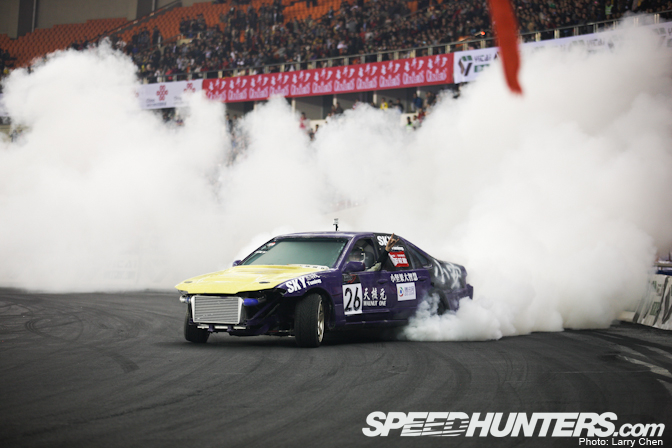 Andrey got knocked out of the top 16, but he was happy that his car did not catch on fire, so he did a fatty exit burnout.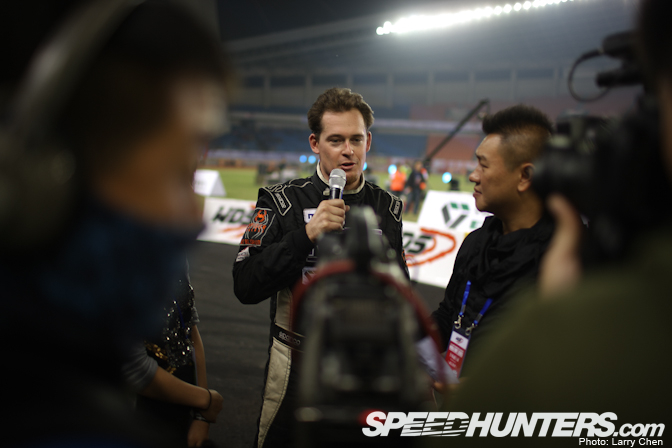 For the top 4 battle, the drivers came out one more time and chatted with the announcer, as the crowd cheered on their favorites.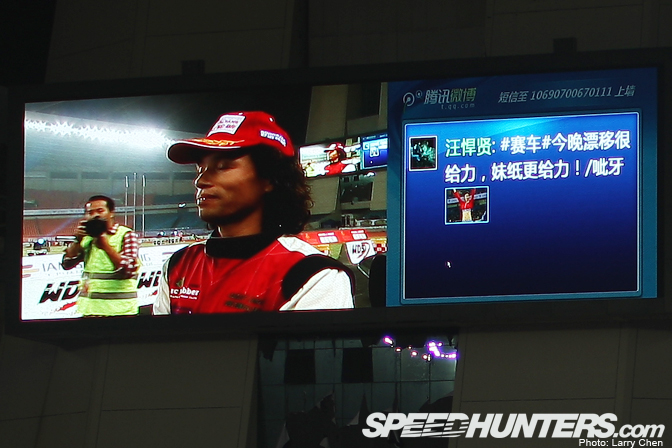 Everyone was on their feet for Zhang Zhao Hua, the most skilled of the Chinese drivers. He would meet Vaughn in the top 4.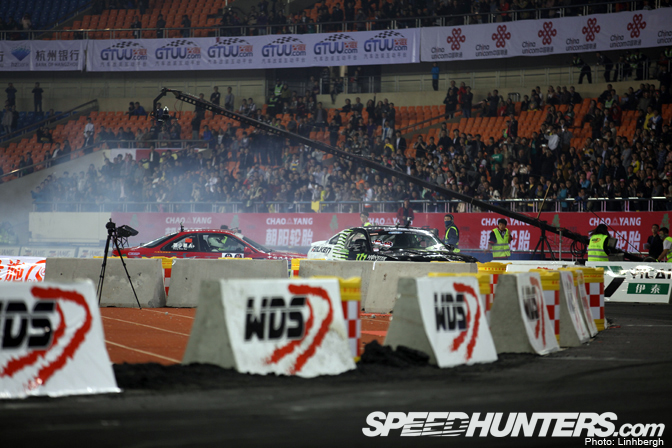 Vaughn's tie rod worked it's way loose during a transition, which was caused by a collision earlier in the day with another Chinese driver. He crashed into the k-rail.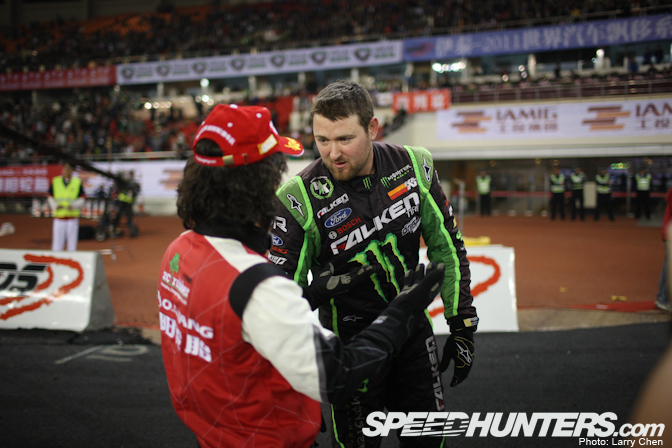 He called for five minutes immediately.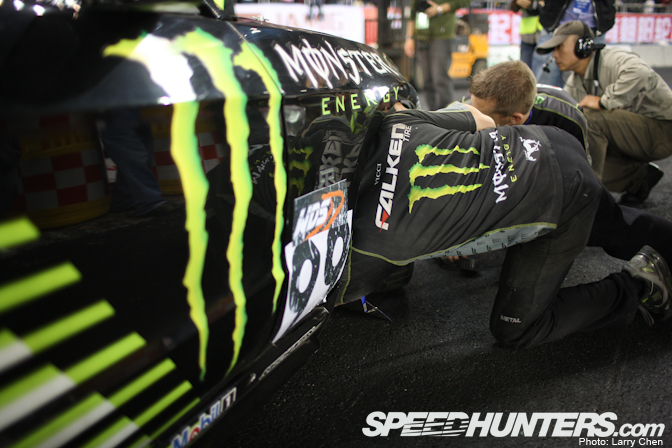 Rick Lamber, from ASD, inspected the damage…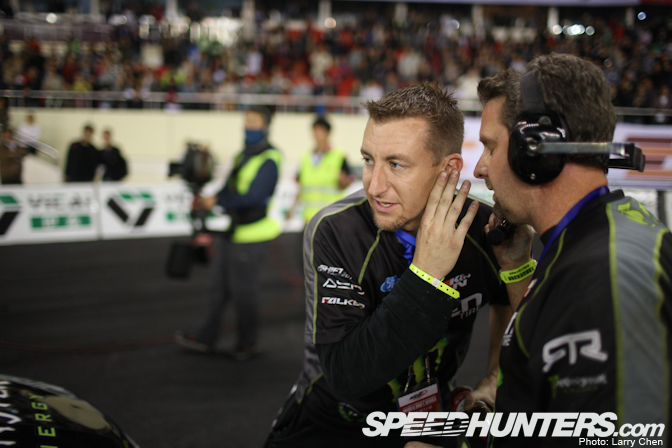 …And then notified the crew that the car was undrivable.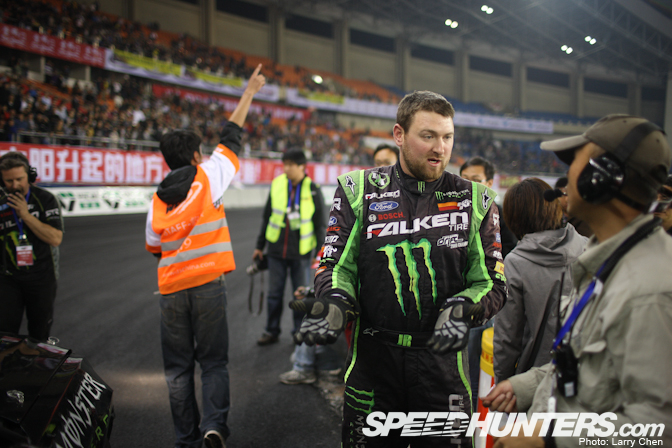 Vaughn made the universal gesture for "forklift."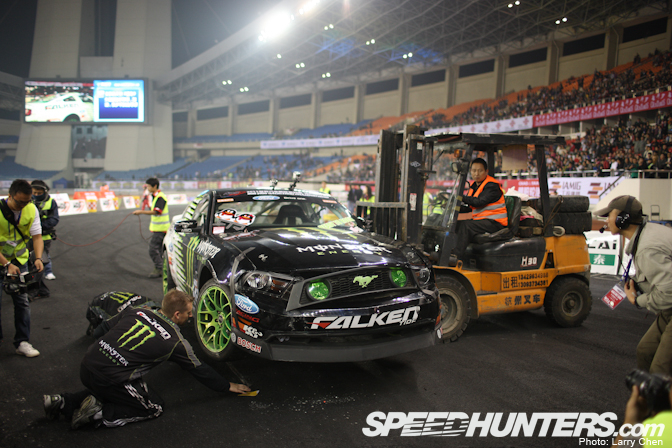 In less than a minute, the crippled Mustang was lifted off the ground…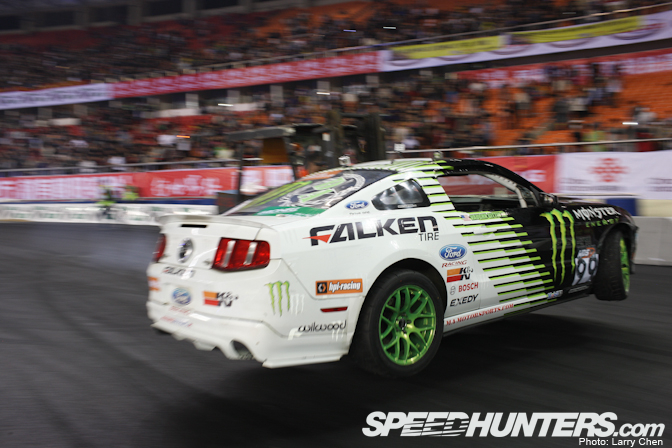 …and ferried back to the pits.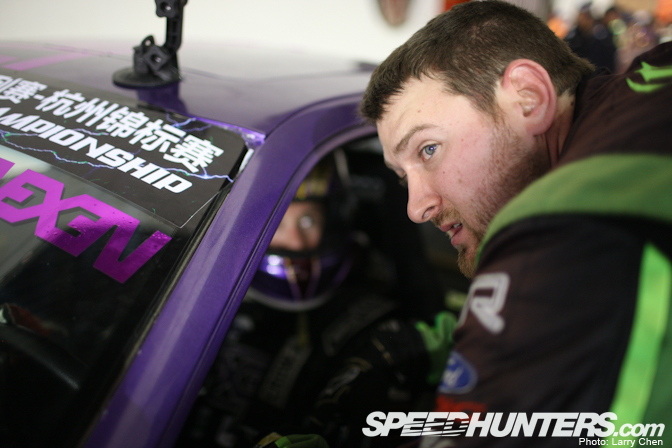 As Kyle was waiting on the grid, Vaughn let him know that if he were to lose in the Top 4, they would be going up against each other for 3rd place.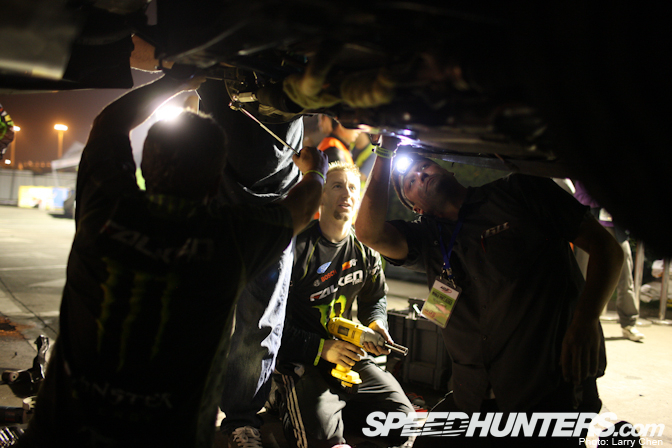 It was all hands on deck as soon as the Mustang arrived in the pits.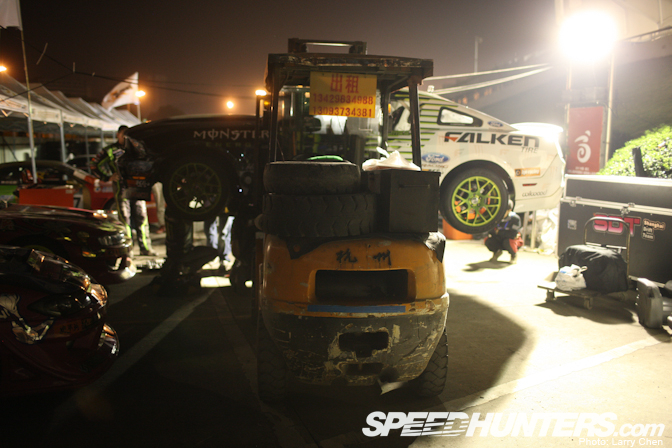 The forklift acted as a temporary shop lift, while everyone rushed to take apart the damaged suspension bits.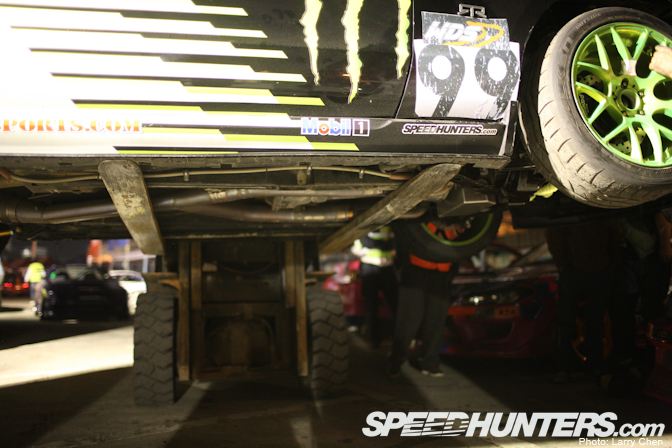 It looked like the forks barely cleared the exhaust.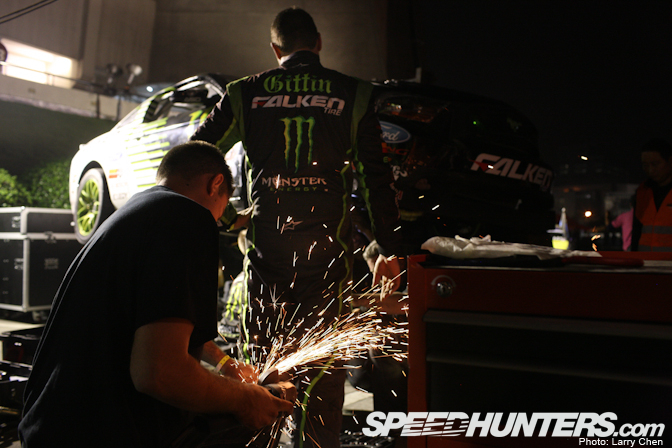 The ASD crew had brought extra tie rods, but the spare one was too long, so Kyle LeBlanc, owner of DDS performance, cut down the tie rod to the right size.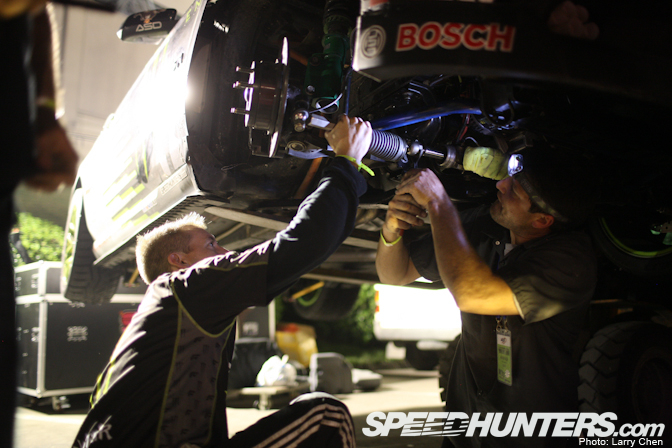 I have never seen mechanics work so fast in my life. Later on, Costa told me he had such a huge adrenaline rush and that he could feel his heart pumping.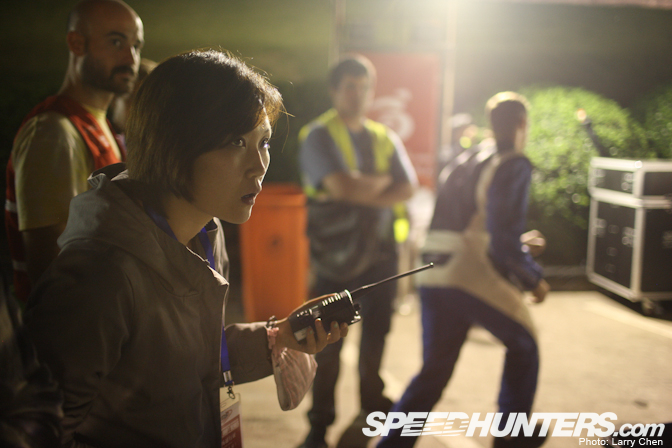 A call from the judges tower notified the American pits that five minutes was up. Vaughn would be forced to forfeit his chase run against Zhang Zhao Hua.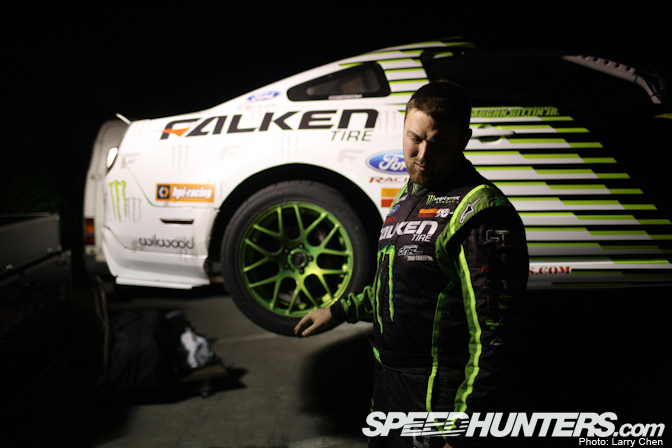 He was crushed.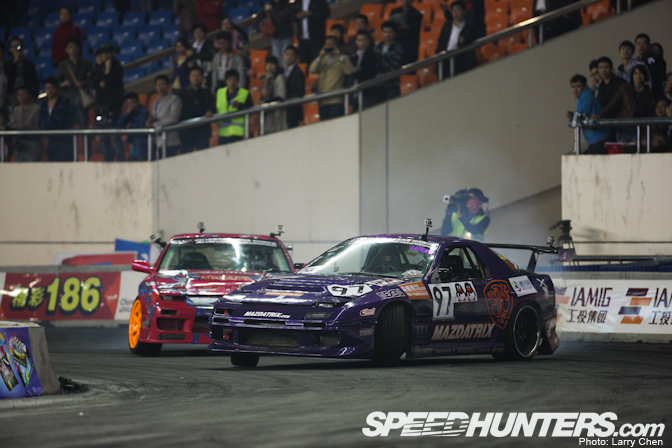 Kyle ran against Zhang Sheng Jun of SDT; the Shangai Drift Team. It was a close battle, but he did not get into the finals.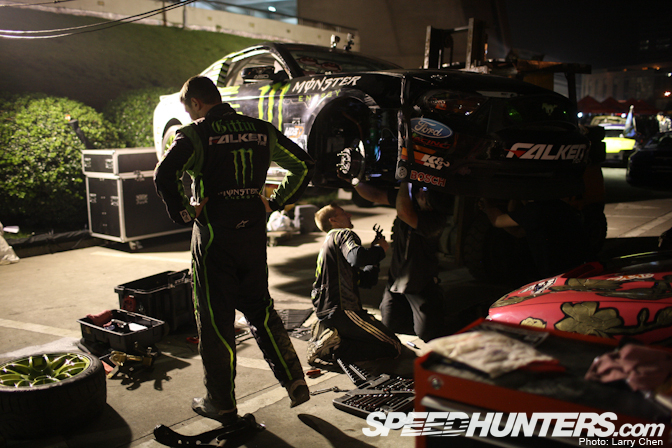 Kyle would have to battle Vaughn for the last spot on the podium. But first Vaughn's car had to make it to the grid on time, else Jr would forfeit yet again. The crowd watched the action closely on the jumbo-tron.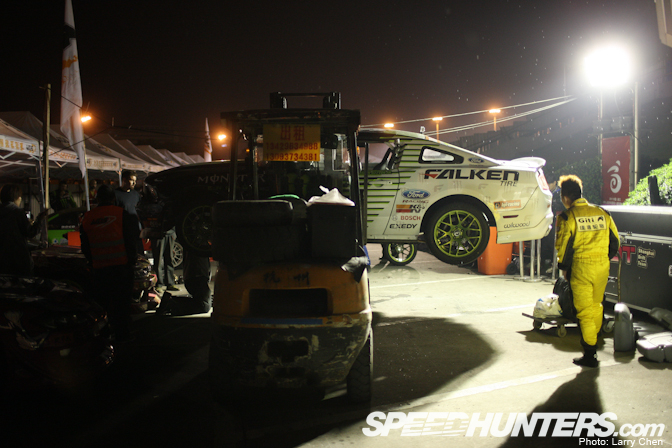 To make matters worse, it started to rain.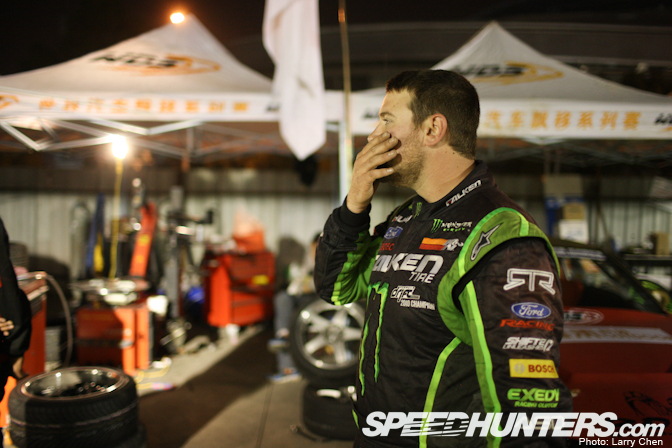 I have been photographing Vaughn for over five years, and I have never seen him this tense.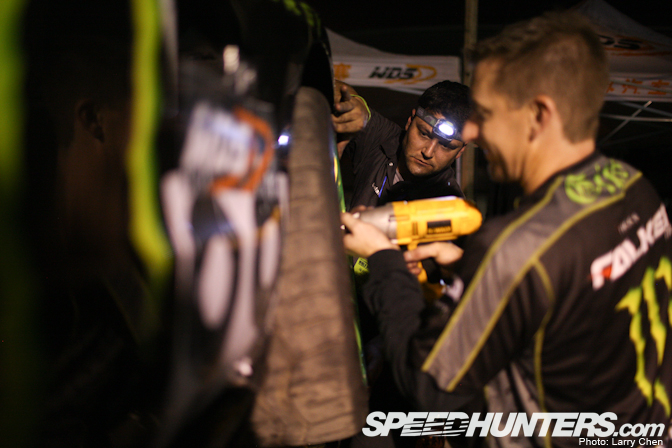 With only moments to spare, the mechanics of Team USA bolted the wheel on.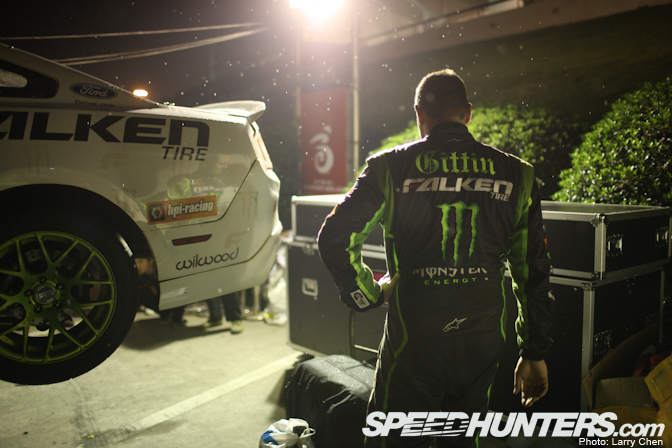 Once again, it was time to head out to battle.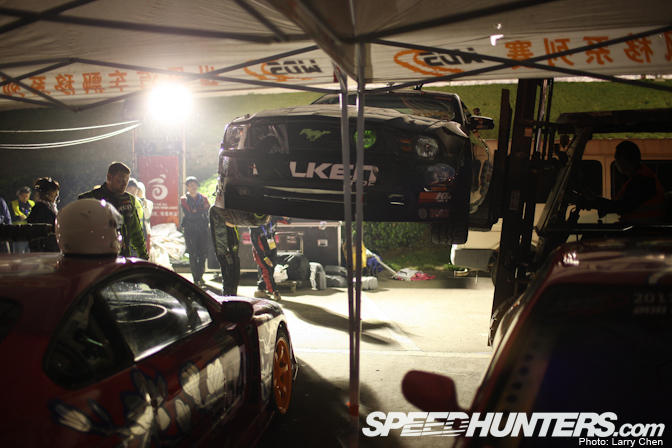 The banged up Ford Mustang was lowered…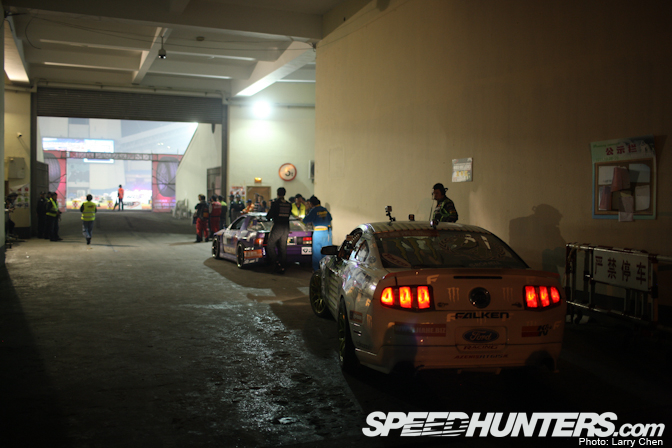 …And Vaughn jumped in and drove it to the grid. The track was getting very wet at this point.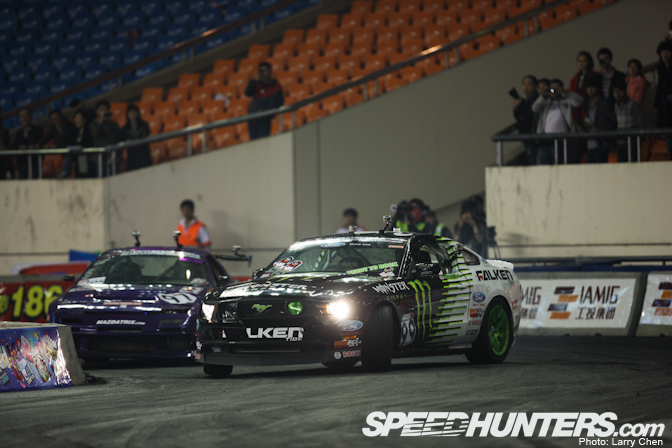 Both drivers let it all out on the track. Kyle tapped Vaughn on his chase run and Vaughn tapped the wall on his chase.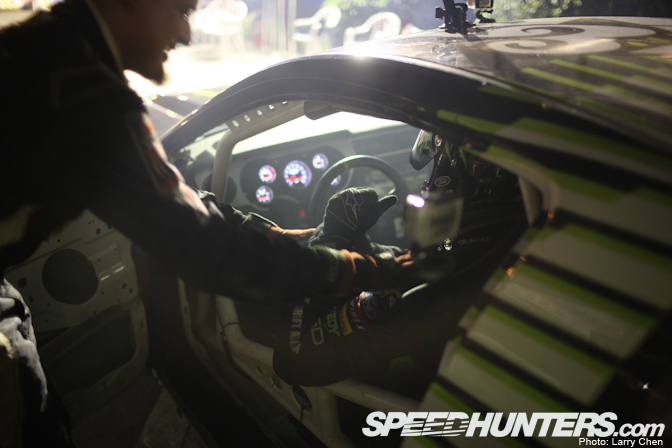 Vaughn got the win, but it was very close. Kyle immediately came to congratulate him.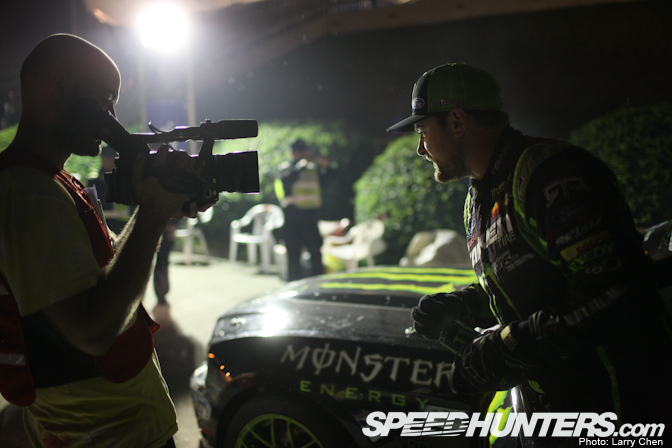 Given the circumstances, I think Vaughn was very happy to place 3rd.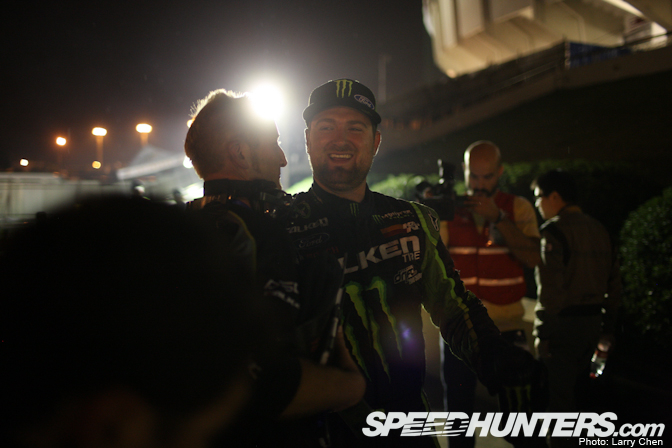 Ian ran from the pits to celebrate with the rest of Team USA.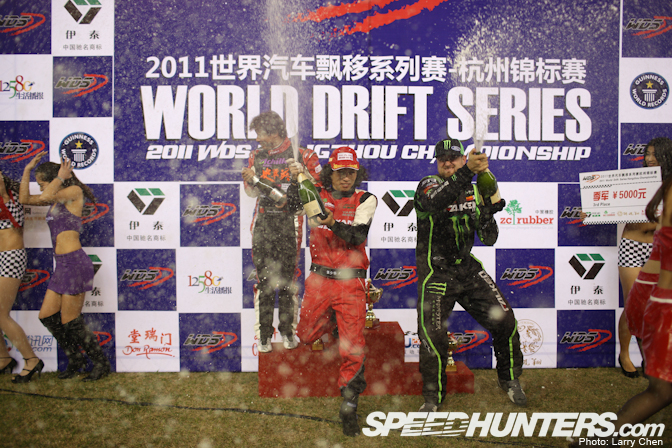 I should have learned my lesson last time, but then again I didn't mind cleaning my camera afterwards.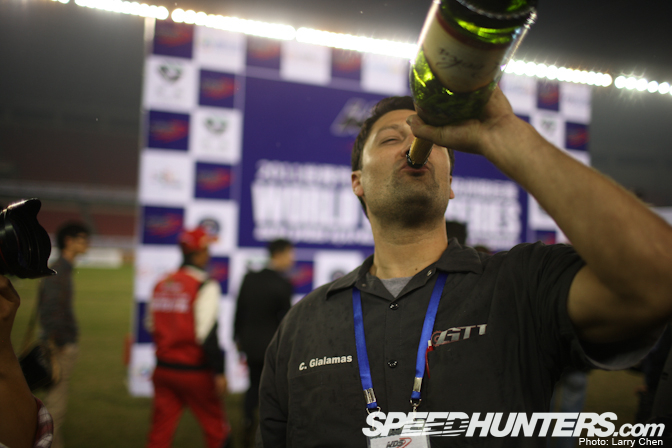 Costa was a critical player in getting the car back on it's feet, so he had a well deserved drink.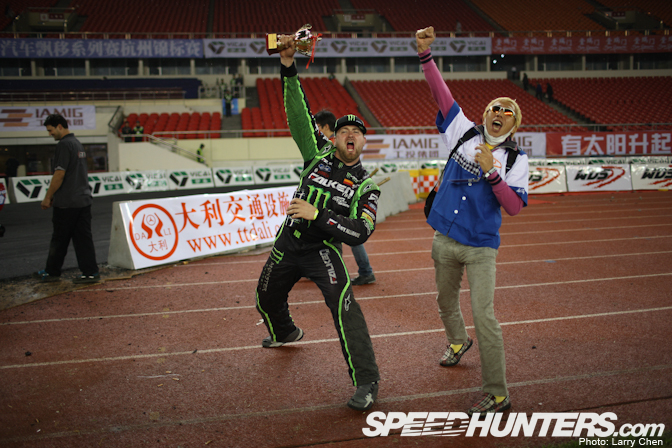 Judge, Tarzan Yamada, came down to congratulate the guys for putting on an awesome show.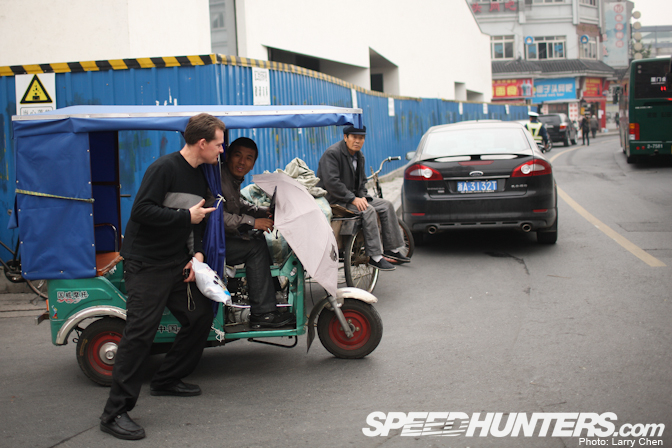 The next morning, the entire team headed out for some much needed rest and relaxation.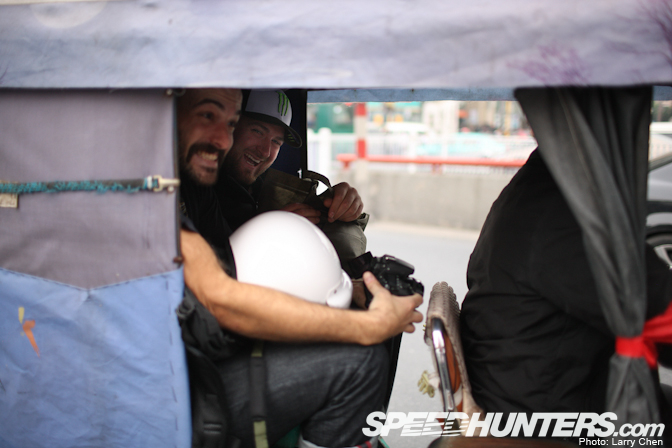 We piled in some tuk tuks, and went in search for street food and funny hats.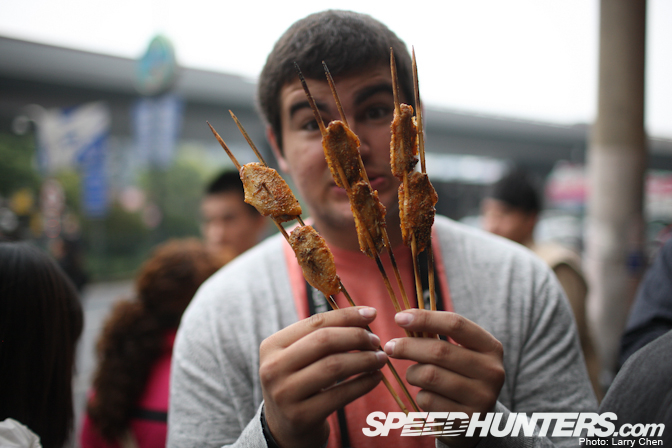 Some of the guys ate meat on a stick.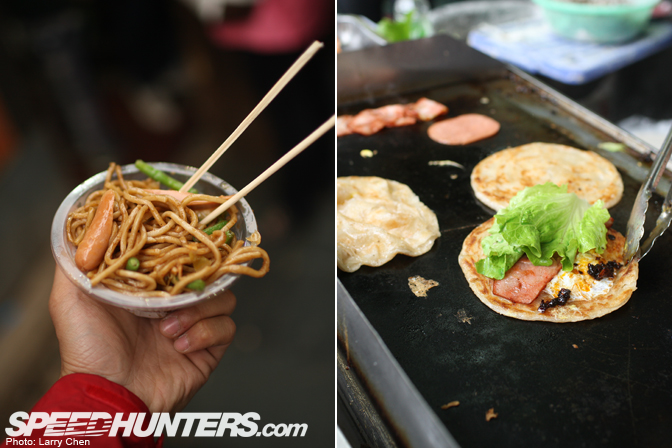 I grabbed some fried noodles, while Vaughn found a nice breakfast wrap spot.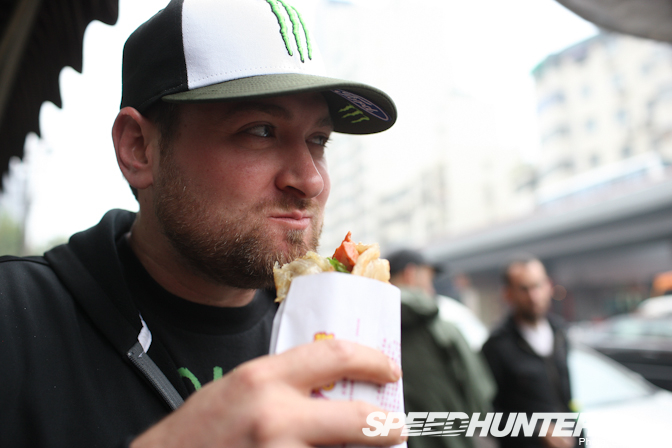 He said it was one of the best breakfast sandwiches he has ever had.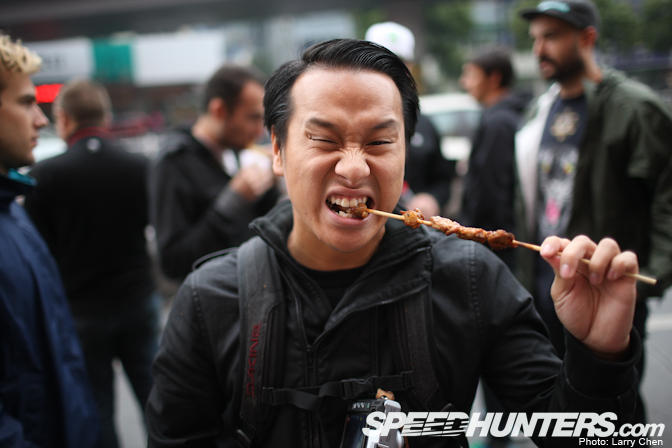 Linhbergh was also happy considering he was looking forward to street food all week.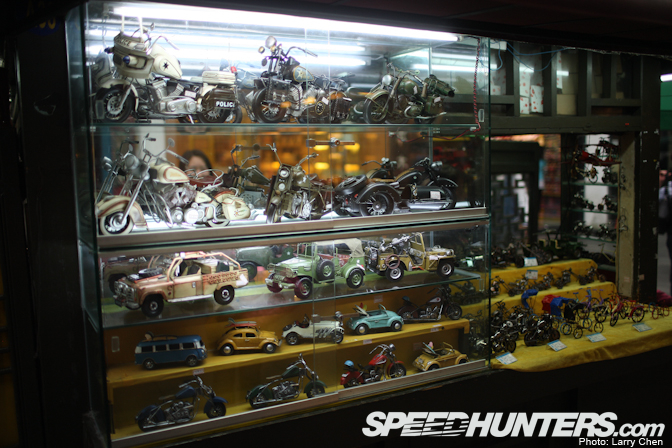 While looking for hats, we found some cool hand made toys.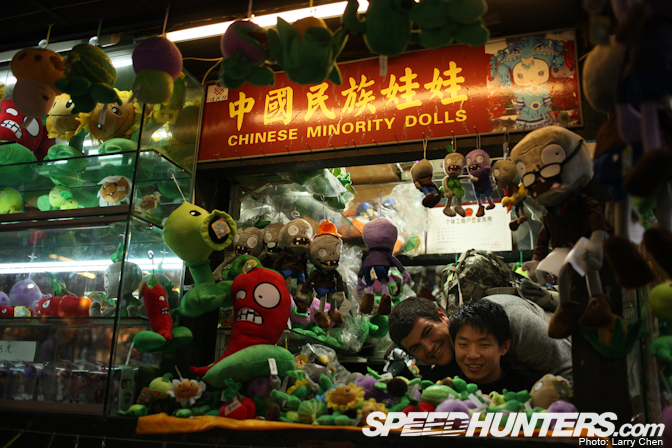 I ended up buying two Chinese minority dolls.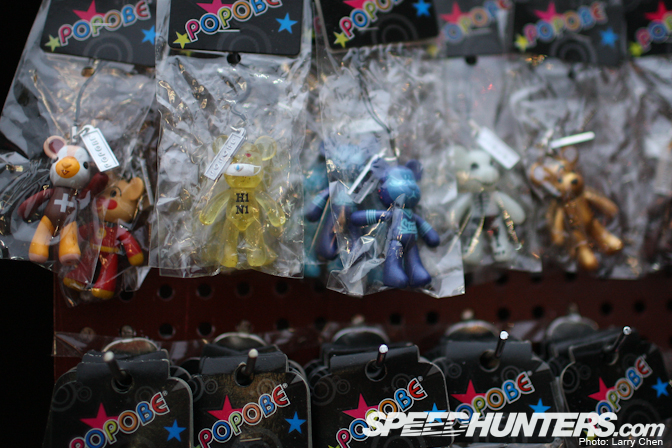 What trip to China would be complete without an H1N1 action figure?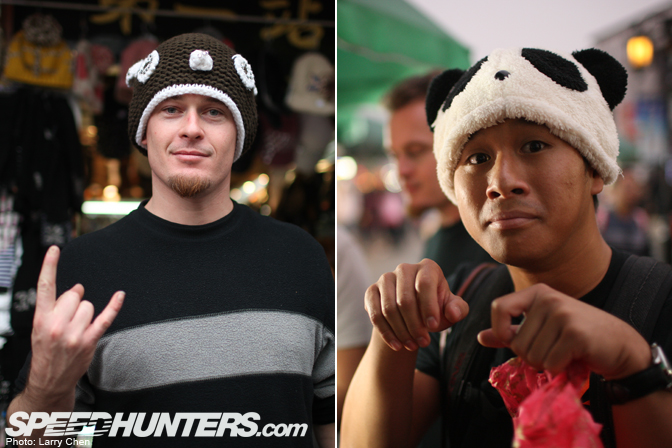 Eventually, we found some funny hats.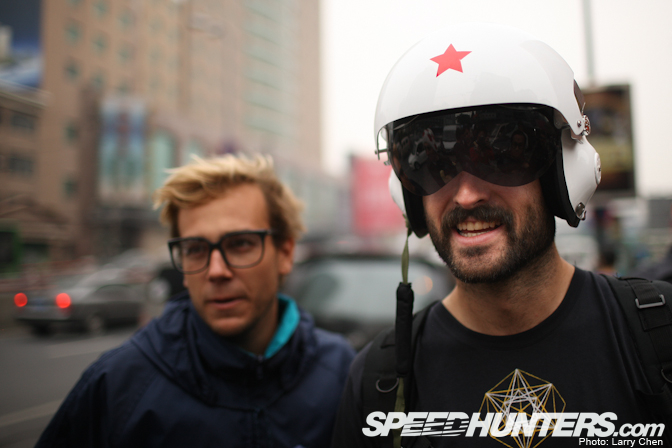 Andy found a Russian fighter pilot helmet.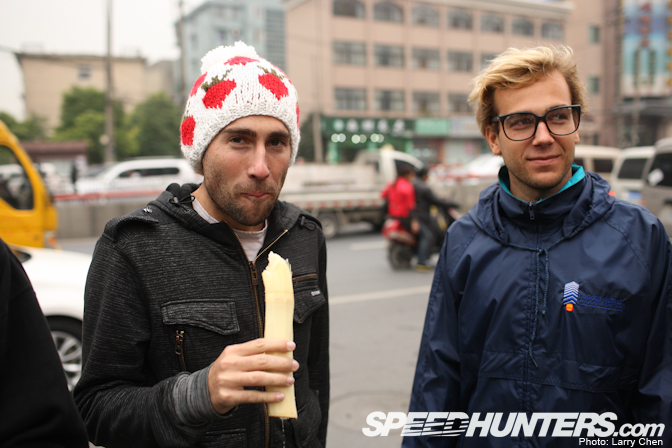 After getting funny hats, we decided to chomp on some sugar cane as we walked around on the streets.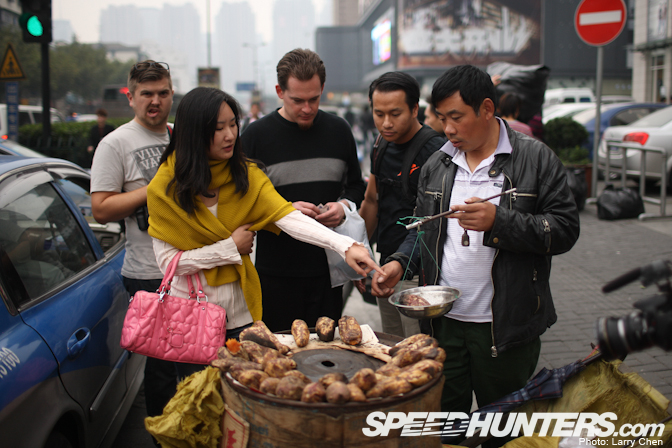 Our final stop was for sweet potatoes. I thought I learned my lesson before but I burned my mouth from the toasty treat.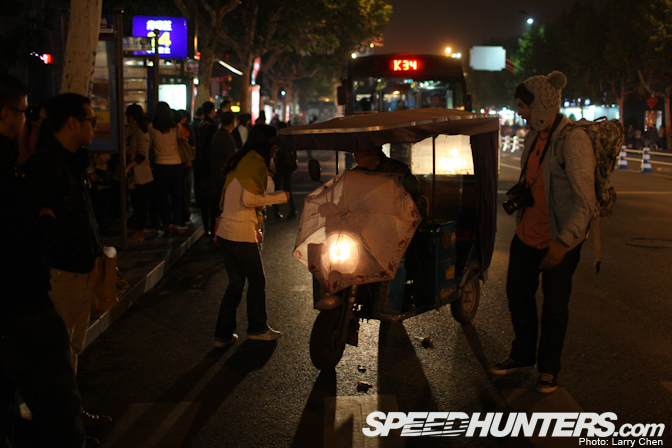 Our flight was early the next morning, so we got in our tuk tuks and headed back to the hotel.
This was my tenth WDS China event and this was by far the best. I definitely can't wait to go back. It seem the Chinese drivers are getting better and better every year. I hope to see some of them compete in Formula Drift someday.
-Larry
World Drift Series China – Hang Zhou Pt. 1
More World Drift Series China stories on Speedhunters
World Drift Series China: Hang Zhou